You're in Control of Your Content
You get to decide when, where, and how your content is arranged and re-arrange it as the need arises.
With Cardsetter, you're never at the mercy of a web developer's work queue or expensive hourly rate to make a simple change, create a new section or landing page, or implement your ideas quickly. You're never stuck within the limits of a website template, either.
Your content is flexible and modular so you can do what you need to do.
Place any piece of content, or group of content, anywhere you want, and with just a few clicks.
Highlight Content Series
Creating a series around a specific topic?
You can group all of the articles and videos within the series and display the group where it will get noticed.
Place Related Content at the End of Your Posts
Decide which related pages, articles, or videos you want to display at the end of your post to help your audience discover more relevant information.
Place your content Cards by individual selection or use a Feed at the end of the post to automatically populate articles that have the same tag.
Arrange Entire Landing Pages of Like-Content
Pull together related articles, videos, places, and events, all on one page to create in-depth guides and resources for your audience.
Auto-populate sections on the page using Tags and Feeds.
Place any piece of content anywhere you need to with just a few clicks.
Group ANY Content Type With One Another
Articles and Blogs
Videos
Event Listings
Places
Pages
Images
You can place any piece of content right next to each other, and in any order you determine, regardless of its format.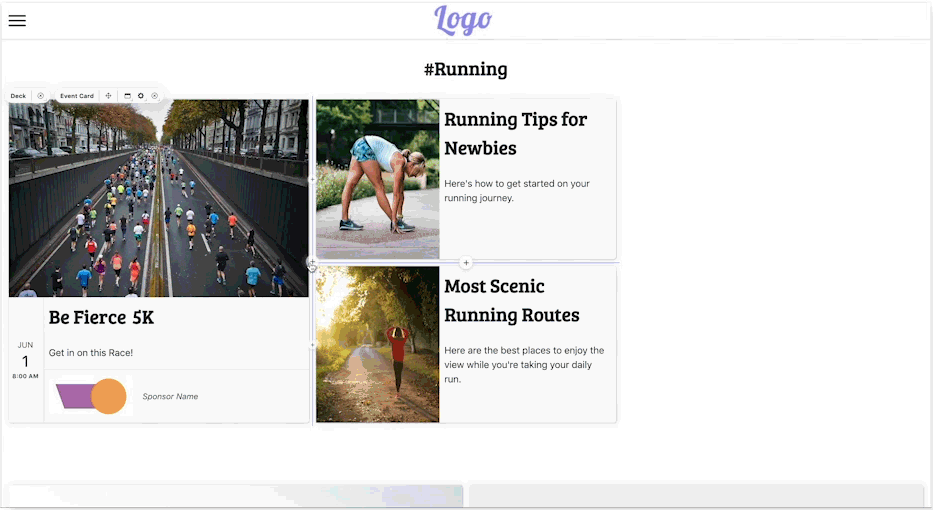 Create New Content by Grouping Existing Content
Make a quick "listicle" by creating a new page and adding a title and short introduction. Then, add cards that link to existing content on your site.
You've got a new piece of quality content in just a few minutes.
Bring Evergreen Content Back Into View When It's Relevant
Have an article from last summer that's still relevant this summer?
Bring it back to the homepage amongst other relevant info when the time is right.
Monetize
Sponsored content features are built right in. Cards can link to external affiliate links too! Serving up banner ads? No problem. Cardsetter can integrate with your third-party ad server.
Try Cardsetter FREE For 30 Days
Just Add Content. Creating Your Site is Simple