Features and Integrations
What makes Cardsetter different from other website platforms?
With Cardsetter, you can do more with your content to grow your audience and revenue.
Features
Cardsetter includes everything you need to tell your stories and power your content-driven website.
Custom Design and Setup
Every Cardsetter plan comes with custom design and setup. We'll build your website, so you can build your business.
Flexible Content Organization
Group and arrange content of any publish date, category, and format, anywhere on your website.
Powerful, Easy Page Editor
Cardsetter customers love its easy to use, drag and drop page editor. Create articles, embed videos and audio files and more.
Content Management System
Cardsetter is easy to use, yet features a robust content management system.
Unlimited Hosting
There's no limit on the size of your website with Cardsetter. Hosting is included in every subscription.
Page Speed Technology
Cardsetter websites are built to load quickly so that your audience won't bounce.
Security
With Cardsetter, you never have to worry about your website's security. Cardsetter includes security and monitoring.
SSL
All Cardsetter websites come with an SSL, integral to your website's security.
Sponsored Content
Get your sponsors and advertisers noticed with Cardsetter's sponsored content feature.
SEO
Cardsetter features built-in technical SEO features that are a must for ranking your website in the search engines.
Events
Showcase your upcoming events or power an entire community calendar with Cardsetter's events feature.
Unlimited Pageviews
With Cardsetter, you can grow your traffic without limitations.
Top-notch, Personal Support
When you need help, we're here for you via phone and email support.
Analytics
We'll launch your website with both Google Analytics and Facebook Insights installed so you can analyze your traffic.
RSS
Use your RSS feed go send your content to approved third-party technologies.
Front-End Editing
No more going back and forth from the "back-end" to the "front-end." With Cardsetter you can make your edits right on the page.
Mobile-First
Most website traffic now comes from mobile devices. Cardsetter is purposefully designed to be mobile-first.
Custom Pinterest Descriptions
Optimize your content for Pinterest with Pinterest-specific page descriptions and image alt-tags.
Integrations
Extend the functionality of your Cardsetter website with custom integrations. Don't worry, we'll help you get everything set up and integrated.
Below are our most popular integrations. Don't see a favorite technology listed? Reach out. Cardsetter integrates with most online software tools.
E-Commerce & Digital Products
Sell products on your Cardsetter website.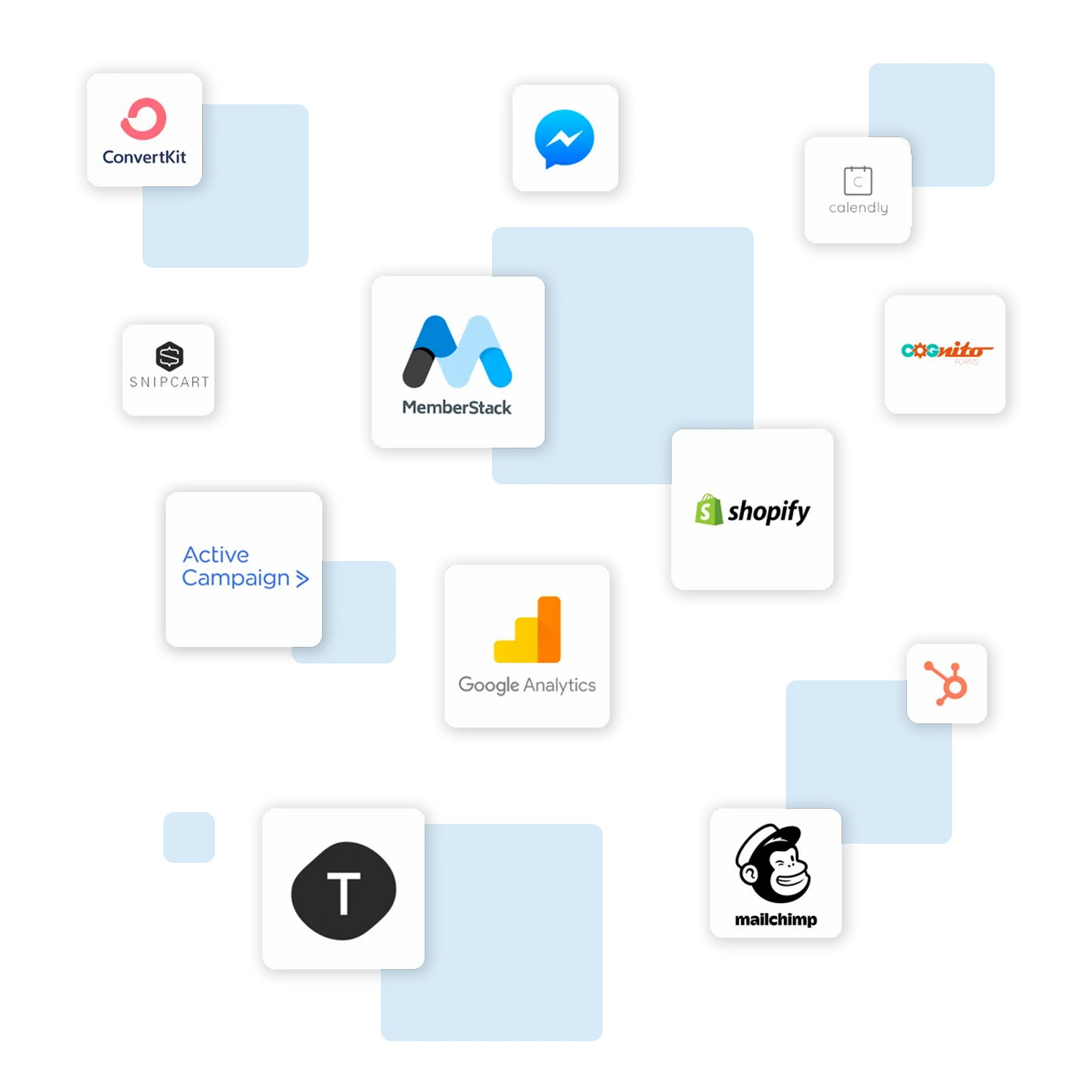 Marketing
Integrate your e-newsletter and other marketing technologies.
Chat
Add a chatbox to your website to communicate with your visitors.
Calendars & Scheduling
Allow your visitors to schedule with you directly from your website.