A Framework for Content Strategy
Content strategy is essential for online publishers, professional bloggers, and content creators. Define your strategy, stay focused and deliver a consistent experience for your audience by defining your strategy and referencing it regularly.
You know you need a strategy. However, in the busy-ness of the day-to-day, it can be easy to neglect. But, developing your strategy into a tangible document or workspace can help you remain consistent and uncover new ideas.
For example, Samantha Barry, GLAMOUR's Editor has revived the brand under a new content strategy. In the Digiday Deep Dive Podcast, she describes moving the magazine into chapters covering 4 main themes - look, live, feel, and think. These new themes have helped to refresh the brand (along with new visual branding) and update it to appeal to modern women.
These new overarching themes provide the roadmap for all content that is produced across all of GLAMOUR's properties including print and digital.
Your content strategy should be a living framework that you update from time to time to meet the needs of your evolving audience.
Getting started can feel a bit daunting. There are thousands of pdf's, downloads, templates, and software tools out there meant to help you organize, plan and schedule your content.
Start by Brainstorming
First, we recommend starting with a pencil and paper or by white boarding with your team! Why? It's less permanent and allows for a more fluid approach to begin with. Through this exercise you'll want to identify some key criteria for your content and how you want to organize it. It's much easier, then, to determine what "tool" will best suit your needs to house your content strategy and workflow.
Here's a simple framework to help get you started: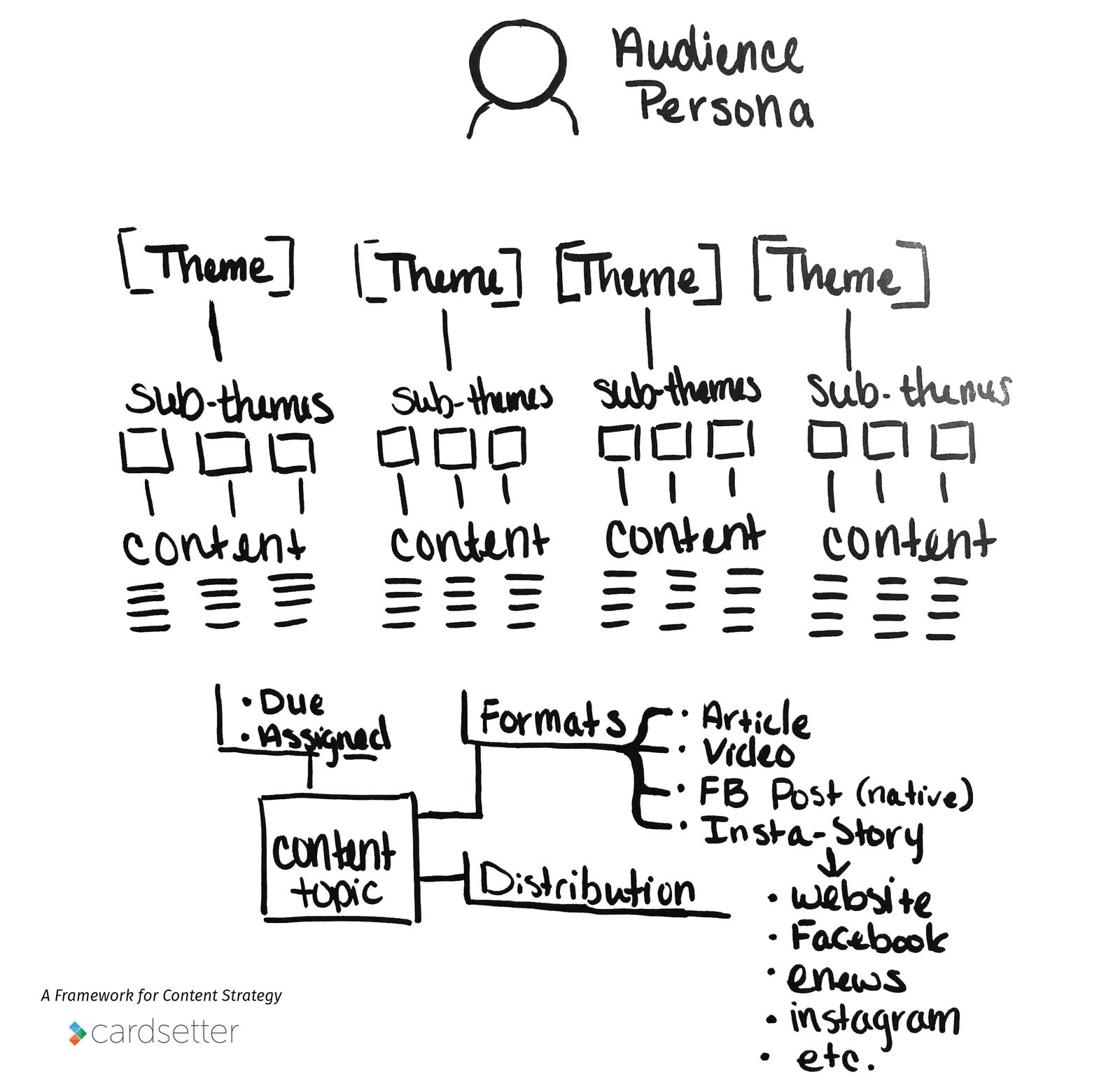 1. Define Your Audience Persona
Who are you producing content for? Your audience persona is where your content strategy should begin. An audience persona is simply a visualization of a "person" who represents your core audience. It includes their demographics, behaviors, goals, challenges and a persona story.
All content produced under your brand, whether organic or sponsored, should map back to your persona.
For more on developing your audience persona, check out our quick guide! (link)
2. Set Your Primary Theme(s)
Just as GLAMOUR defined the 4 "chapters" for the magazine, you can identify your overarching themes. You may have one theme, like "reviewing the latest smartphones on the market" or you may have many, like a brand that covers the latest in consumer technology products. The latter could include gaming consoles, televisions, and personal computing as additional primary themes.
And, you may have Sub-Themes within those main themes.
A local entertainment media entity might have a primary theme, "nightlife," for example, and then under that theme they may have "nightclub reviews, music venues, cocktail features," and more.
Your audience persona, themes, and sub-themes will give you the primary framework for developing content that is always consistent with your brand.
3. Determine Your Content Topics
After setting your themes and sub-themes, you can define your content topics and begin producing them.
4. Execute and Distribute
You're not done, yet! Part of your content strategy will also include your content workflow, execution, and distribution strategy.
For each of your content topics, you'll want to:
Decide on the format(s) you'll create for each: article, video, photo gallery, native social media format(s), and more.
Set your workflow criteria - assigned to and due date.
Set the progress stage - to do, doing, done. (Of course, you can setup your own pipeline headings.)
Plan your distribution channels for each piece of content with a corresponding distribution date: website, Facebook, YouTube, Instagram, E-newsletter, etc.
Of course, you'll have your own criteria specific to your publication that you'll want to add to this list. For example, content marketers may want to add a tag to each piece of content that signifies where the topic would fall in their marketing funnel - awareness, consideration, conversion, retention.
Make it your own!
5. Use Software to Help You Stay Organized
Often, we search for software tools to "help us get organized." We think these tools will magically give us our strategy and get us organized on what to post. However, sometimes they give us too narrow of a view of our strategy. A social media scheduler, for example, doesn't consider adding the content to your website first, for example. But, if you do the above exercise, first, you can better mold your chosen software to your specific needs.
We use Notion to organize our content workflow, but many project and task management tools would work.
Here's how we set up each individual piece of content for Cardsetter.com.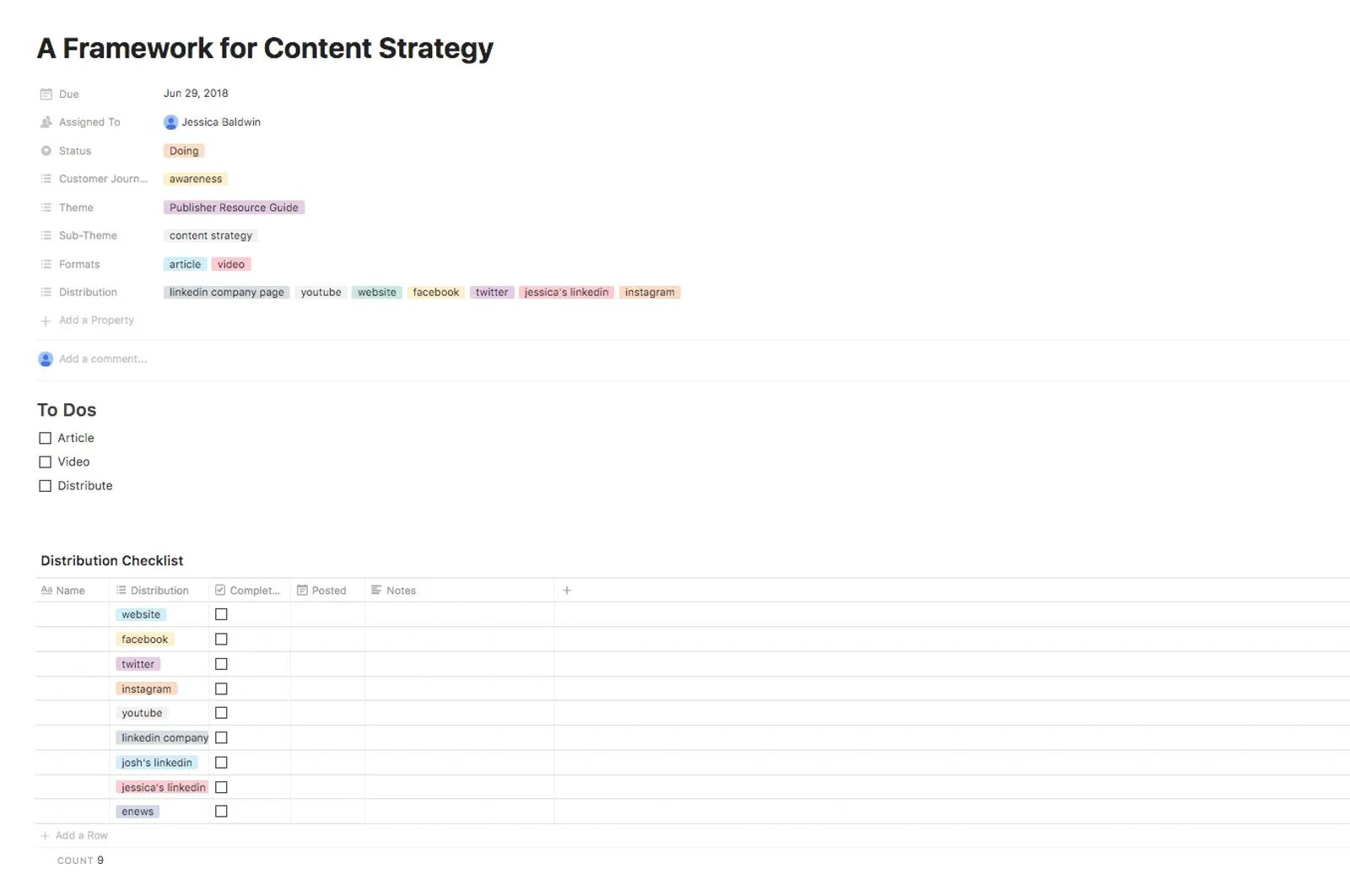 Using Notion as our content "home base," we can then schedule out our content across our social platforms using another tool like Buffer or Hootsuite.
Defining a content strategy and workflow, whether you're just starting or have been publishing for years, will help provide clarity to you and your team and will provide a consistent experience for your audience and advertisers.
More From This Series