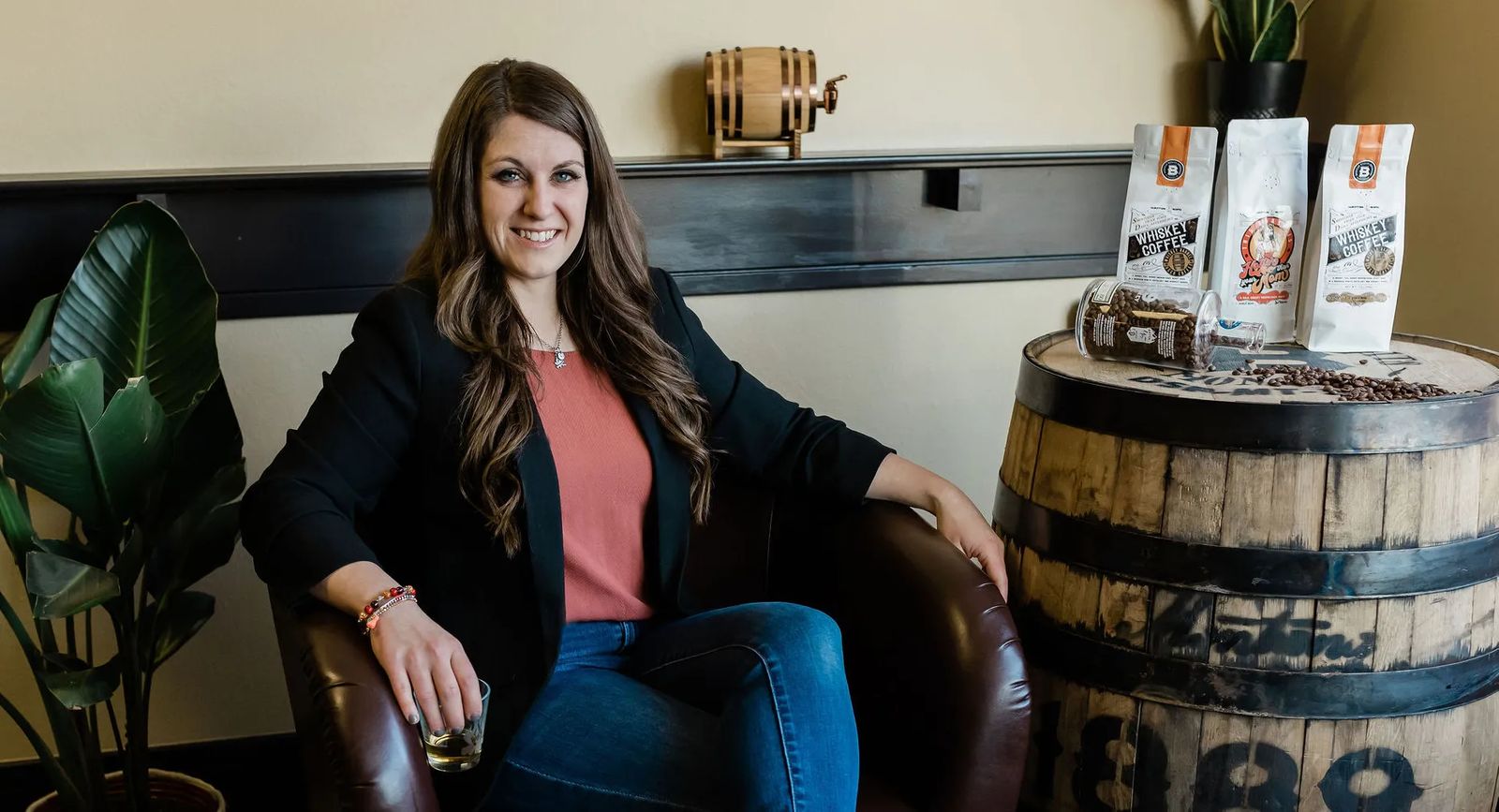 How did Campfire go from bold podcast to bold coffee company? ☕
Kelli Maxwell is a fiery, passionate entrepreneur. She's warm and inclusive; you want to be her friend, yet, she tells it like it is at all times.
The Campfire Hour Podcast began while Kelli and a group of friends, all local business owners, were hanging out, commiserating about "normal" business culture.
They wanted to shake things up and cultivate a business community free of the serious, boring, stodgy atmosphere that they'd experienced within the usual business networking circles.
The friends started talking about doing a podcast to give a voice to young, bold entrepreneurs like themselves. Possessing a natural banter within their group, one of them quipped, "Oh, you want to get roasted publicly? We'll call it Campfire Hour where the roasts are hotter than your mom!" Bold, edgy, (and shuttering political correctness) Campfire Hour would be a business podcast, unlike any other.
The group made an early decision to keep the show unfiltered. Guests would need to prepare to share freely and take a little razzing! Campfire Hour is not a show for polite, professional PR; it's a podcast where guests and hosts talk business like real people, covering the good, the bad, the ugly, and yes, the successes too.
Today, Campfire not only produces the podcast but monetizes by selling coffee blends online that are "hotter than your mom" and "smoother than your dad's aftershave."
How did Campfire go from a bold podcast to a growing coffee company?
Collaboration Over Competition
Kelli Maxwell is a powerful networker. Early in her career, she chose to take on the mindset of "collaboration over competition." It's grown beyond a philosophy; Kelli uses this concept as a business strategy, and it works.
What is Collaboration Over Competition as a strategy? Kelli enters all of her business relationships with a collaborative approach. When meeting fellow business owners, she considers how she can connect people and opportunities. Kelli invites business owners on the podcast and promotes their business on her social media channels.
Kelli describes, "We connect with people authentically. We figure out what we can do to help them, and as a result, new opportunities open up for us organically."
The promotion is reciprocal. As Kelli shares content about her podcast guests, Campfire Hour is shared to those businesses' audiences, growing its reach.
She says a willingness to help others succeed, even those in similar industries, has helped open up more opportunities than she could imagine. As a result of her good deeds, she's top-of-mind with a vast network of people who are happy to answer her call for help or connect her within their networks.
This collaborative strategy would help Kelli, and her team launch the next phase of the Campfire brand, Campfire Blend Coffee Co.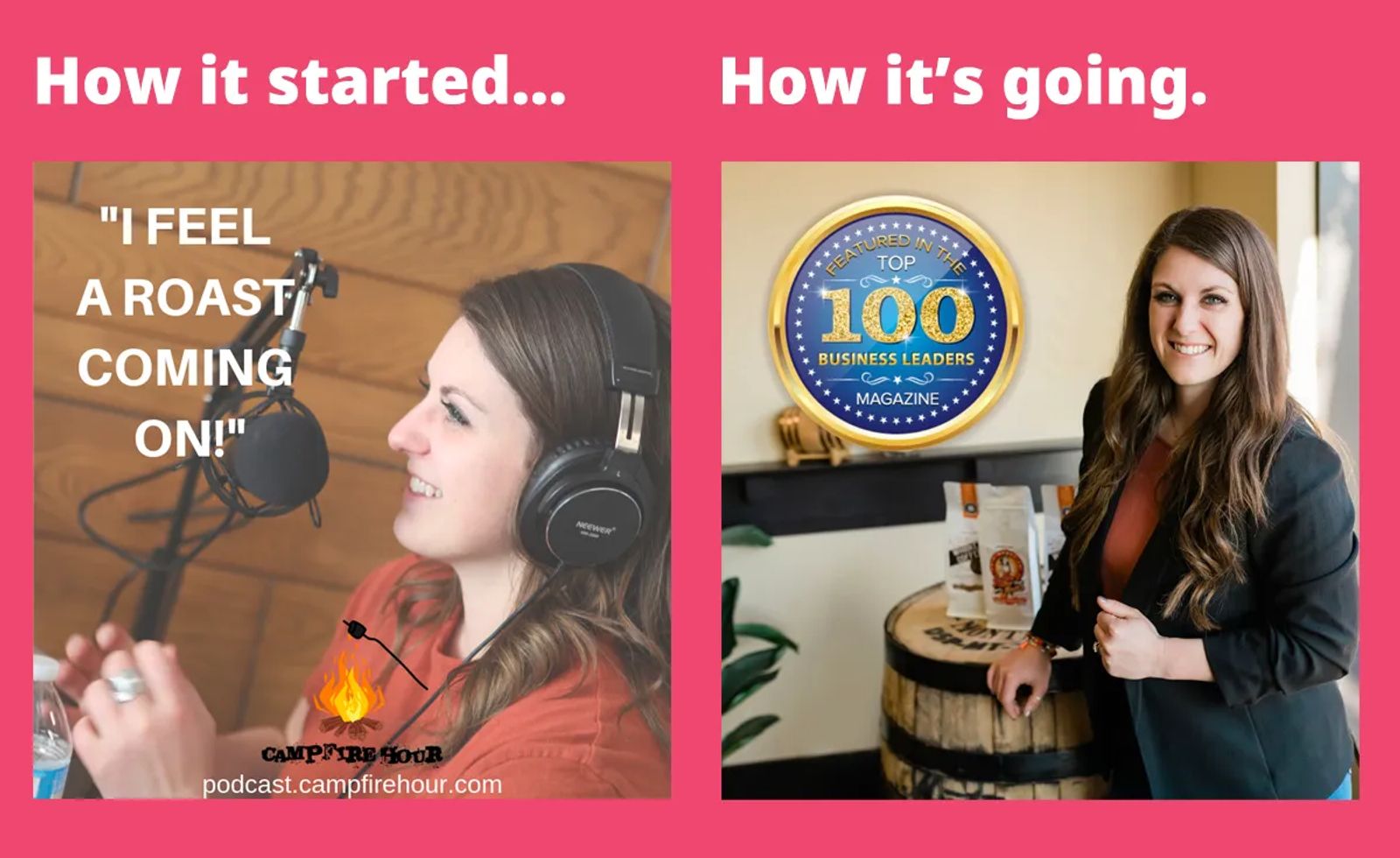 From a Bold Podcast 🔥 to a Bold Roast ☕
It had been a few months since the launch of Campfire Hour. The podcast had grown a small but loyal following and had scored a presenting sponsor. But, as every podcast host knows, from planning and scheduling guests to recording, producing, and promoting, podcasting is a lot of work.
Kelli attended a podcasting conference, where she networked with fellow podcasters and learned about monetization strategies. As a media business, most podcasts grow an audience, then monetize through sponsorships and ads. The general rule of thumb circulating at the conference was that once you hit 10,000 subscribers, you could start making some real money with your podcast.
But, Kelli and her Co-Founders wanted to monetize Campfire Hour sooner rather than later. One night while recording (and presumably also drinking whiskey), an idea came to one of Campfire's Co-Hosts, Kyle. He said, "What if we made a whiskey coffee? No one else is doing that."
Kelli says, "We knew we couldn't just do coffee. It had to be different, and it had to compliment the Campfire Brand we had already built with the podcast."
Kelli was able to call on two companies she had collaborated with, Mazevo Coffee Roasters and Bozeman Spirits Distillery, to make Campfire Hour's flagship coffee product come true.
"We had no idea if it would work," Kelli said. Using a special blend roasted just for Campfire and a whiskey barrel from Bozeman Spirits, a smooth, bold, and unique Whiskey Coffee was born. And it's delicious.
Campfire Blend expanded to offer an original blend that's "hotter than your mom" along with an "OK, Boomer" decaf blend, and more.
Campfire Hour's loyal podcast listeners support online coffee sales. Because of Kelli's relationships through collaboration, their products are also available at several partner locations, including breweries, a CBD store, gift stores, and more.
Since launching the coffee company, Kelli says Campfire has made a bit of a shift. Whereas they were initially a podcast that was monetized by an e-commerce coffee company, she says that's now flipped. They see themselves as a coffee company with a podcast.
What did we learn? 🤓
There's a couple of great lessons here. First, grow your network by helping others. Don't expect every individual effort to reciprocate but trust that doing so will unlock new opportunities over time...it's kind of like improving your business karma.
Second, think beyond your industry. Are there ways to grow your business outside of typical industry advice? If Kelli had followed the advice she heard at PodFest, she'd still be trying to grow her audience and find sponsors. Instead, she has a thriving coffee company, and she and her Co-Founders get to produce the podcast, as they want, without pressure.
Check out Campfire Blend Coffee online!
📧 Subscribe to Cursor!
Actionable insights for creators, delivered monthly.


A newsletter for online creators
Each month we're diving deep into the growth strategies of one online creator. We'll be sharing insights from online publishers, podcasters, and content marketers.
Get inspiration and proven tactics to help your business grow, delivered right to your inbox.