Build trust with testimonials


People visit your website to learn about your products, services, and how your business can solve a problem or fulfill a need for them.
They may also be wondering how effective your product or service is and whether or not you're a reputable company. It's crucial to include trust-building elements in your website. Your about page, case studies, awards, recognitions, and affiliation mentions are a few ways to build trust.
Testimonials are one of the most effective ways to grow credibility by sharing other people's experiences with your company.
What are testimonials?
Testimonials are positive recommendations from satisfied clients or customers. They can appear in different formats, most often as written text. Video testimonials have also grown in popularity, and audio testimonials may also be used in some cases (during a podcast, for example).
They reinforce your key benefits from the perspective of people who've already bought from you. To the reader, testimonials say, "People who are like you purchased this product or service and got tremendous value from it."
Why testimonials are important
Below are just a few reasons you should utilize testimonials to market your business online.
Build trust and credibility
If you're selling a product, customers want to trust that it's good quality and functions as described. They want to be sure they are making a good investment. Product reviews and customer testimonials help them feel more confident making the purchase.
For service-based companies, people want to know they'll get quality services from reputable people. Client testimonials demonstrate your experience and the results your prospective clients can expect.
Reinforce key benefits
People are skeptical of marketing. They aren't sure if they can trust the marketing claims you're making on your website. But, testimonials can reinforce the key benefits you've included. For example, you may state that your service will save your prospects time. A testimonial from a current client that says you've saved them "countless hours" would back up that point. The customer testimonial is powerful because the words come from a source other than the business making the claim.
Address objections
By including several testimonials on your website, you can address many of the concerns your visitors may be internalizing about making the purchase. For example, a prospect may be trying to decide if it's worth the money to outsource his bookkeeping. A testimonial saying, "Why didn't I do this earlier? I've saved so much time and made more money by outsourcing this task to XYZ Company," could help him decide to move forward.
Social proof
When people see others like them taking a specific action, there's an underlying belief that it's the "right" thing to do in a given situation. In situations where people aren't sure what to do, they draw from the experiences of others to help guide their decision-making.
For example, a business owner may notice that many of their peers work with business coaches. They may start to believe that they should get a business coach in order to succeed.
Testimonials are one way to implement the concept of social proof on your website.
Personal connection
Testimonials can emote a more personal connection with the website audience. If they can relate to the people featured in your testimonials, they'll have a positive perception of your brand too. If possible, include customer photos alongside your written testimonials or use video testimonials to facilitate a stronger human connection.
Where to include testimonials on your website
Now that we know why testimonials are necessary, let's review where to include them on your website.
Homepage
The homepage is the first place you should include testimonials from real customers. Use testimonials to reinforce the key benefits you mention on your homepage.
You can do so near the hero section (or the very top of your homepage). Your hero should include a solid key benefit along with your call to action. Feature a customer quote about their experience with your product or service near this section.
Age of Montessori includes three testimonials from course students right below the hero section of its website. Right away, the organization is telling the reader that they can expect a positive experience from the investment they make in the Age of Montessori education.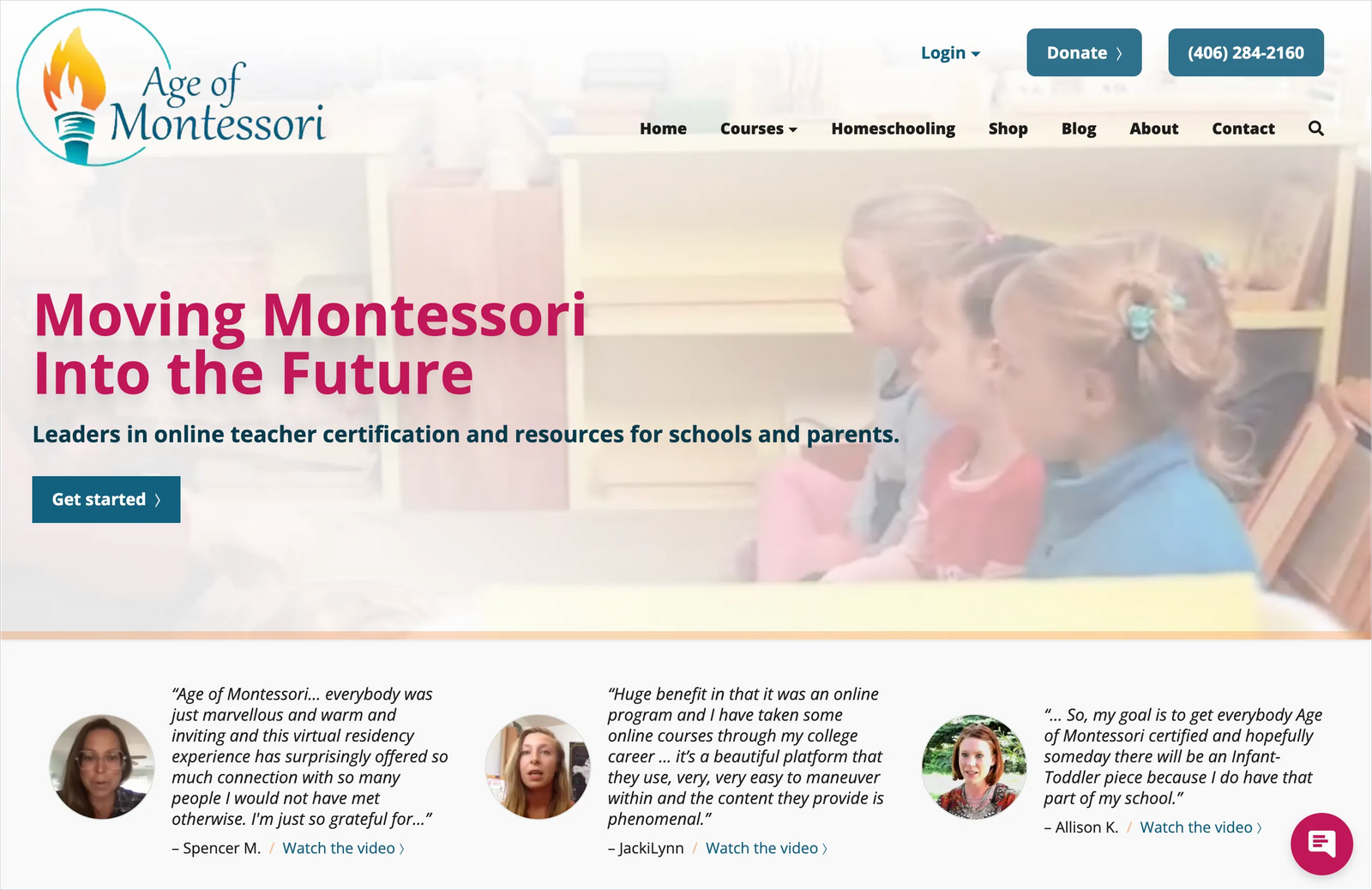 Positive customer reviews are also effective when placed near key benefits listed on the homepage. Monday.com includes a testimonial near a prominent key benefit headline to reinforce the point through the perspective of a happy customer.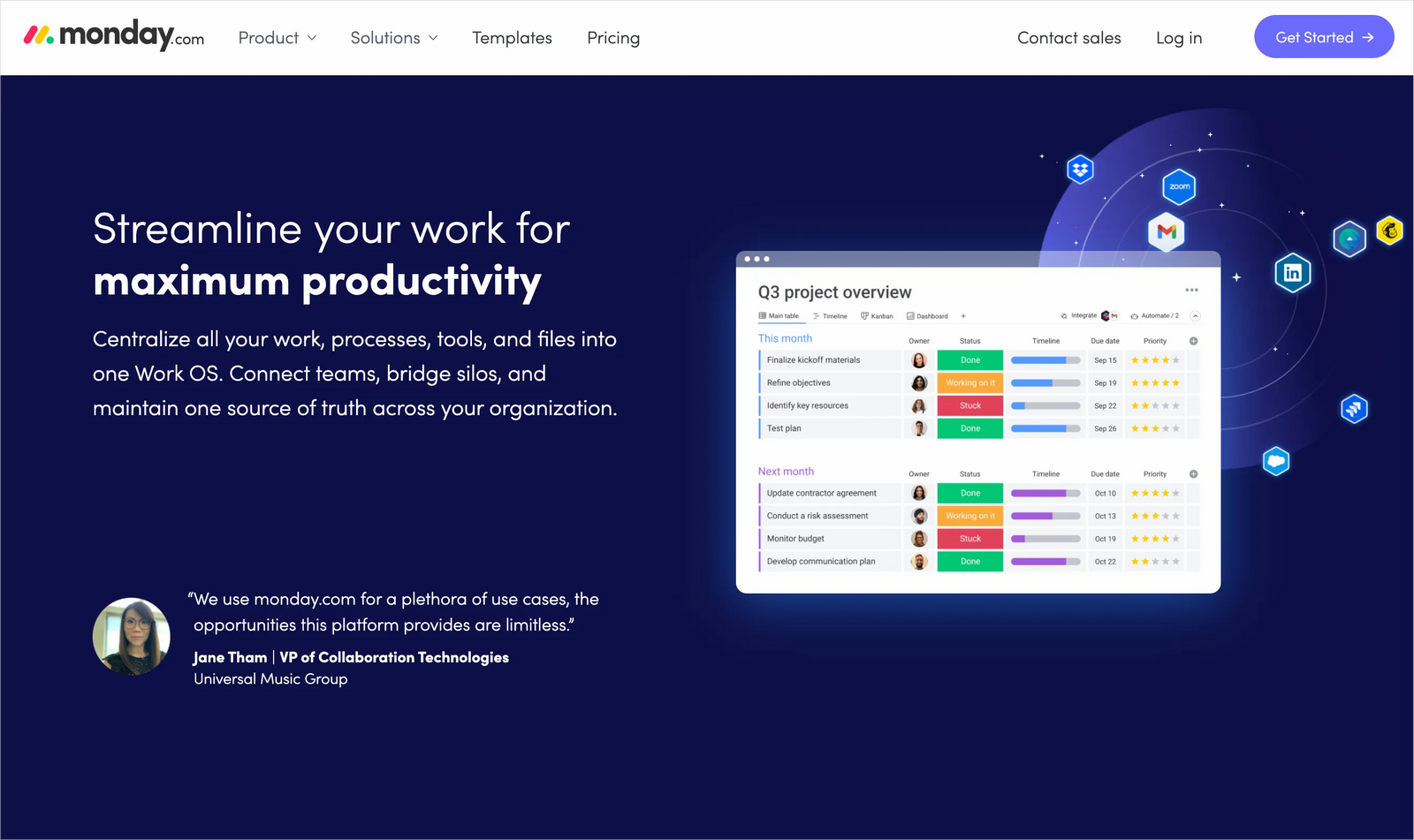 Buffer includes customer quotes on its product's feature pages. After researching the feature, the prospective customer can see how the feature benefits existing users.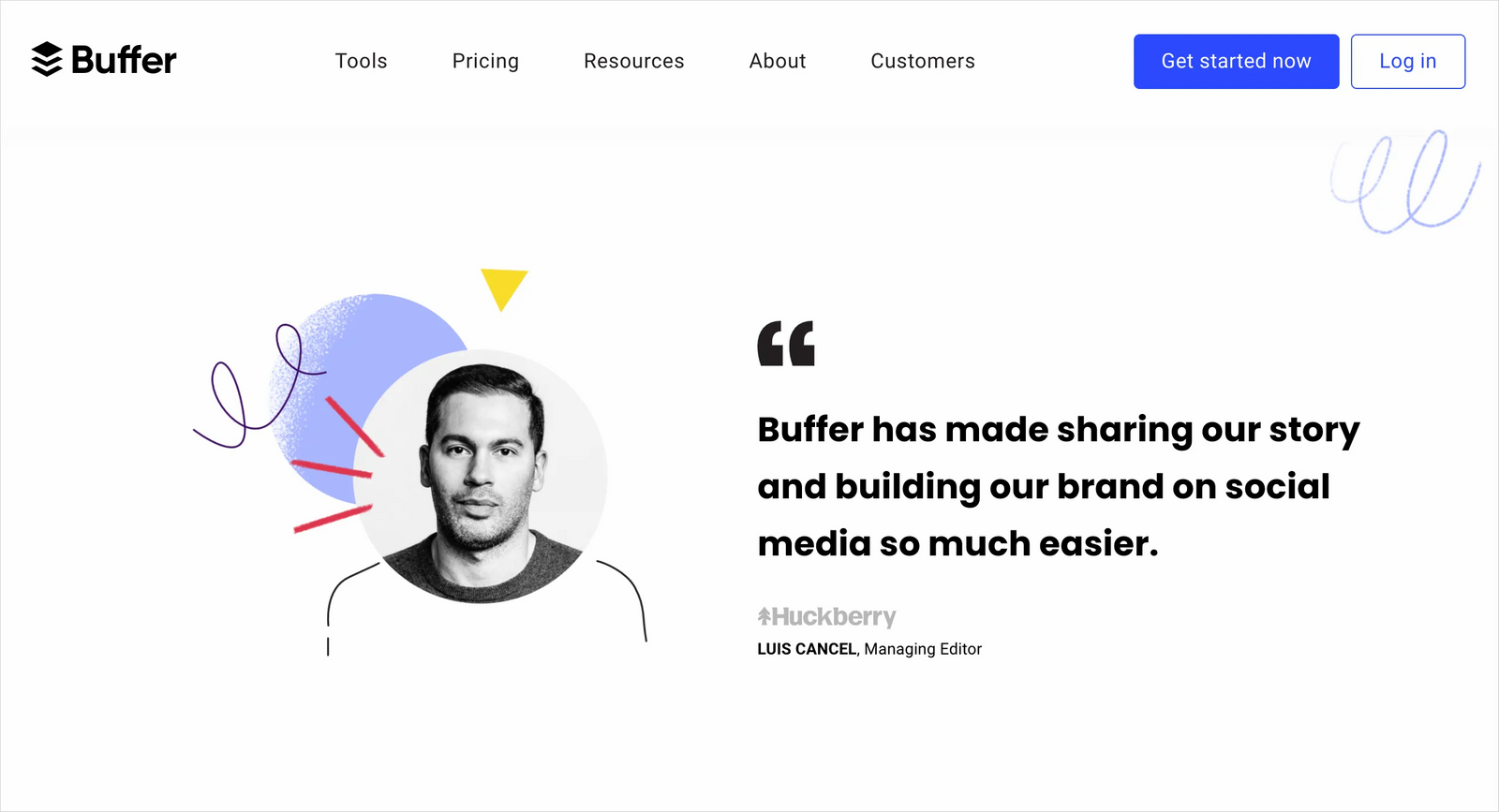 Product and Service Pages
When your website visitor goes beyond the homepage and onto your services or product pages, they are one step closer to purchasing. Testimonials can be compelling while considering whether your offerings are right for them. Seeing a positive review while browsing your services page could be just the nudge they need to move forward.
Again, Age of Montessori does a great job using testimonials beyond the homepage. Each of its course pages includes several testimonials from people who have taken the course.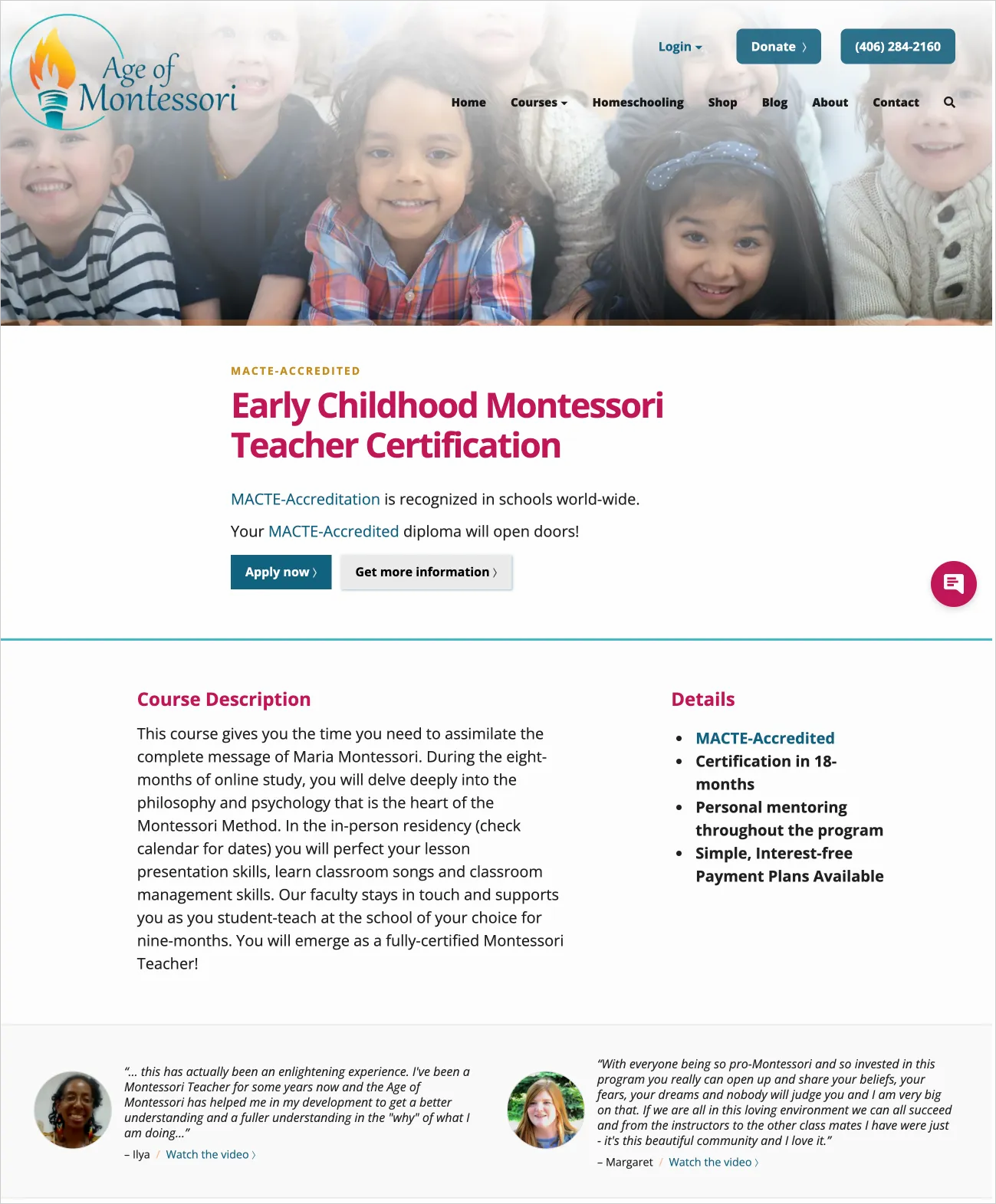 Contact page
Your prospects may need a question or two answered before they'll be ready to move forward. In this case, they'll be visiting your contact page to reach out. Include a testimonial on your contact page that speaks about how excellent your customer service is. It will show your prospects that you're a great company to work with.
Natural Health Care Company features testimonials right below the contact form that highlight her clients' positive experiences.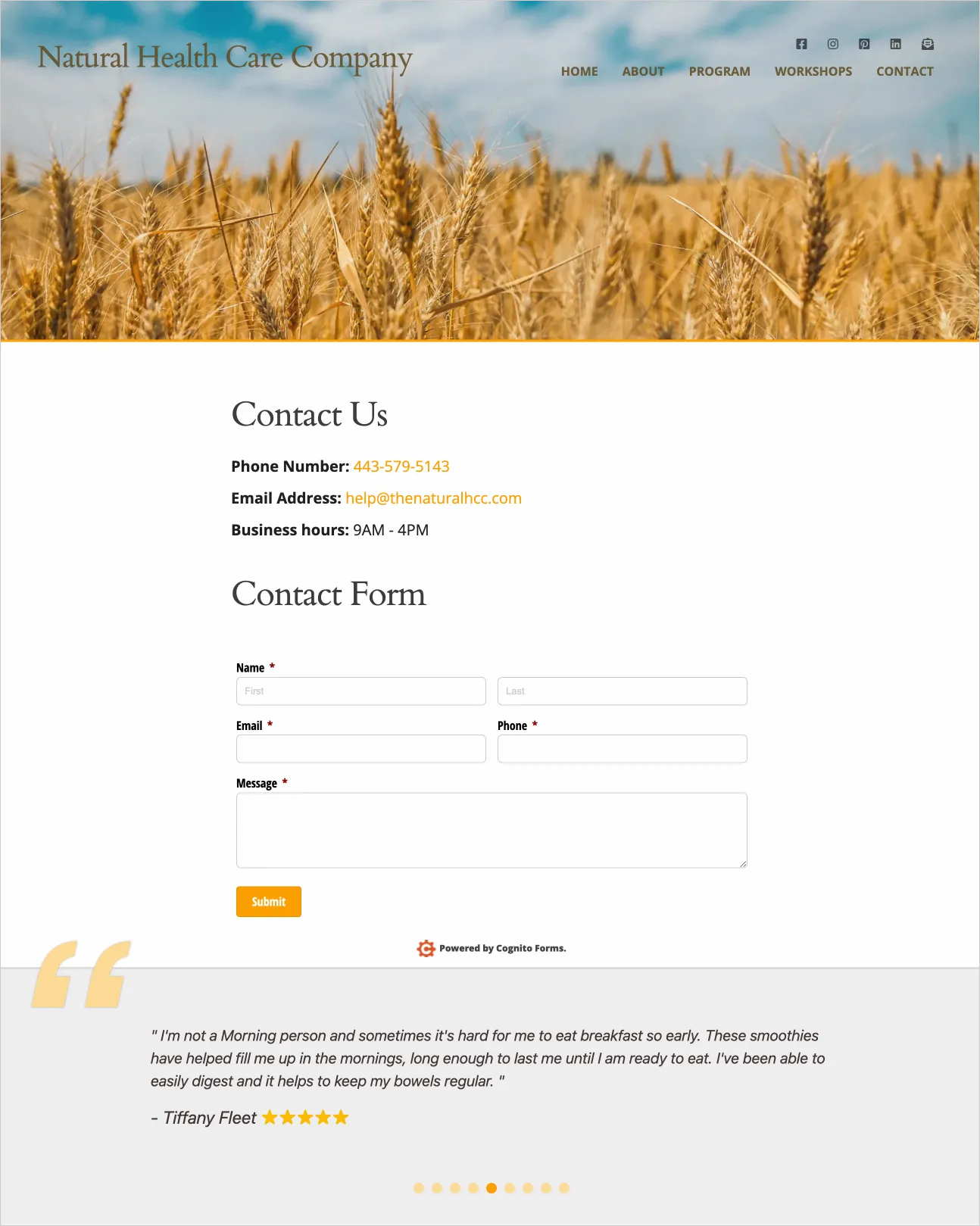 By calls-to-action
Wherever you're encouraging someone to sign up for something – your newsletter, your products or services, etc., show that other people have taken this action and gotten value from it. Include testimonials near these call-to-action buttons and statements.
Tree of Love Essential Oils follows its custom order call-to-action with a positive customer review. If someone is thinking of clicking on the button, a testimonial may compel them to move forward.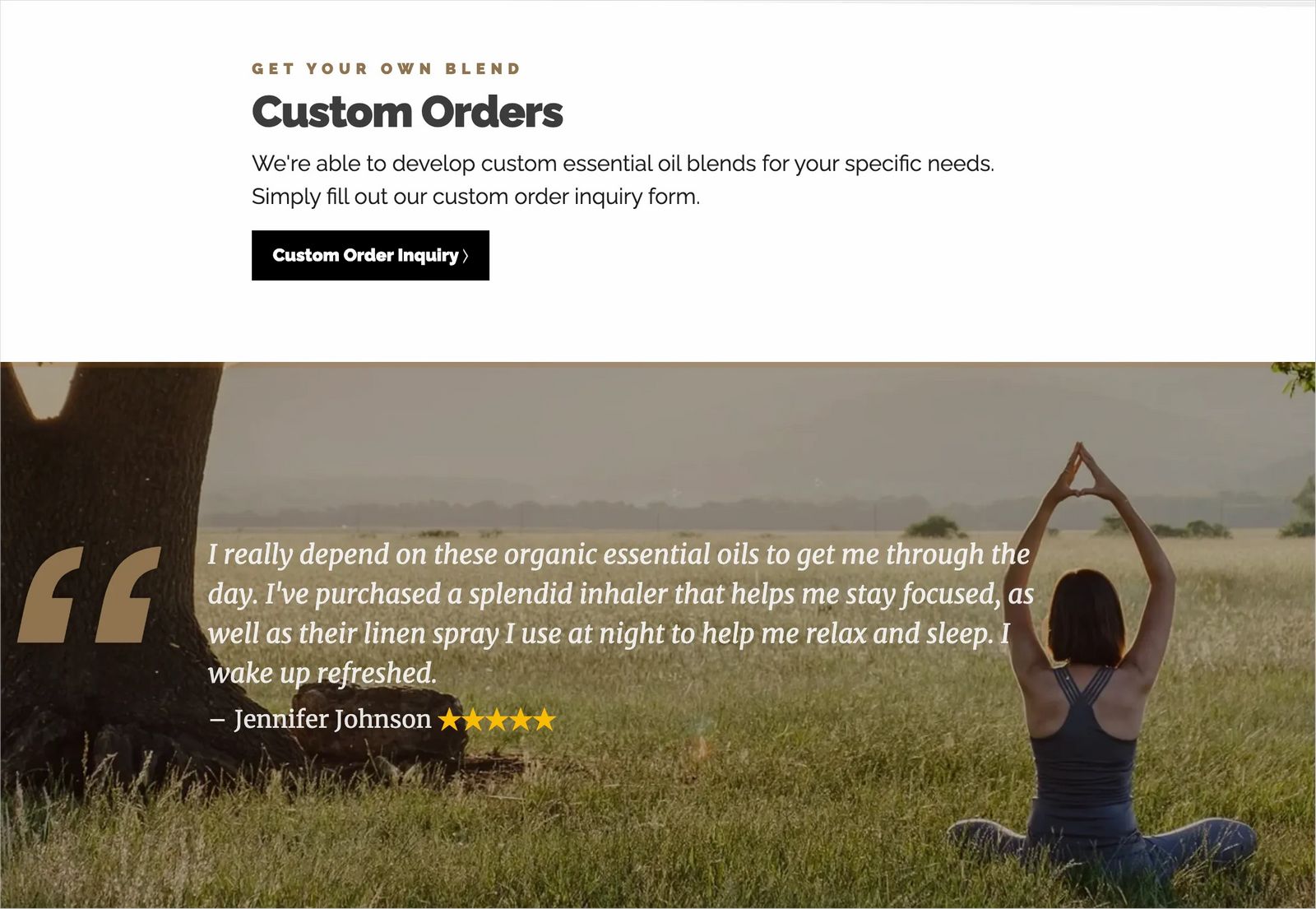 Testimonials page
Your potential customers will appreciate having one place on your website where they can review many testimonials in one place. Consider adding a page where you can list several reviews from your happy customers. Not only will this be helpful for your website visitors, but it can help with search engine optimization on your website. Your customer's reviews may include search terms relevant to your target market.
Cardsetter includes several testimonials on one page so visitors who are specifically looking for reviews can find them.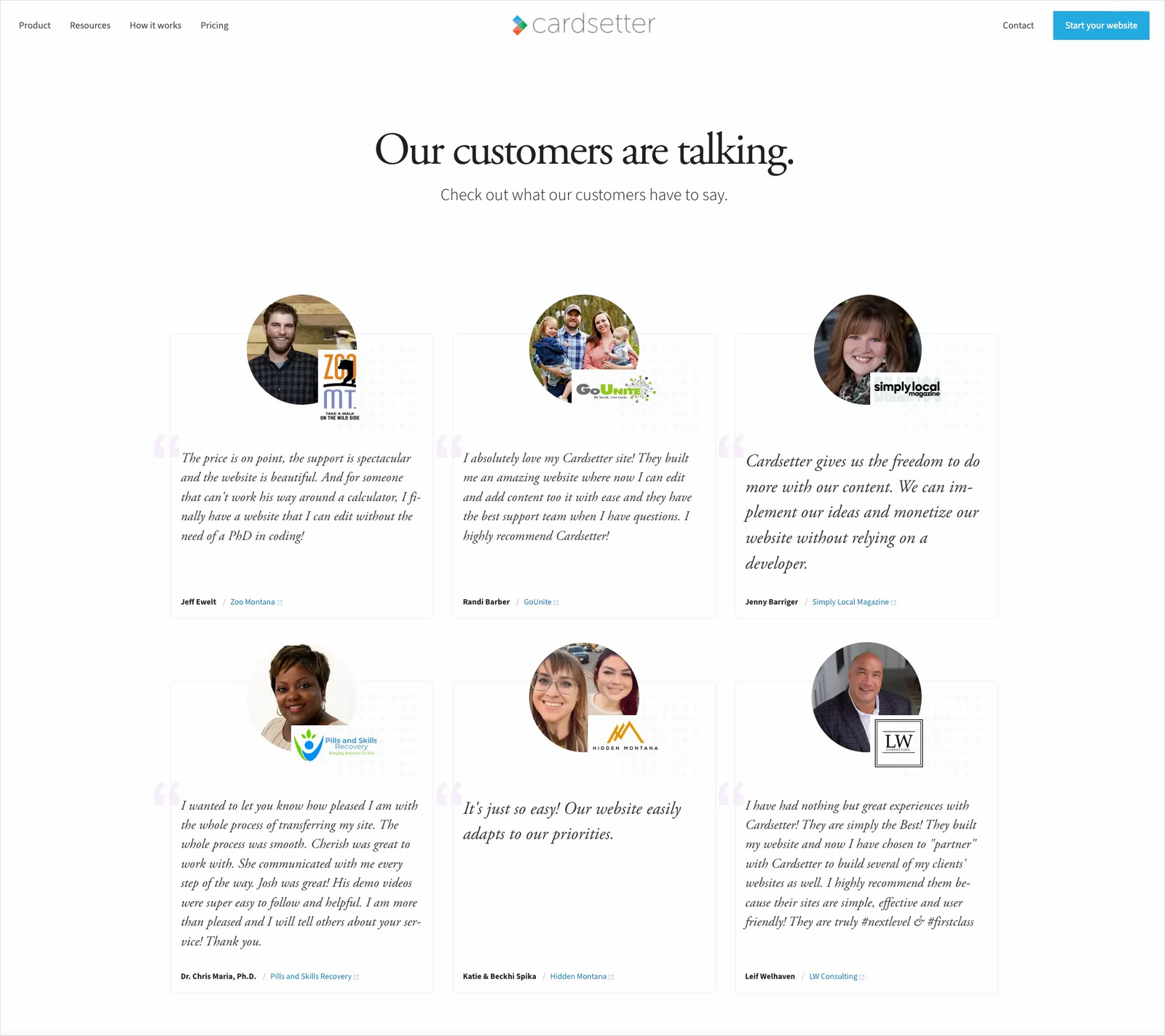 How to get testimonials from your clients or customers
How do you get testimonials for your website? The short answer is, "you ask your clients and customers!" Whether you're selling a product or providing a service, add a stage within your process where you ask your customers for a review.
To start, you can ask them to respond to an email with their review. Be sure to let respondents know that you'll include the review on your website. You could also have a form on your website where customers send feedback. Provide a checkbox to give permission for the review to be published on the website.
While your business may also receive reviews on Google, Facebook, or other review websites, you'll want to collect unique testimonials for your website. It is against most review sites' terms of service to copy and paste reviews from their platforms onto your website. To be safe, never copy and paste.
Reviews on Google, Facebook, Trustpilot, etc., can also be helpful for your business. However, you don't want to overwhelm your current customers with requests for reviews. First, collect testimonials for your website. Then, begin asking different customers to review your business on Google, Facebook, or other review platforms that are relevant to your business.
Take testimonials beyond your website.
Once you've collected several testimonials from satisfied customers, you can use them to market your business. Feature testimonials from your website in your social media posts. Include testimonials within your e-newsletter. Utilize them within your ad campaigns. Share the positive experiences of your current customers in your other marketing materials.
Testimonials are an essential asset to help you market and grow your business. They'll help you:
Build trust and credibility
Reinforce your key benefits
Address objections
Utilize social proof
Establish a more personal connection with your target audience.
Are you struggling to create an effective website?
Cardsetter can help! Cardsetter is a powerful website platform that includes "done-for-you" design and setup.
We'll make sure your website has testimonials in all the right places. We'll help you get a website that's beautiful, professional, and effective. Learn more.
Get your free website planner.
Getting organized is the first step to website success.