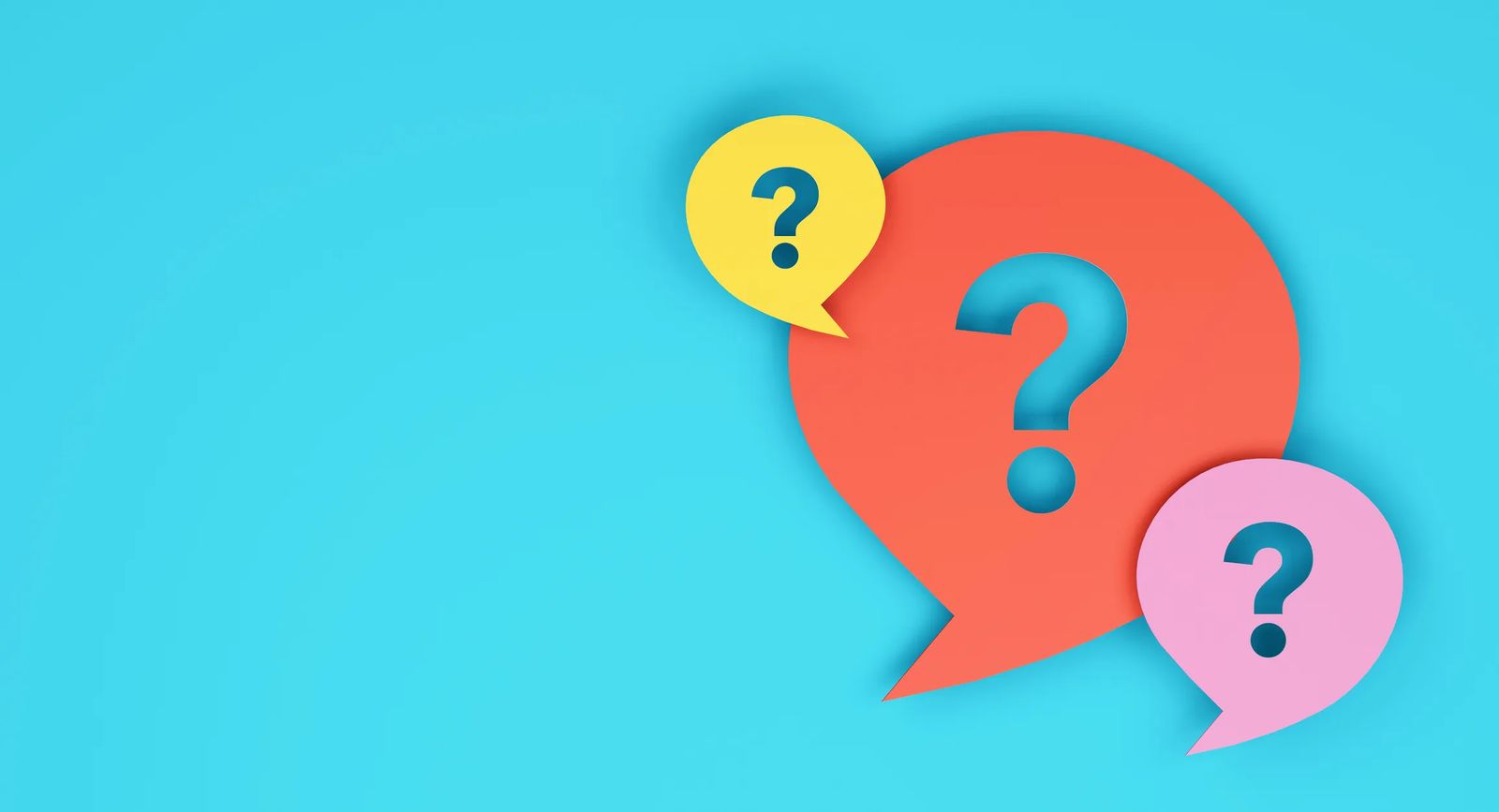 The contact us page – go beyond a boring form!


Make it easy for people to contact you. Every website needs a contact page so prospects and customers can get in touch.
When a website visitor hits your contact page, they're on the cusp of becoming a lead or customer. In this moment, how can your organization make the right impression?
What to include on your contact page
Below is a list of elements to consider adding to your contact us page.
Not "just" a contact form
You don't want to deal with spam. We get it! However, if you only include a contact form on your website, your business doesn't seem approachable or welcoming.
How often have you completed a contact form, only never to receive a response? How frustrating is it when this happens? You have no idea if your inquiry was ever received or if you're being ignored. If you don't have another way to reach out, will you wait for a response? No! You'll move on to an alternative solution. Your potential customers feel the same way. So, treat them how you would like to be treated.
You'll attract more leads when you offer more communication options for inquiries. You may find that your prospects will call or text before signing up or purchasing. Don't miss out on potential sales!
So, include a contact form plus additional channels as outlined below.
Contact form
Your website should include a simple contact form. Limit the number of required fields to increase successful submissions. If you'd like to gather additional information from the inquiry, make those fields optional.
These are the essential fields to include on your contact form:
These are some optional fields that may be relevant for your business:
Pre-filled "purpose of inquiry" options. To help categorize inquiries as they come in or route to specific people in your organization, you can outline a list of purposes. Media request, support, product question, request a quote are a few options. You can make these options specific to your organization and your most common inquiry types.
Address or location. Include this on your contact form if your potential customer's location is relevant to the inquiry and your response.
Email address
Add a public email address to your contact page. We recommend setting up an email like "info@yourdomain.com" or "hello@yourdomain.com" to accept inquiries while protecting your primary email address from spam.
Phone number
Have a business phone number? It should be on your website.
You can set up a phone number with a service like Google Voice, so you don't have to use your personal phone or cell number.
Location(s)
If you have a business address, include it on your contact page. If your business has many locations, be sure to list each.
For e-commerce companies, listing your physical address can help your customers trust in your legitimacy.
If you are running a home-based business or a virtual company, it's understandable if you don't want to list a physical address. However, consider including your service area. For example, if you're an attorney licensed in the state of Florida, you want to be sure your website visitors understand where you practice.
Map
If your customers or clients visit your physical location, then your contact page should include a map so they can quickly get directions and visualize your location.
Hours
Include your business hours on your contact page so that visitors know when you're available or when they may expect a response to their inquiry.
Chat
You can include a chat widget on your website. A chat widget allows you to answer your website visitors' questions immediately.
Social media links
Are your prospective customers likely to reach out through Facebook Messenger or direct messages on Twitter, Instagram, LinkedIn, etc.? If the answer is yes, include your social media links on your contact page to welcome the inquiries.
Department contact info (if applicable)
For larger organizations with multiple departments, it can be helpful to route different types of inquiries to their respective departments (e.g., the customer service department vs. sales department).
You can include the "purpose of inquiry" field on your contact form. Consider listing department email addresses and phone numbers on the contact page.
A testimonial
Your website visitor has interest in your company. That's why they are on your contact page. Consider adding a customer testimonial to the page to reiterate the value your business provides.
Contact Page Examples
Let's look at a few contact page examples.
MPI Exhaust Technologies
MPI Exhaust Technologies manufactures and sells proprietary dual exhaust kits for Ford, Dodge, and Chevy/GMC trucks. Their target audience includes auto enthusiasts who passionately research information on parts, add-ons, and how-tos as it relates to their trucks. It's no surprise that they may have questions before purchasing a dual exhaust kit from MPI Exhaust Technologies.
MPI prominently displays its phone number in the header of the website. The contact page gives all the details on how to get in touch with the team at MPI. People can inquire through the contact form, phone number, email, and social accounts. The address is listed, providing an added layer of legitimacy.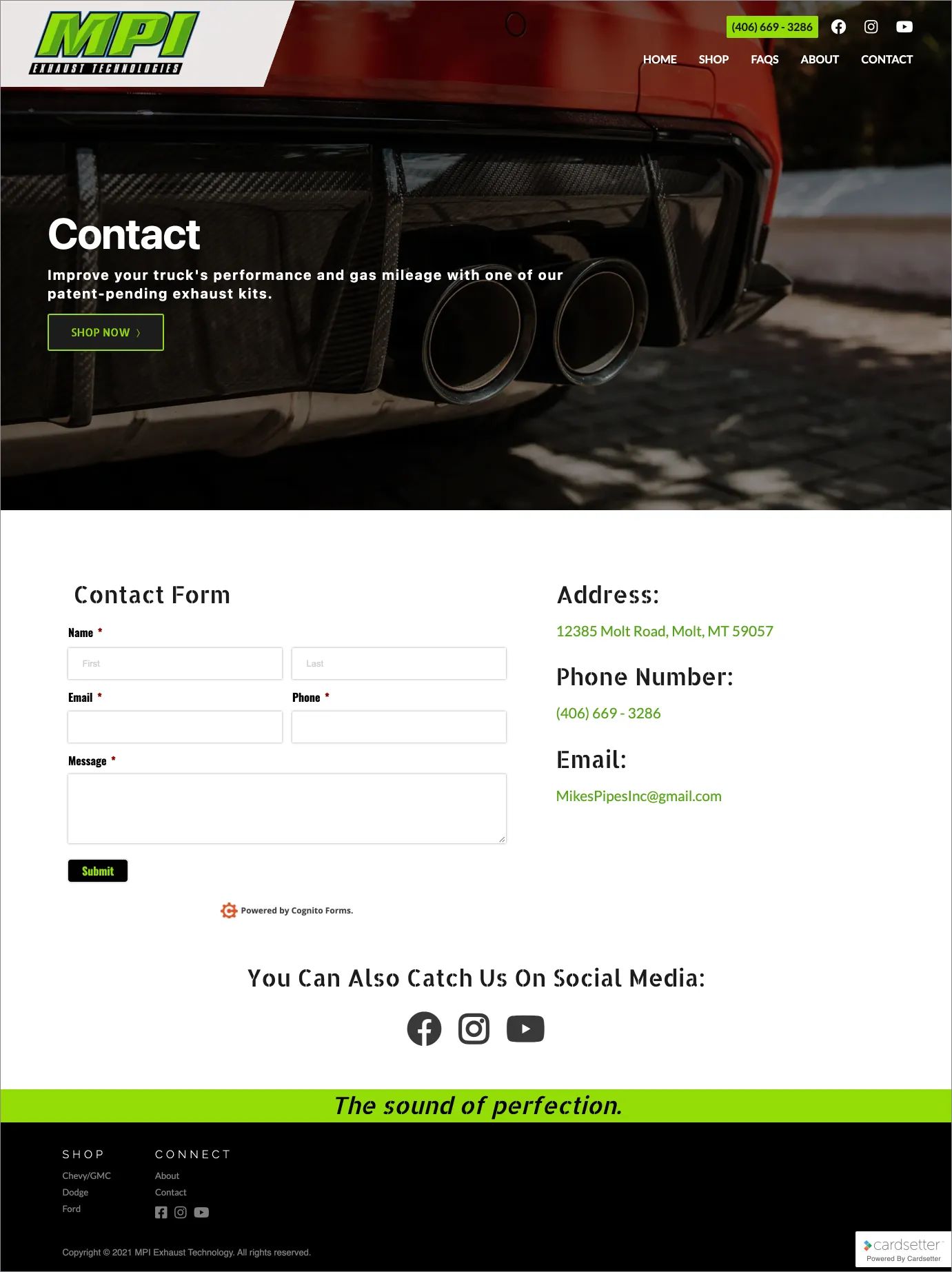 Meadow Lark Transport
Meadow Lark Transport provides audience-specific ways to get in touch throughout its website. Drivers can apply for work on the website. Shippers can request a quote. Carriers and agents can request information. Anyone can reach the general phone line at Meadow Lark through the phone number prominently displayed in the website's header.
The contact page form allows inquirers to select the purpose of their inquiry and asks how they heard about Meadow Lark. Only the most essential fields are required.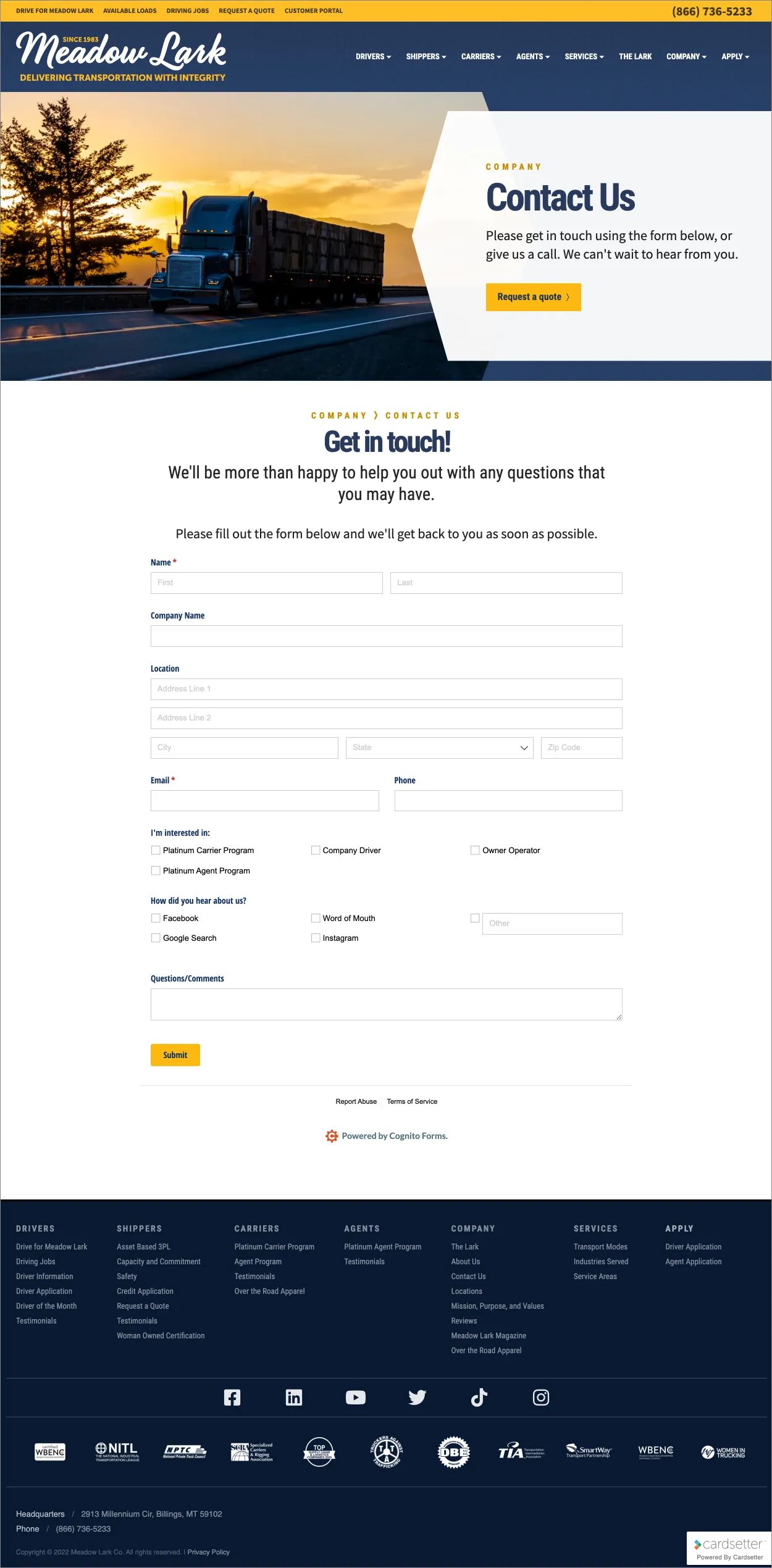 Lavish Elite Luxury Vacations
Lavish Elite Luxury Vacations offers incredible vacation lodging and experiences in the Dominican Republic. The company makes it easy for visitors to find contact information throughout the website with a direct booking option, phone number, contact form, and even the option to book a Zoom call. The company's social media profile links are in the header for easy access. Lavish Elite ensures that its vacationers can answer their questions and book their stay using their preferred communication channel.
The contact page includes each of the contact options. In addition, it contains a headline that reiterates the call to action to "book your authentic all-inclusive experience" with support text that communicates their commitment to customer service. Lavish Elite then anchors the page with guest testimonials to build trust.

Conclusion
If you've read all of this and you're still thinking, "I'm just going to have a contact form on my contact page," ask yourself:
Do you prefer working with customer-centric companies?
Isn't it frustrating when contacting a business is difficult?
Consider the tone you're setting when you or your company seem unavailable to your customers.
For a more customer-centric approach, include additional communication channels on your contact page.
Get your free website planner.
Getting organized is the first step to website success.