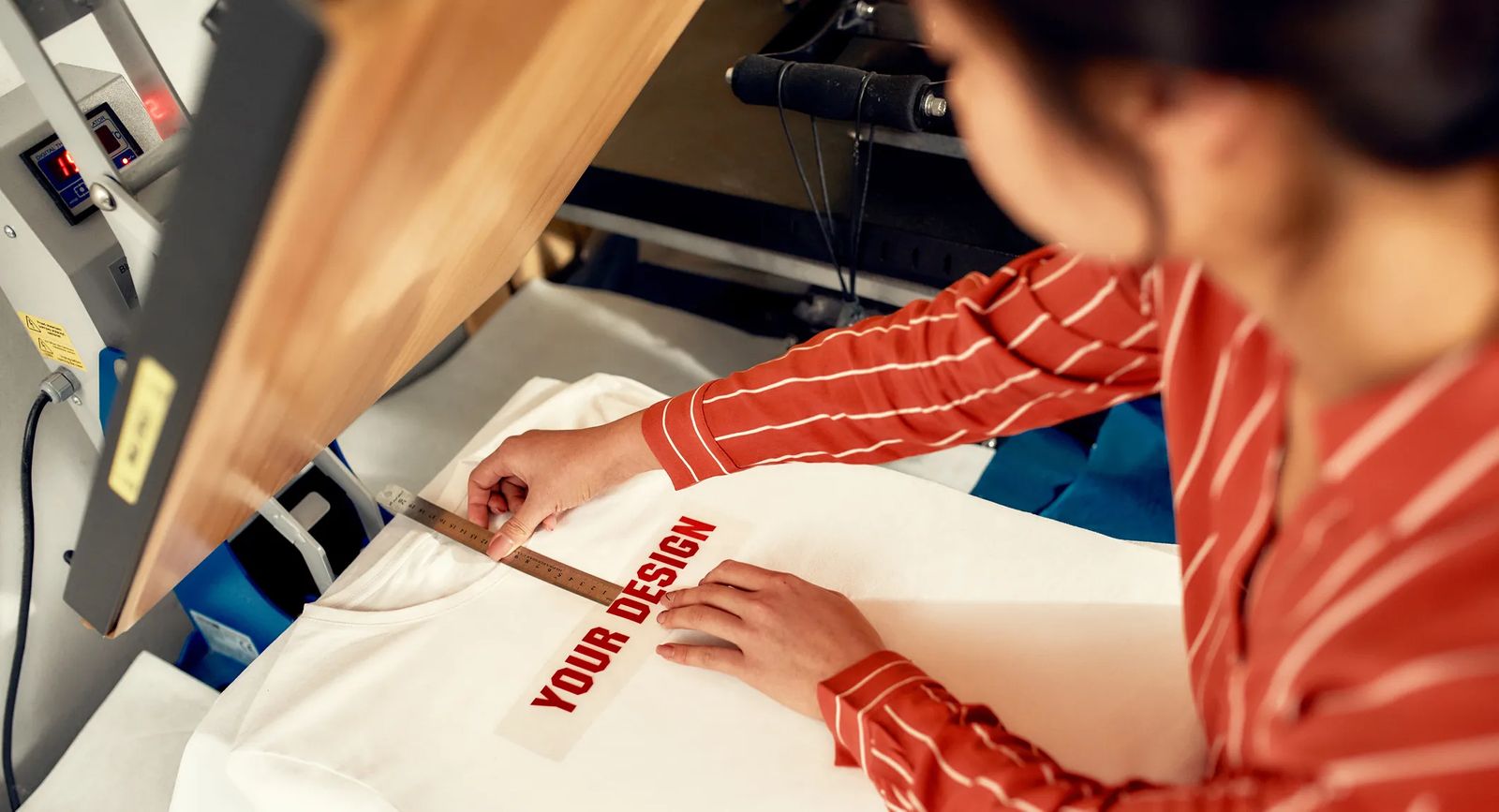 How Content Creators Can Make Money Selling Products and Merch
Content Creator Monetization Strategies
If you're creating content online and you've grown an active following, selling merch and products can be a great way to monetize. Your fans follow you because they trust your opinion, knowledge, and your excellent taste. You have an opportunity to create or curate products just for them and expand your brand into e-commerce.
Now, most creators – podcasters, online publishers, video creators, influencers, and newsletter publishers – will use various strategies to generate revenue. Ads and sponsorships, online courses, info products, memberships and exclusive content, and professional services are a few of those options.
Merch, branded, or curated products can be a great addition, especially for creators with an enthusiastic fan base.

📧 Subscribe to Cursor!
Actionable insights for creators, delivered monthly.
What Types of Products Can Creators Sell?
Branded Merchandise
If your audience has an affinity for you and your brand, then branded merch is a good option. You can sell tees, mugs, hoodies, hats, bags, and other commonly used goods designed with your logo, catchphrase, hashtags, or art.
You might be thinking, "How do I make my own merch"? There are two primary ways to go about creating and selling branded merchandise.
1. Order Inventory
When you order inventory from a supplier, you'll choose from an extensive catalog of products to put your design on. Then, you'll decide on colors, sizes, and a quantity for each. Your inventory will ship to you, and you'll need to store it, and you'll be responsible for order fulfillment. You can set up your online store and feature your thoughtfully designed merch.
You can find hundreds of these imprint suppliers online. Custom Ink, Swag.com, and Haberdash are just a few options. Alternatively, your city probably has a local imprint shop where you can see some of the products, meet with a rep in-person, and support a local business in the process.
This route's benefit is that you have more control and options than "print on demand" services which we'll cover next. You also have the opportunity for more significant profits. You can negotiate pricing with your supplier (often related to larger quantity orders), set your prices, and manage the shipping process. The result is that you'll have more control over your profit margins.
The cons are that you'll have to order and store inventory which means you'll have a significantly higher upfront investment and more work for fulfillment on your part. You'll need to ship out orders promptly and deal with returns and other customer service issues.
2. Print-on-Demand
Companies like Spring (formerly Teespring), Printful, Zazzle, Amplifier, and even Amazon offer print on demand merch. With print on demand products, you bring your logo or design and your audience, and the print on demand supplier handles the rest. You don't have to worry about fulfillment, shipping, returns, or anything beyond the design and marketing of the products for sale.
With some of these platforms, you get to set the sale price, but you have to consider what someone is willing to pay for a t-shirt. You don't have control or wiggle room on the base price, so you're working off tight margins. Still, this is a low barrier way to start selling merch to your fans.
Some platforms are making it even easier for creators to offer products to their fans. Teespring has an integration in the works just for TikTok to allow creators to sell directly to their fans without leaving TikTok.
Curated Products
Curated products, products made by other companies, can be another option for selling physical goods to your audience. Some influencers do this with sponsored posts and affiliate links where they make a percentage of their sales. But, what we're talking about here, is opening up your own online store and offering products that you know your audience would love. Perhaps you're already talking about these items in your content.
For example, a blogger who writes about productivity hacks might have a favorite planner in their store. A lifestyle influencer can start selling clothing through an e-commerce site.
Just like with branded merch, you can purchase inventory like a traditional online or offline retailer. You can get started with a service like Oberlo or Spocket, where you can choose products from their partners. Shipping and fulfillment aren't your responsibility. You're responsible for marketing your store and bringing the customers. The drop shipper and its partners handle the fulfillment behind the scenes.
Your Own Product or Product Line
Kylie Jenner launched Kylie Cosmetics and catapulted to billionaire status in no time. Now, the rest of us don't have a famous family and hit reality TV show to build upon, but that doesn't mean you can't launch a successful product with your audience.
In the example above, we mentioned the idea of a productivity-focused creator selling their favorite planner. However, that same creator could choose to design and produce their own planner.
Depending on the product you want to launch, this is likely the most expensive and most complex option out of the bunch. Designing and printing a physical planner is relatively straightforward but launching a cosmetics line, on the other hand, requires a lot more work. You may need to source ingredients, find a co-packer, manage inventory, and so much more.
Manufacturing products is no simple feat. You'll want to spend a considerable amount of time researching and planning your options specific to the product you'd like to launch.Examples of Online Courses
Examples of Creators Monetizing with Products and Merch
Chamberlain Coffee
Emma Chamberlain started posting vlogs every day to YouTube back in 2017. The influencer's down-to-earth comedic style helped grow her loyal subscriber base. As of this writing, she has nearly 10 million YouTube subscribers and 12.4 million followers on Instagram.
In Emma's content, you'll often find sponsor mentions, but she's also monetizing her brand with products. You can find a wide variety of Emma Chamberlain merch in her online store.
Emma took product sales even further with the launch of her product line. Coffee is a topic she often covers in her content. So, she has recently launched her very own coffee brand, Chamberlain Coffee. In addition to offering unique blends, mugs, and accessories, Emma developed a single-serve steeped coffee bag that makes a good cup of coffee even easier to obtain for her fans.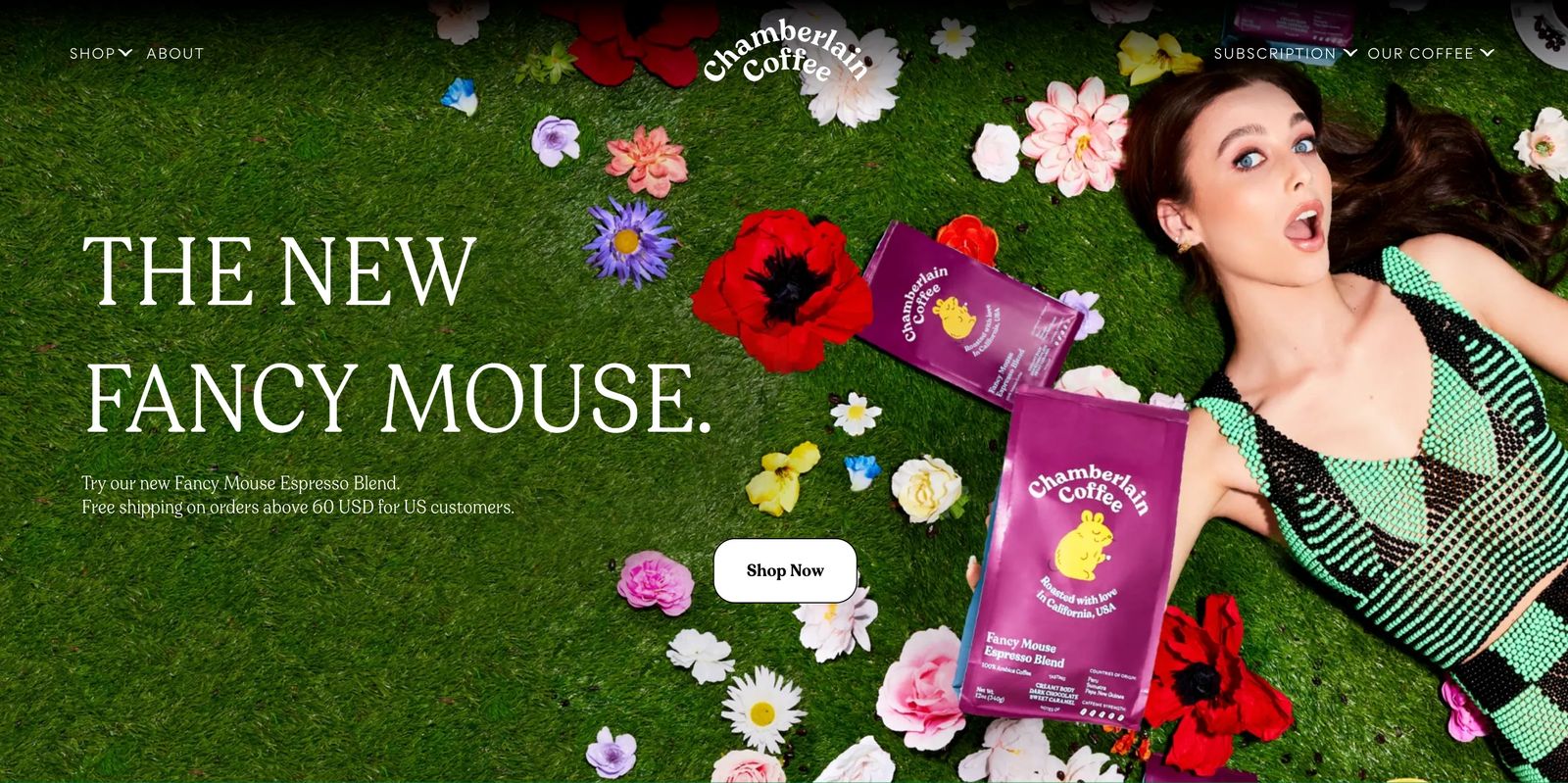 Not a Wolf
Not a Wolf is a popular Twitter account operated by stand-up comedian Dan Sheehan. Fans enjoy the dark, sarcastic humor covering everyday work and life topics. The account has over 175,000 followers and sells merch featuring the same dark comedy on shirts, mugs, hats, and more. The product line is operated on a Spring account, making it easy for Dan to design, sell, and ship products to fans.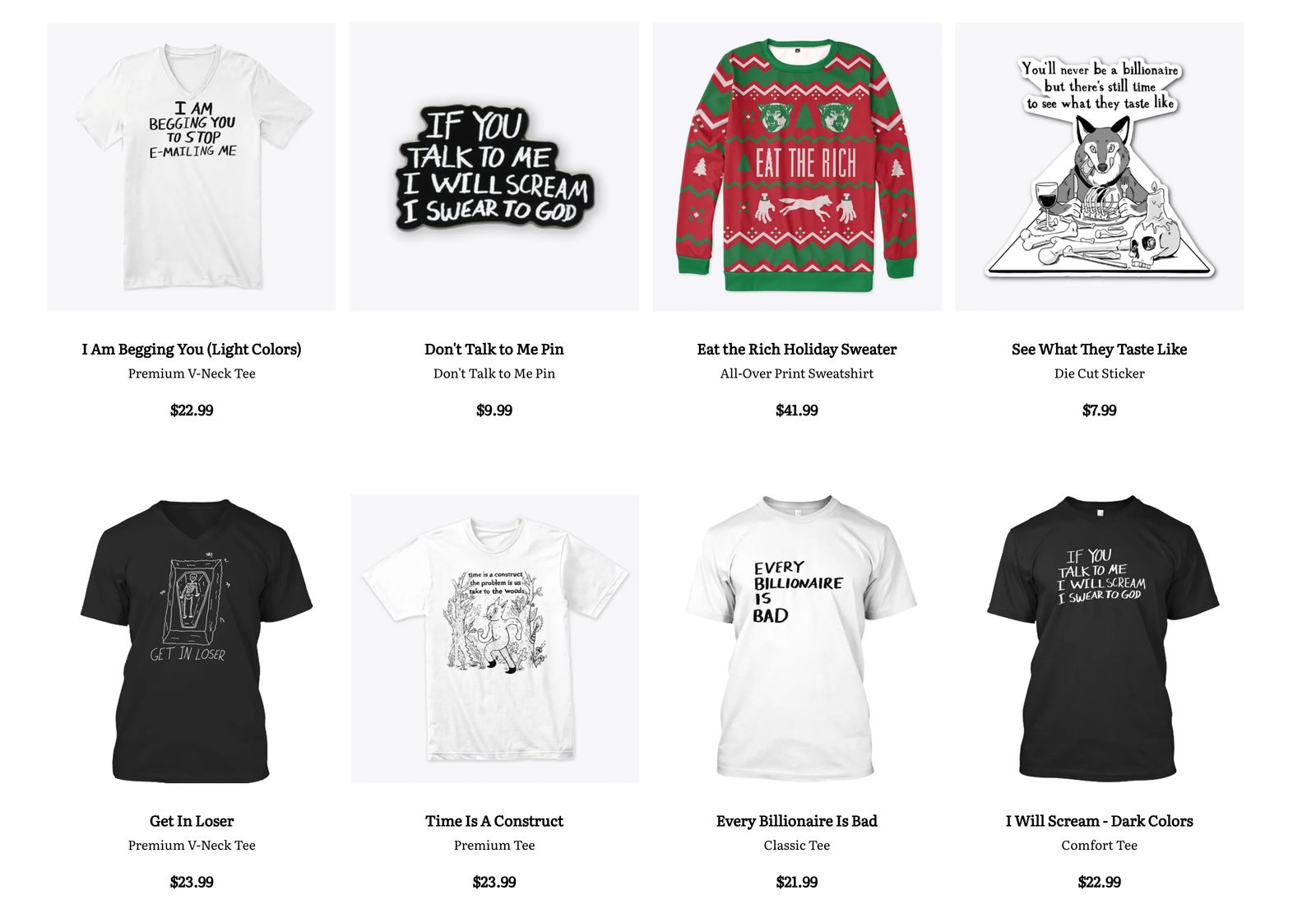 Minimalist Baker
Minimalist Baker is a popular food blog featuring "simple recipes that make you feel good." Recipes on the blog feature ten ingredients, one bowl, and take 30 minutes or less, making cooking and baking accessible for their fans. With a highly trafficked website, over 2 million followers on Instagram, 333,000 Pinterest followers, 127,000 YouTube Subscribers, and 475,000 Facebook followers, it's no wonder that the brand decided to start offering products to its fans.
The Minimalist Baker vegan cookbook can be found on their website and is purchasable from all major book retailers, including Amazon and Barnes and Noble. The website also features a robust "Shop" section with product recommendations across various kitchen categories. In this case, products are featured via affiliate links. Visitors click on a link to buy direct from the product company or retailer (like Amazon), and The Minimalist Baker makes a percentage of sales.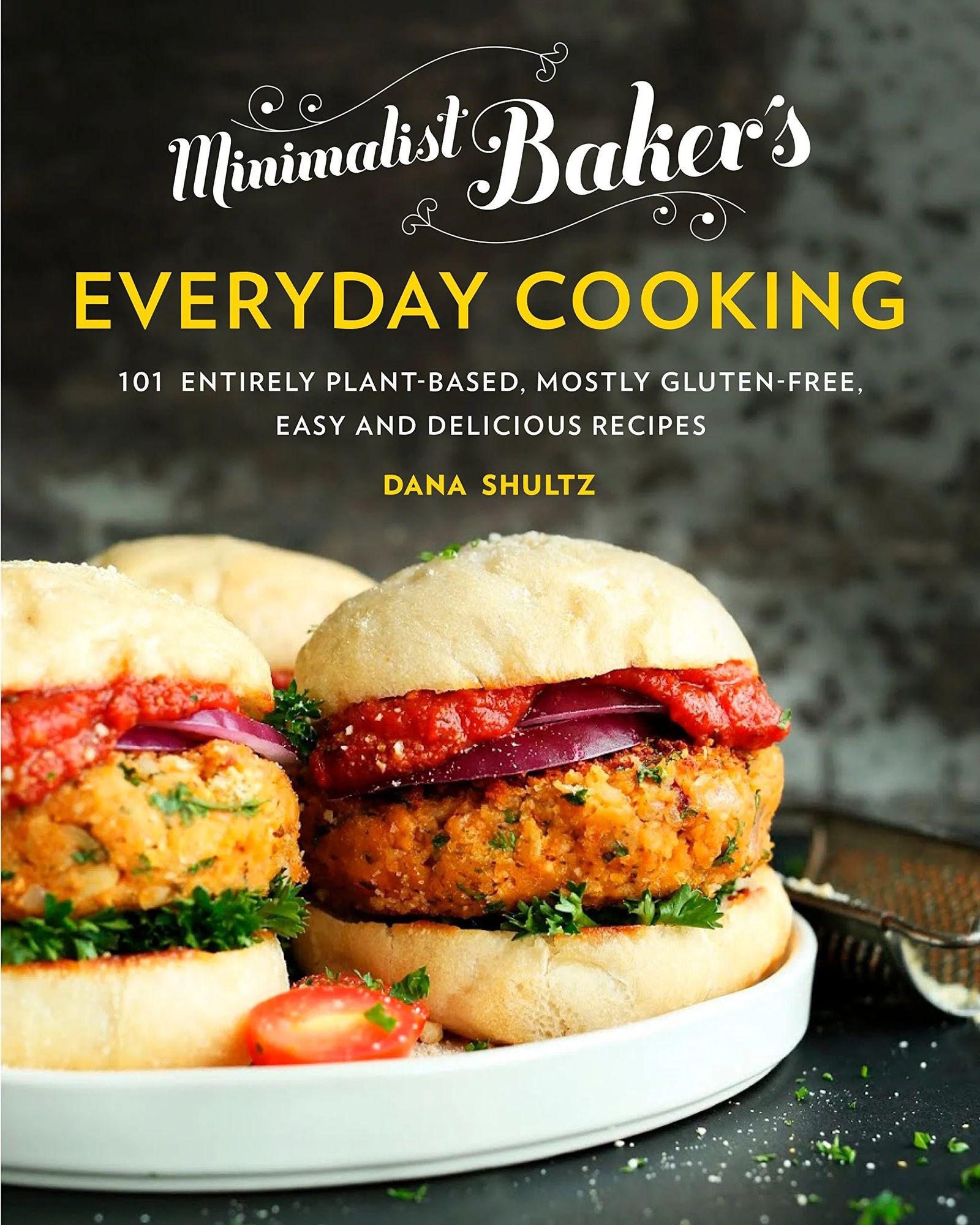 Content Creators
Content Creators is an active and engaged Facebook group managed by Kim Doyle. Creators of all kinds – marketers, bloggers, podcasters, video creators, newsletter publishers – connect and share tips on making great content.
Building off the group's momentum, Kim and her Co-Creator, Jodie, decided to launch a planner all-around content creation called the Content Creators Planner. The planner helps creators plan, execute, and post their works to achieve their goals. It also has tracking prompts to monitor progress. It is a product that perfectly aligns with the audience from which it was born.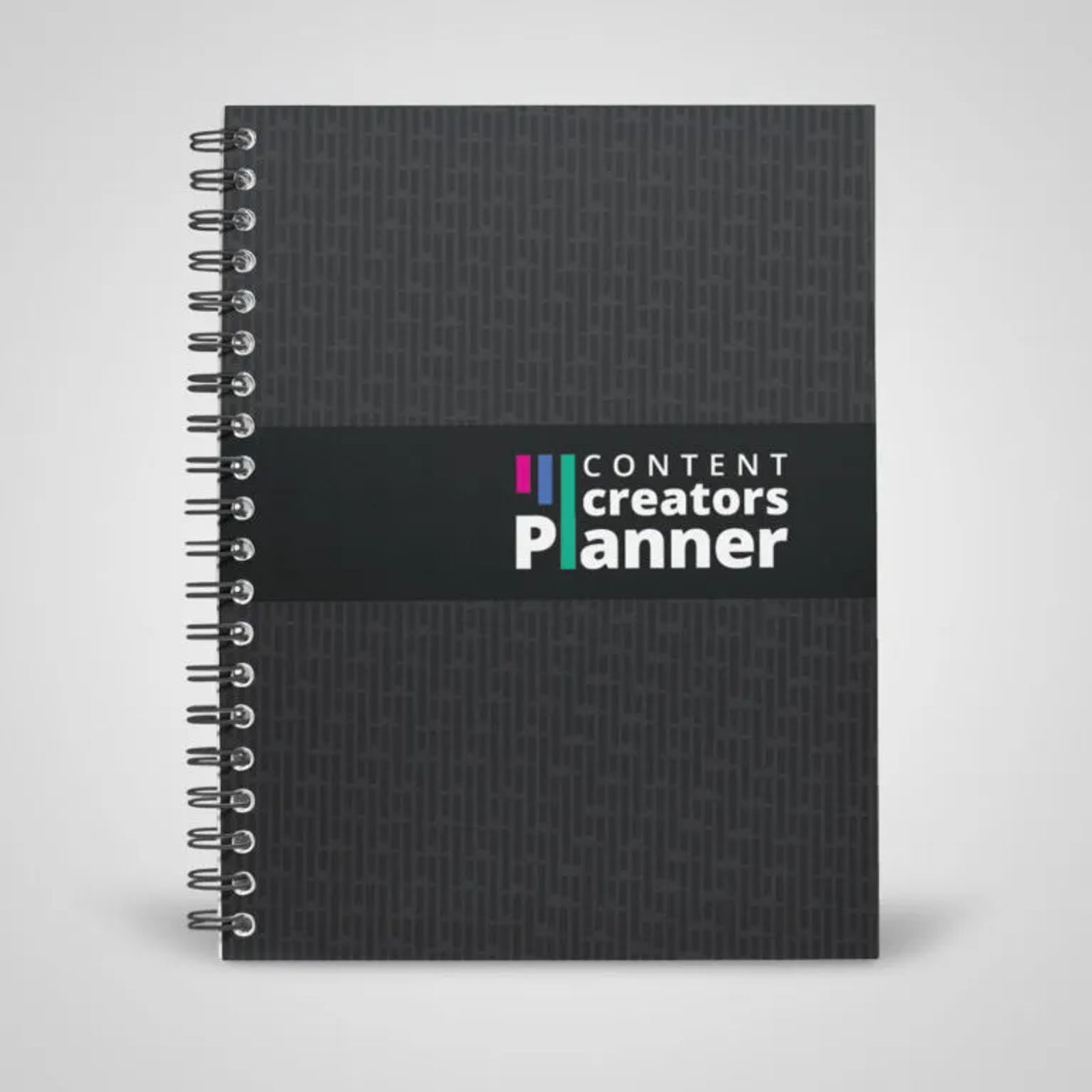 How to Start Your E-Commerce Strategy
What products will you sell to your audience?
As a creator, you know your brand, and you know your audience. You probably already have some ideas for the types of products you'd like to offer them. Take some time to jot down all of your thoughts. Keep it simple, make a list on paper or in whatever digital tool you prefer.
How will you produce, sell, and distribute the products?
Once you have an initial list together, start researching how you would produce, sell, and distribute each product.
As we've listed above, you can choose to produce your own goods where you would need to have the item manufactured and purchase and store inventory. You can use a print-on-demand service for most basic merch items. Or, you can operate as an online retailer, offering other companies products that you know your audience would love.
Now, you can begin a process of elimination. Consider what you're willing to invest to launch a product offering to your audience. Do you have the resources to produce your product line? Do you have the time or help to do the distribution? Would it make more sense to start with a simpler option?
You'll want to ask yourself these questions as you decide which products will make the cut for your initial product(s) launch.
Once you've decided on your products, you'll need to set up a way to sell them. Let's look at a few of the platforms that can help you do this.
Merch On Demand
Enjoy the ease of selling merch with an on-demand service. You provide the design and the customers; the on-demand service takes it from there! You don't have to worry about production, inven
Order Merch Inventory
If you're ready to get a larger share of the pie with the tradeoff of handling more logistics, then ordering merch inventory may be for you. You can sign up with the providers below and score savings with larger quantity orders, giving yourself a larger profit margin.
Drop Shipping
Provide a variety of curated products to your audience without the hassle of managing your inventory. You can check out the following dropshipping services. Add products to your store and let the drop shipper handle all of the fulfillment after the sale.
Wholesale Inventory
When you purchase inventory from a wholesaler, you may be able to make a more significant profit. However, that comes with a lot more work on your end. For some who venture into e-commerce, it is worth it. Check out these sources for wholesale products.
You can also check out wholesale tradeshows within your state or region where you can meet with potential vendors.
Set Up Your Store
Print-on-demand merch services will often provide you with an online "storefront" where you can direct fans to purchase your products. If you want more control over your online store, you may still want to set up your e-commerce store and integrate it with one of the on-demand services listed above. If you are managing inventory, then you'll need an e-commerce platform to sell it. Check out the options below.
Add Your Store to All of Your Channels
Once you've finalized your products, determined how you will handle inventory, and set up your sales method, it's time to add your store to all appropriate channels!
You'll want to add your store or product sales page to all of your online profiles, including:
Website
Facebook
Instagram
YouTube
Twitter
TikTok
Twitch
LinkedIn
E-newsletter Template
Email signature
Of course, you want to use the platforms above that you are currently active on and where you've built a following!
Promote your merch.
Now that your store is set up and you've added links to all of your channels, it's time to start promoting your products to your audience.
As a content creator, you already know how to make posts that resonate with your audience. So, now it's time to start including your content in your posts.
Consider building momentum by teasing the new merch before it's available for purchase. You can run a giveaway, so a few fans get to feel special by having access to the gear before it's open to everyone. This strategy can help spread the word and build anticipation.
Along those same lines, you can create a sense of urgency by making the product(s) available for a limited time only. Kylie Cosmetics used this strategy to sell out of products in no time! By limiting quantities and the duration of availability, your fans know they need to act fast if they want to purchase a specific item.
Now that monetizing with product sales is part of your strategy, you'll want to be sure to include products in your content regularly. Wear the items in your photos and videos when you can, show the item in your content, remind your audience when and where they can purchase the items.
Be Consistent. Have Patience.
Remember that it can take time for some buyers to pull the trigger on a new product purchase. So, you may not sell out of stock right away. Frequency and repetition are essential tactics to move your sales numbers in a positive direction.
Operating an e-commerce business on top of your content creator business can take time but can also have great rewards in generating revenue. It not only boosts your bottom line but creates an even deeper connection with your audience as they sport your logo and graphics on items in their everyday life (and in their own social media posts). It can be a great way to connect, grow your reach, and grow your bottom line.