How to Make Money with Sponsors – A Guide for Online Content Creators
Content Creator Monetization Strategies
As an online content creator, you'll use a combination of monetization strategies to generate revenue in your business. Regardless of your primary content format – podcast, blog, newsletter, website, etc. – your monetization options include ads, courses and info products, memberships, subscriptions, and more.
Working with brands on sponsored content campaigns is one strategy that can help you make money as a content creator.
First, What is a Sponsored Content Campaign?
In a sponsored content campaign, brands and businesses partner with online creators and influencers to promote their products or services. The creator or influencer develops content about the brand and distributes it through its various distribution channels - website, newsletter, YouTube channel, Instagram, Facebook, TikTok, and other social media platforms.
Wherever you've built up an audience, there's an opportunity to engage brands and businesses in sponsored content campaigns.
The Benefit of Sponsored Content Campaigns
For Brands
Brands need to connect with their target market, the people who are most likely to be interested in their products or services. Therefore, these businesses will seek out creators and influencers who have built up an engaged audience that they believe matches their ideal customers.
For brands, creators provide:
creative content + an engaged audience + distribution and reach
As a creator, you have a unique connection with your audience. You know how to produce content that your readers, listeners, or viewers want to consume, and you have a variety of ways to distribute that content to them. It makes sense for brands to tap into your ecosystem to reach potential customers.
70% of consumers indicate that they'd rather learn about a product or service through content than through traditional advertising, according to the Content Marketing Institute.
When content is delivered through an independent online creator, the audience has greater trust in the information than when it comes from the brand directly.
For Creators
For creators, sponsored content campaigns serve as an effective revenue stream. Working with the right brands can also add value for your audience. When you work with businesses that match your audience's interests and recommend products and services that you genuinely believe in, you have an opportunity to meet the needs of your audience.
By giving you attention, your audience is giving you their trust. Therefore, it's essential to vet the brands you choose to work with to ensure that you ethically recommend their products.
However, when you find the right brands, you can establish long-lasting partnerships that benefit everyone – the advertiser, you, and most importantly, your audience members.
What If You Don't Have a Massive Audience?
You don't need a massive audience to begin a sponsored content monetization strategy. Yes, advertisers will want to reach a sizeable audience, but if you've got a small but engaged audience in their target market, some brands will want to work with you.
When your audience is on the small side, you need to be mindful of how you price your sponsored content campaigns. At the end of the campaign, advertisers will evaluate their return on investment. You'll want them to realize value for their dollars so that they'll want to work with you again in the future.
One way to showcase the campaign's value is to highlight the content production and assets that you can provide to the brand. If you are producing photos, written content, videos, etc., highlight these digital assets' value in your proposal. You can even offer to allow the advertiser to use these assets elsewhere.
As your audience grows, your value grows, and you can gradually raise your sponsored content rates. You can also limit the use of the assets you produce if you choose.

📧 Subscribe to Cursor!
Actionable insights for creators, delivered monthly.
How To Work with Sponsors and Monetize as a Content Creator
Develop Your Sponsorship Offerings
The first thing you need to do in developing a sponsored content strategy is to define your sponsorship offerings.
First, consider your content formats.
The first step to developing your sponsorship offerings is to make a list of your content formats. Content formats may include:
Blog posts or articles
Newsletter features
Videos
Photo Galleries
Social Media Content
Podcast Episodes
Banner ads
Next, take an inventory of your distribution channels.
Make a list of all of the places where you can distribute the sponsor's message. Your content distribution channels may include:
Your website
Newsletter
Podcast
YouTube Channel
Facebook Page
Facebook Group
Instagram
TikTok
Twitter
Once you have your list of formats and distribution channels, you can start to think about how you can use them to build out a campaign for a sponsor.
Create a Media Kit
Whether a brand reaches out to you or you're calling on potential advertisers, you'll want to have a professional-looking media kit ready.
Your media kit should include:
About info - information about your publication and the content that you produce.
Audience info - a description of the people you reach with your content.
Stats - how many people do you reach through your various channels - website visitors, podcast listeners, newsletter subscribers, YouTube subscribers, Facebook followers, Instagram followers, etc.
Ad packages and rates - include information about pre-set ad packages. If you don't want to have pre-set packages, you can take the approach of customizing each campaign for your advertisers. Provide some information about that process in place of the packages, if applicable.
Testimonials - if you've worked with advertisers, include a few positive words from them. Don't worry about having testimonials right away but plan to add them as you can.
Contact info - provide your name, email, phone number, address (if applicable), website, and social media links.
Check out a sample media kit here.
Tools like Canva make it easy to put together a great looking media kit for your content creator business.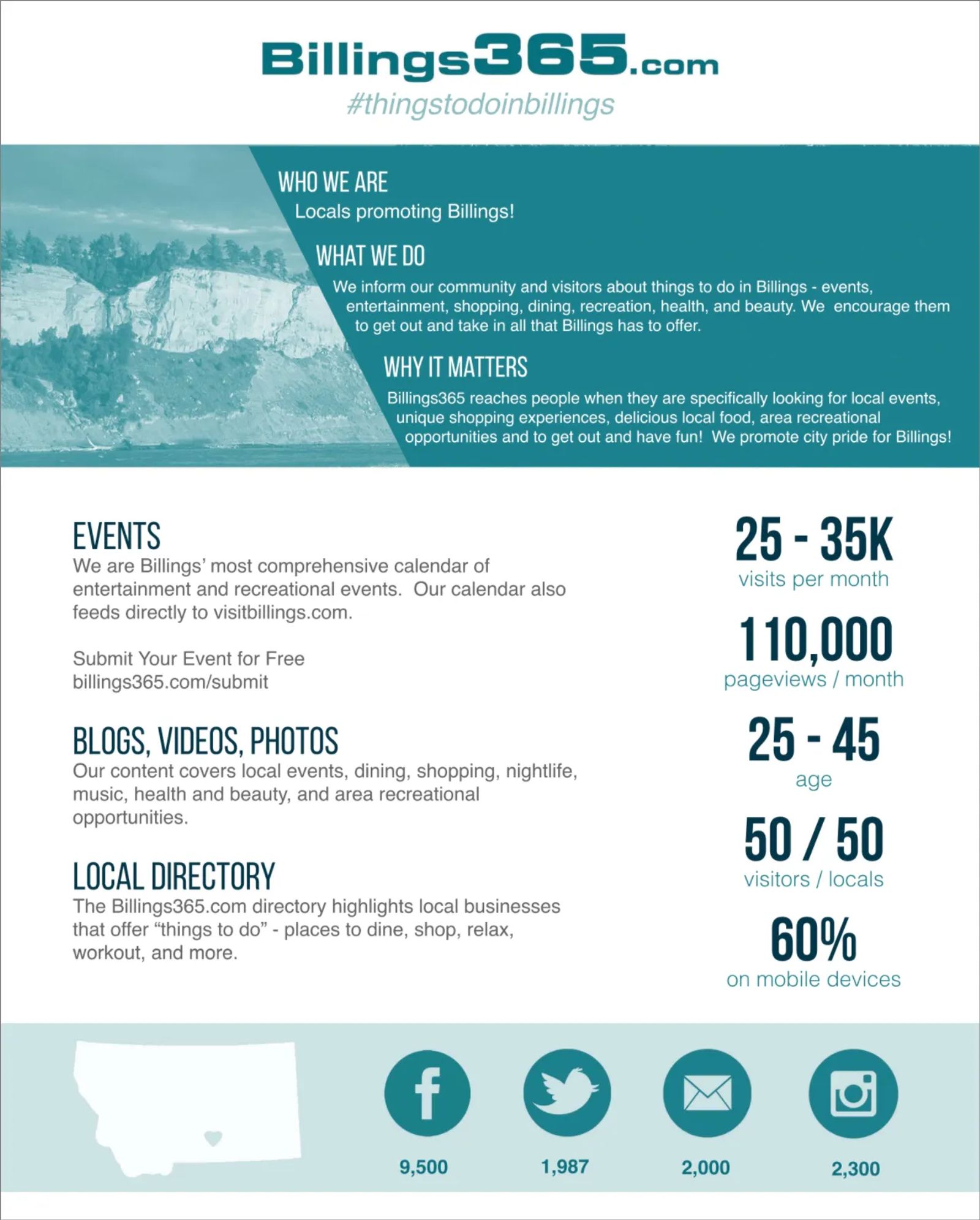 Prospect
Develop a list of potential advertisers. How? Go back to your media kit. What did you write about your audience? Now, consider which brands or advertisers want to reach that audience. You don't have to work with big brands to monetize your content successfully. Think about smaller businesses that may be a good fit. They are typically easier to reach out to and are more flexible with their advertising budgets.
Reach out to potential advertisers
Send emails, reach out on LinkedIn, start interacting with your prospects' social media posts. Do what you can to get in front of them. Don't hesitate to follow up more than once. Sales requires persistence.
If you're successful at generating interest, you'll need to correspond to understand their needs and close the sale.
Meet with the Brand Partner
Meet in person or over a video chat to gather information and assess the brand's goals and priorities.
Here are a few things you should cover in that meeting:
Their present and future marketing priorities.
What quantifies success for the brand? This might be email subscriptions, products purchased, registrations for their event(s), etc.
What other marketing campaigns are they currently running? Can they share some examples of that creative with you?
Are there other brands they follow online whose strategies they admire?
What would be an appropriate timeline for a specific goal/campaign? What is their next goal after that, and what is the timeline?
If you can work together, are there resources they will provide - staff to provide information for content or to appear in the content, digital assets, product as needed?
Develop a Strategy to Meet the Brand's Needs
Timeline
Some brands may want to work with you on a short-term campaign. Others may leave this open-ended, or the duration may depend on the costs. Take the timeline into consideration in your proposal. Just because a campaign is short-term doesn't mean it can't be multi-faceted. Outline 3 or more phases in your campaign. Consider the marketing stages of the brand's customer journey: awareness, consideration, and conversion.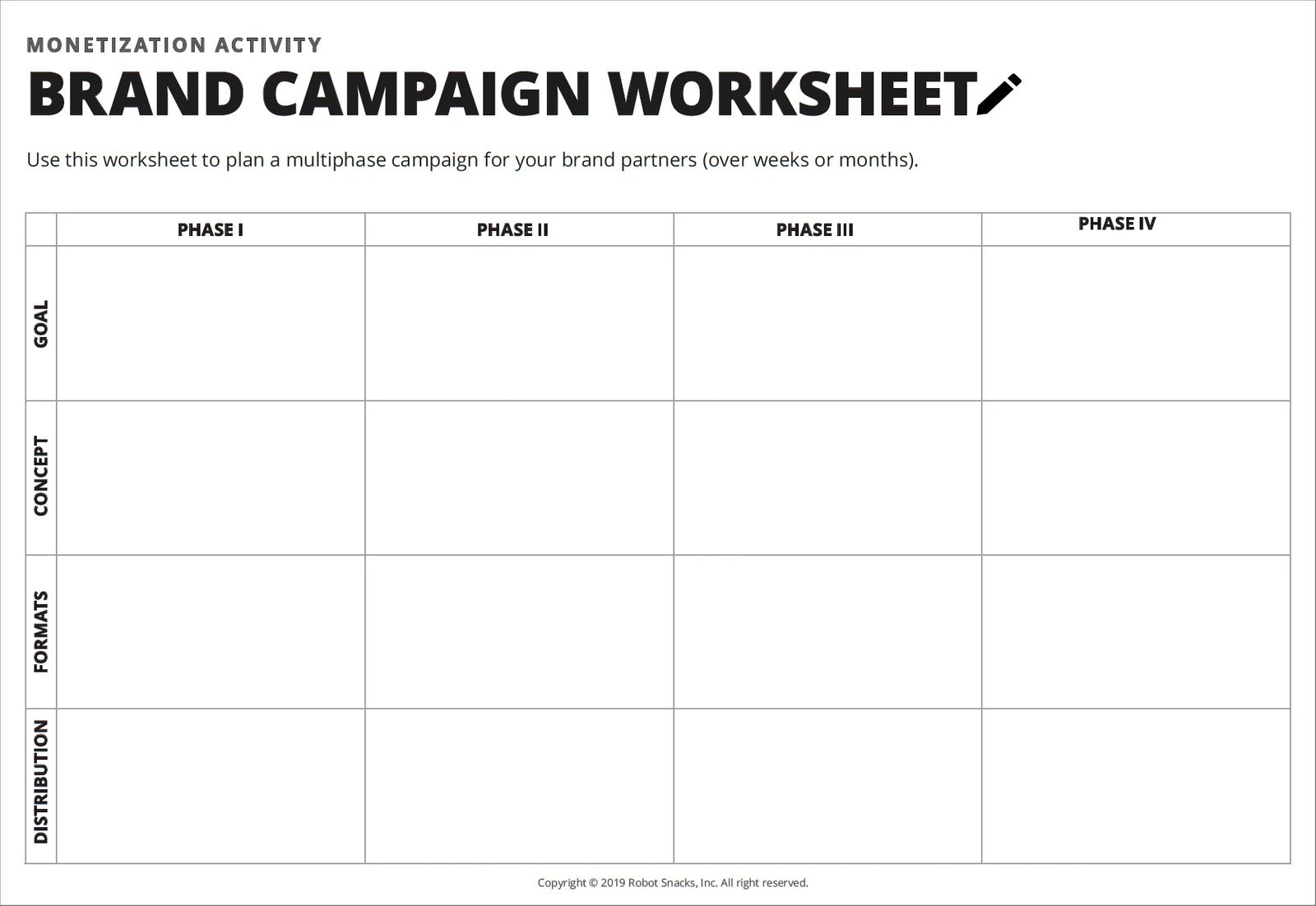 Topics, Formats, and Distribution
Once you've set a timeline, develop a plan for the content that you'll produce within the brand partner's campaign at each phase. Think about their goals and how you can create content that helps them achieve their goals. Think about why this brand would resonate with your audience and develop topics that will accomplish the brand's goals.
Each piece of content that you'll pitch to the brand should include the topic, format, and how it will be distributed. You may take a single topic and produce it in a few different formats to customize it to each of your channels: website, newsletter, Facebook, Instagram, etc.
Consider taking one topic and producing it in a few different formats: a blog, a video, an Instagram Story, for example.
Perhaps you produce a blog post first and post it to your website, Facebook, Twitter, and newsletter.
Then, a few weeks or even months later (if still applicable to the brand), you release a video by uploading it to your Facebook account and tagging your brand partner. You can also include some budget to run paid distribution on Facebook to ensure the video gets reach. You'd also feature the video on your website.
Somewhere between or coinciding with the above, you can use this content to create an Instagram Story.
In each piece of content, the brand partner is clearly identified. Rather than one small amount of exposure, you're able to reiterate their message to your audience across platforms over time. Your audience becomes more familiar with the brand through each impression.
An Example
One of our Cardsetter publishers, Billings365.com, developed a campaign for an event in their community, MontanaFair. On their website, Billings365 created a custom horizontal scrolling section featuring highlights for the fair, including concerts, fair food, and more. Billings365's website visitors could quickly scroll through the highlights and could click on any piece of content to learn more.
Then, over on Instagram, a few weeks after the special section went up on their website, Billings365 created a fun and interactive poll for their followers to respond on whether or not they would be attending the concerts.
The fair was highlighted in two different ways, on two different platforms, giving them cross-channel exposure with the Billings365 audience.
Other Sponsorship Opportunities
You don't always have to create custom content for every brand partner or for every line item in your proposal with a brand partner. You've got assets that can easily be sponsored. You can generate revenue, and your brand partner still gets in front of your audience in the form of brand awareness.
Your e-newsletter, for example, can be "presented by [insert brand]. You could charge for this per e-newsletter and find separate sponsors for each time it is sent, or you could have the same ongoing sponsor for some specific duration.
Billings365, for example, has a "presenting sponsor" across all of its channels. Their sponsor gets a logo in the main menu, the e-newsletter, and the Facebook profile picture. Now, some publishers may not want to go this far in offering up their assets in fear of diluting their own brand. But for some publishers, if the revenue is sizeable, this can allow them to focus on more organic content while generating revenue from that presenting sponsorship.
You could also carry this strategy out with your special sections.
You can combine any number of static sponsorship options along with custom content to build effective and attractive campaigns for your brand partners.
The Proposal
Put together a great looking proposal!
What to Include:
An Introduction: Compliment the brand and express your desire to work with them. Show proof that you can reach a key audience for them.
Use their logo on the proposal.
Reiterate their marketing goals and why this campaign fulfills those goals.
Outline the Campaign Phases, the objective for each phase (awareness, consideration, conversion) and what content, sponsorships, or other advertising (banner ads) will be included at each phase.
This should include the content topic, format, and distribution strategies.
Show visual examples where you can or create mockups using the brand's logo and relevant images or screenshots.
Provide Pricing Information: You are providing audience + content production. Be sure to make this clear in the proposal and price accordingly. (NOTE: If your audience is on the smaller side, you can play up the quality content production piece. Then, this is where it would be wise to be sure you are building in budget to ensure distribution (like through facebook paid campaigns. This way, you can ensure views of the campaign.)
Provide three pricing options, emphasizing the one in the middle (they will usually choose the middle). This is better than an all or nothing approach, and most brands appreciate having some choice.
Include testimonials and references.
Provide stats and analytics that show the strength of your audience.
Make it easy for the brand partner to accept your proposal. No one likes printing, signing, and scanning! Find a solution that will allow you to accept digital signatures. Adobe Document Cloud is one option. We love PandaDocs for making online proposals. They look great, will enable you to get a digital signature, and accept a down payment. There are various other proposal platforms out there at varying price points. Do some googling to find one that suits you.
Disclaimers
The FTC requires that sponsored content and other advertising on your website and within any of your other channels fully discloses the paid partnership. Review the FTC's guide to ensure you are compliant.
Sponsored Content Can Have Long-Term Benefits
Working with brand partners that easily tie in with your content can be one of the most sustainable ways to monetize your site. The goal is to work with them on an ongoing basis. If you can produce results for them on one campaign, it opens the door for you to pitch a long-term ongoing partnership. Eventually, you'll have a base of partners you work with regularly and then can supplement other campaigns into your operations as needed.
Free Workbook
Grow your audience and revenue.
Grow Your Biz as an Online Content Creator
A guide for online publishers, professional bloggers, and niche content creators.
Define your audience.
Set your goals.
Develop a content strategy.
Monetize.