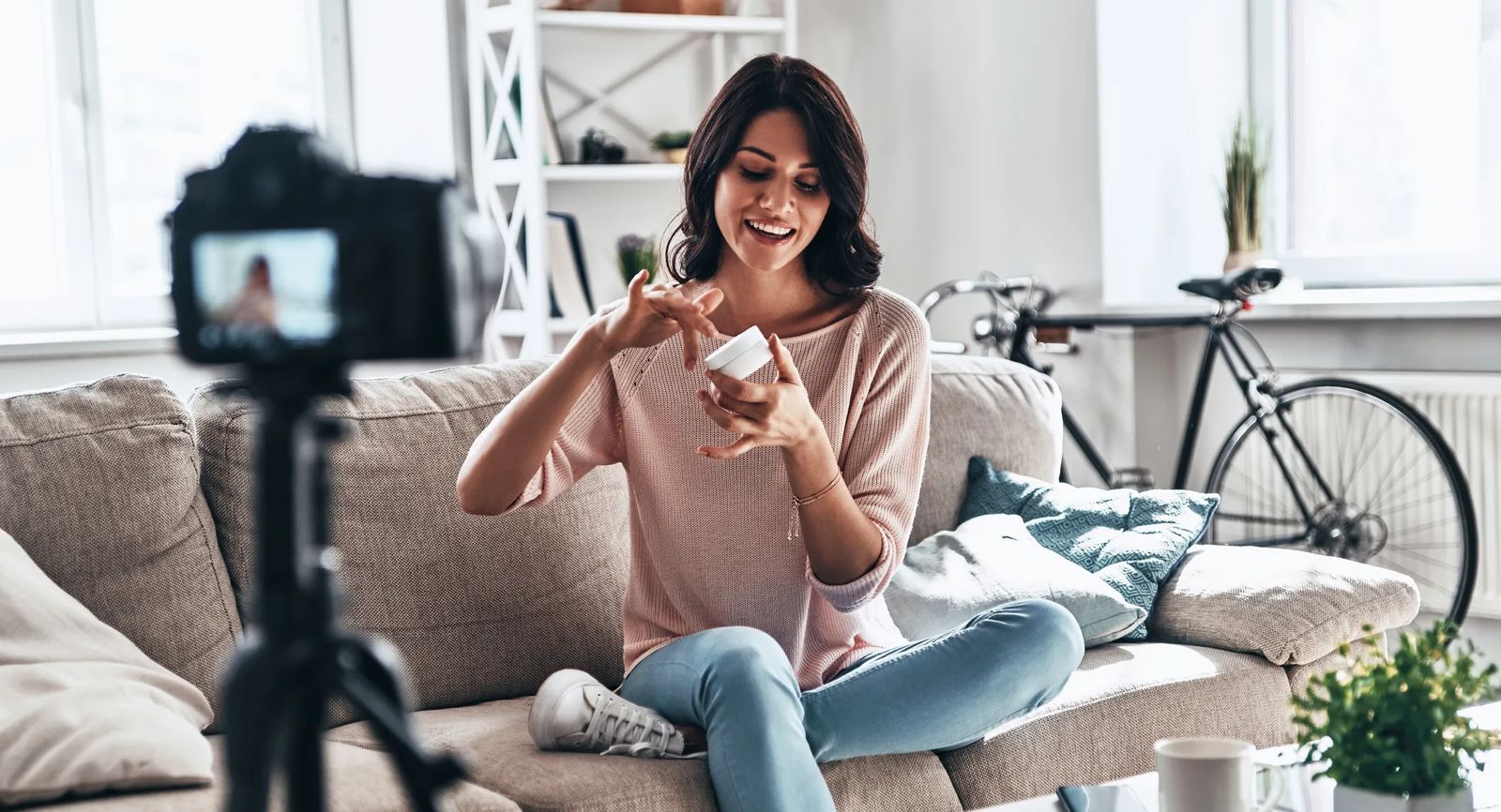 How Content Creators Can Make Money with Affiliate Marketing
If you're a content creator with an engaged audience and substantial traffic, affiliate marketing can be an effective way to generate income. Bloggers, podcasters, online publishers, newsletter authors, and video creators can all make money with affiliate marketing.
Diversifying your revenue streams will help you earn more and protect against ebbs and flows in any one stream. To monetize as a creator, you can sell ads and sponsorships, offer an online course or access to a community, sell products, provide services, and more. Affiliate marketing can be an excellent addition to the mix. Over time, it can grow to provide a steady income. Let's dive a bit deeper into this strategy.
What is Affiliate Marketing?
With affiliate marketing, you promote other businesses ' products and earn a certain percentage on sales generated from your channels. As an affiliate partner, you'll get a link for a product. The link is specific to you and will track completed sales generated from those who click on it. The affiliate system also enables a "conversion window" so that sales are tracked weeks after the initial click. If someone goes back to the company's website and buys, the affiliate system will credit you for the sale. You receive a monthly payment for commissions earned.
As a creator, you want to maintain a genuine and honest relationship with your audience. So, it's essential to choose products within your niche that you are comfortable "putting your name behind." Done well, you can help your fans and followers discover products they'll love while growing your online business.
While many look to affiliate marketing for "passive income," just like with the entire process of becoming a successful creator, it can take some time for this strategy to succeed. Over time, however, you can see traffic increase to your affiliate content and conversions increase; your early efforts will compound over time. Patience is your friend.
How Much Money Can You Make with Affiliate Marketing?
It can take some time to test and optimizing your affiliate marketing strategy to generate real income. Different companies and affiliate networks offer different commission rates. However, in some cases, a product with a lower commission may have a higher conversion rate, resulting in a larger sales volume. You'll need to test what works best for you and your audience.
A 2016 benchmark report from Affstat found that 35% of respondents made at least $20,000 annually from affiliate marketing. The affiliate marketing industry has grown significantly since then. Those with large numbers of traffic and a robust affiliate strategy can make $20,000 in a month. The vast majority are more likely to generate less than $5,000 per month or less. Still, a few thousand dollars added to your revenue each month, when paired with other revenue strategies, can have a substantial impact on your average income.

📧 Subscribe to Cursor!
Actionable insights for creators, delivered monthly.
Examples of Creators Implementing Affiliate Marketing
One of the best ways to wrap your head around how to be an effective affiliate marketer is to study how others successfully execute this strategy. There are a variety of types of affiliate marketing approaches. Let's take a look at a few good examples.
Minimalist Baker
Minimalist Baker makes cooking and baking simple by providing recipes with ten ingredients or less, 30 minutes or less of preparation, or just one bowl. The brand has millions of social media followers, and the website receives hundreds of thousands of visits every month.
To complement the vast library of recipes included on the website, Minimalist Baker has many recommended products in their "Shop" section. Website visitors can find recommended pantry items, baking pans, kitchen gadgets, and more. The online shop comprises affiliate links, most going to Amazon. Still, like the Always Pan, a few others go right to the manufacturer's website for purchase. Always Pan likely has an internal affiliate program in which Minimalist Baker participates.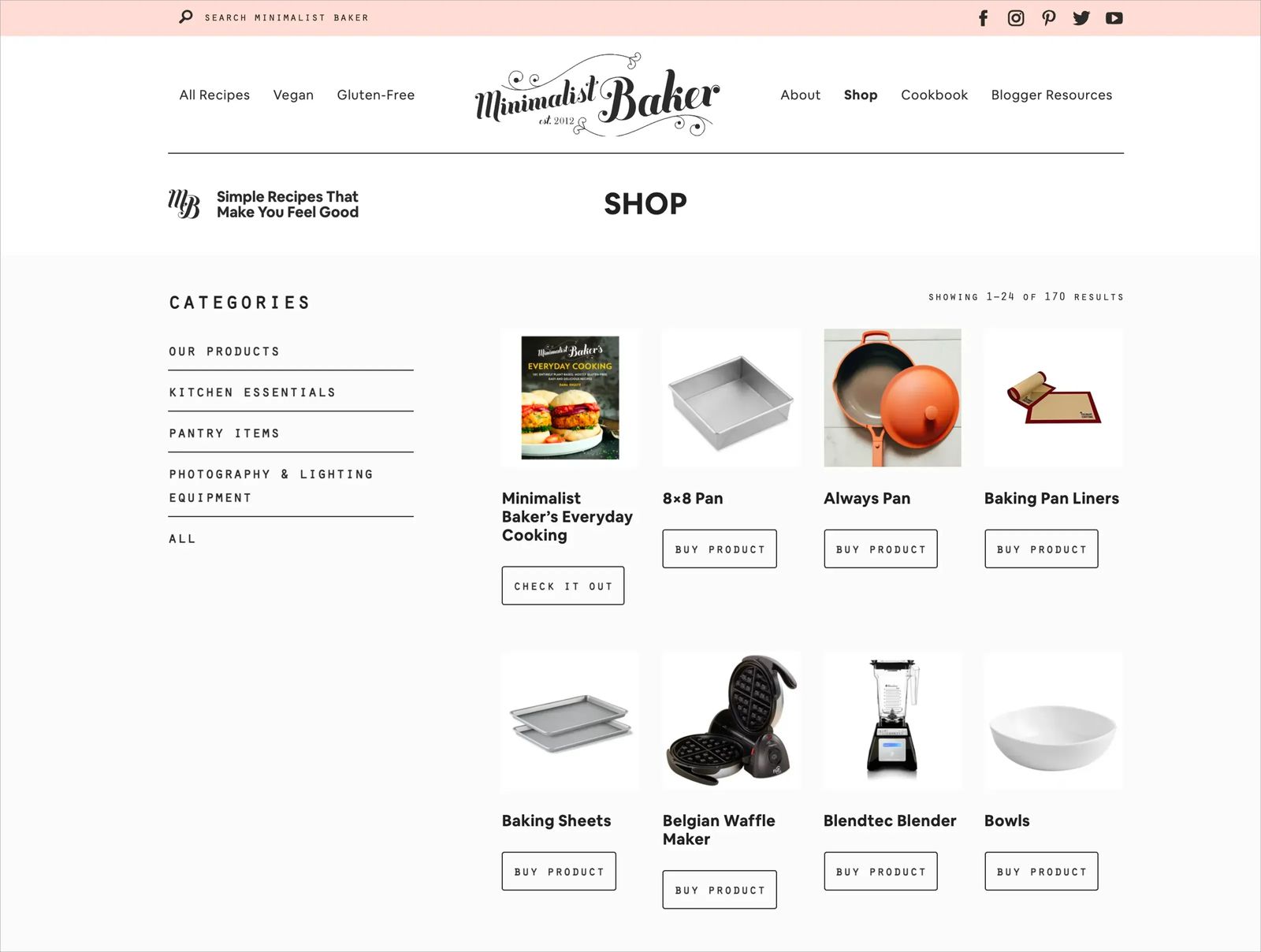 Y Travel Blog
Y Travel Blog helps its fans and followers find authentic experiences throughout the world. The Makepeace family stays in their travel locations for extended periods to get off the beaten tourist path and find true local experiences. In addition to helping their audience plan amazing vacations, Y Travel Blog provides recommendations on travel gear and more. By sharing their experiences and travel tips, they've grown a sizeable, engaged audience.
Travel affiliate programs for influencers in this space offer the opportunity to recommend and earn commission on accommodations, attractions, gear, and more. For example, the popular vacation rental by-owner website VRBO.com offers commissions on both bookings and new listing referrals.
Besides monetizing with sponsorships and ads, Y Travel Blog executes an affiliate marketing strategy throughout the content on its website. You can see one example by checking out their Delsey suitcase review. Notice that they include the required affiliate disclaimer at the start of the blog post.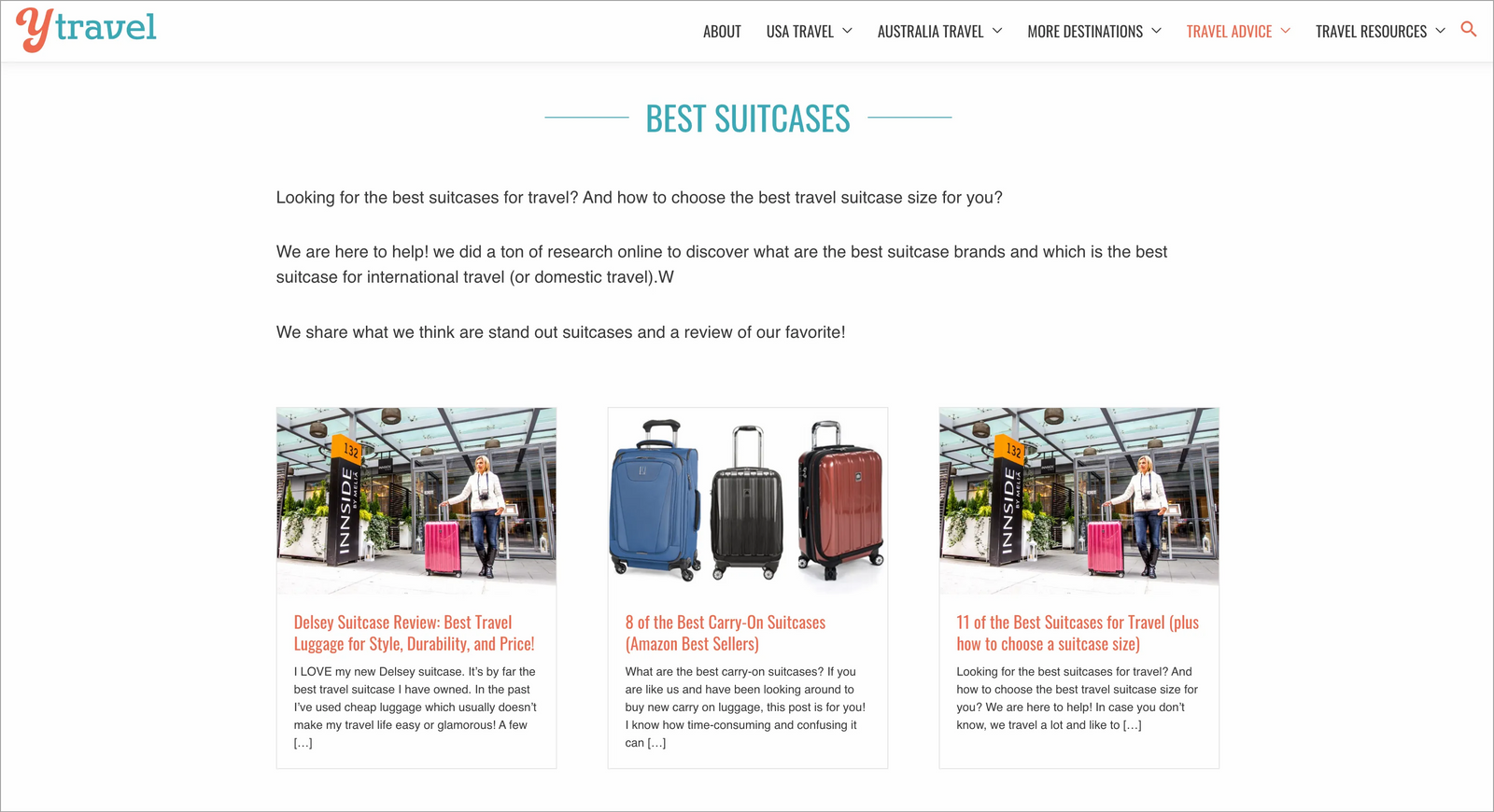 Outdoor Gear Lab
Outdoor Gear Lab is a website dedicated to outdoor gear reviews. The website covers just about any outdoor activity you can imagine, climbing, biking, paddling, snow sports, camping, hiking, and more. The site's content is optimized for popular queries on search engines (search engine optimized). You'll find a comprehensive guide for the "best inflatable kayaks" on the site, for example.
Outdoor Gear Lab has built up a robust affiliate business. Not only do their guides offer helpful reviews, but they make it easy for their readers to find and purchase the products. Now, Outdoor Gear Lab's audience needs to trust that products are recommended in earnest and not just for the affiliate sale. Therefore, Outdoor Gear Lab must be committed to recommending quality products to uphold a positive reputation.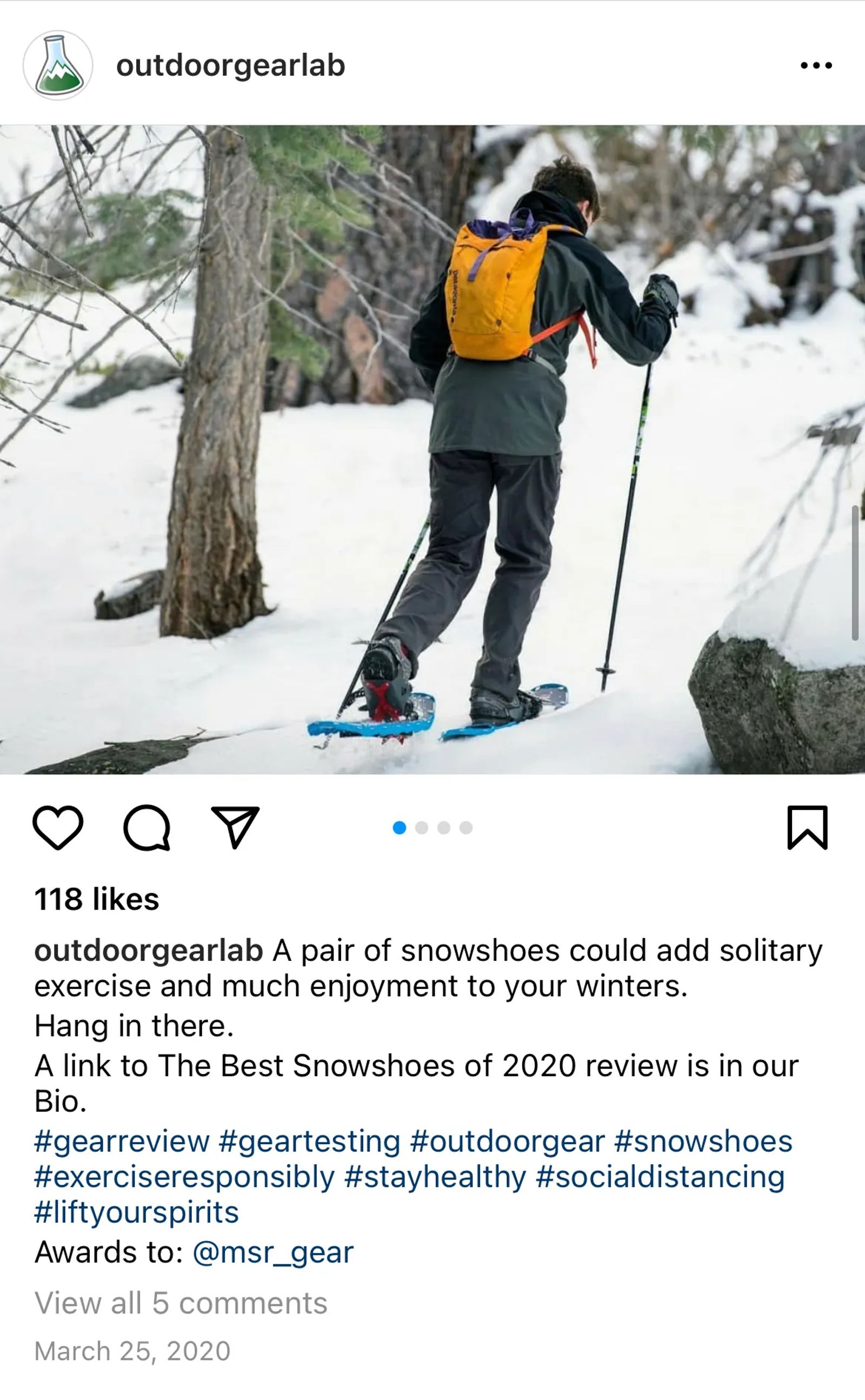 Professional Products
Affiliate sales aren't just for physical products or consumer goods! Websites and blogs in the professional space can generate revenue by recommending professional digital products, like software, info products, courses, and more.
Check out this case study on Pat Flynn's smartpassiveincome.com covering his success in promoting ConvertKit as an affiliate product.
How to Start an Affiliate Monetization Strategy
Prerequisites for Success in Affiliate Marketing
Before you begin an affiliate marketing strategy, you need to have a couple of prerequisites in place, an audience and a website.
An Audience
To be successful in affiliate marketing, you must have an audience to sell the affiliate products to. Regardless of your monetization strategy, an audience is a necessity. If you've started a blog, a YouTube channel, your TikTok account, newsletter, or any other channel, but you don't have an audience yet, spend more time on your content before moving onto monetization.
A Website
Indeed, you don't have to have a website to sell with affiliate links. You can post affiliate links in your emails, on YouTube, or in your social media feeds. However, we highly recommend that you have a website as part of your affiliate marketing strategy.
Your YouTube channel, newsletter, and social media channels provide an excellent means of promoting your affiliate products directly to your engaged fans and followers. A website helps you capitalize on search traffic over the long-term. If someone is searching for the "best espresso maker for home use" and you have an article on your site with the affiliate link, you can broaden your customer base and get more yield from that affiliate link over several months or years.
Having your affiliate products on your website also gives your fans a place to find all of your curated products. If they don't buy when you first post about the product, they can always find it on your website.
And as always, having a website (along with an email list) helps you guard against other platforms' algorithm changes. It's a good idea to cultivate an audience that visits your website and subscribes to your email list.
What's the easiest way to get a website up and running?
The old way: You'll hear a lot of advice suggesting you use WordPress for your website. Why? You'll listen to a variety of reasons. Many who recommend WordPress make money by doing so (probably through affiliate sales for WordPress hosting). Others are simply repeating advice that has been said to them, and so the circle continues.
The new way: If you're ready to break from the mold, Cardsetter offers a much easier way to start a website. We built Cardsetter to help creators do more with their content and monetize in a variety of ways. You never need to worry about troubleshooting a plugin breaking your website or dealing with hosting or other technical issues.
Cardsetter is easy to use, so you can focus on creating content, connecting with your audience, and monetizing your business.
You can check out our Cardsetter vs. WordPress comparison here.
Once you have a website and an audience, you can begin monetizing with affiliate marketing.
Step 1: Choose Your Affiliate Products and Networks
The first step is to find the affiliate products and networks that make sense for your brand and your audience. Some companies are part of affiliate networks. These networks act as a marketplace, matching products with content creators who want to promote them.
Other companies run their affiliate programs independently, and you can apply to their programs directly.
You can begin by researching the various networks to see if they have products and brands that are a good fit for your audience. You'll find all types of products–apparel, home decor, accessories, electronics, health supplements, automotive tools, and items for nearly any niche.
ShareASale, Amazon Associates, CJ Affiliates, and Peerfly are some of the most popular affiliate networks.
You can also check directly with brands to see if they have an affiliate program and apply directly. Below are a few examples of companies that offer in-house affiliate programs. Blogs and influencers that want to recommend their products need to apply for their programs directly.
Society6
Society6 is a website where you can find art and home goods featuring designs by artists and creators. Individuals can order bedding, clocks, art prints, backpacks, and other products featuring unique and sometimes quirky designs.
Society6 offers a 10% commission on purchases made within a 30-day window from affiliate links. Those who are interested in recommending their products can apply directly for the program.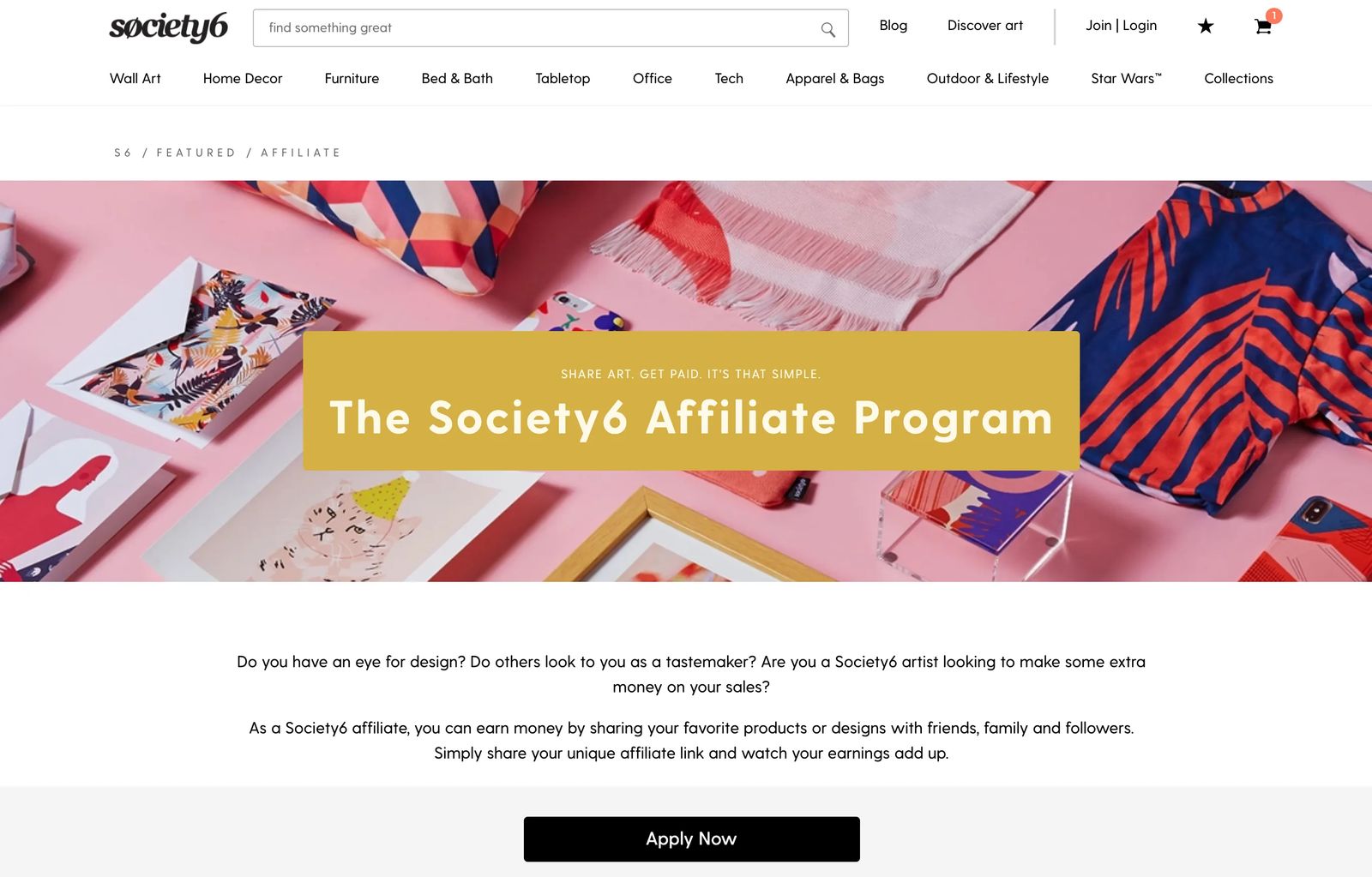 House of Wise
House of Wise is a CBD product line developed to help women with sleep, sex, and stress. Not only does the brand offer an affiliate program, but it's central to the company's marketing and revenue strategies. Affiliate partners carry the "Wise Woman" title. While affiliates are usually the ones touting and promoting brands on their social profiles, House of Wise reciprocates. They feature their "Wise Women" on the brand's social media profiles as well. House of Wise works to make their affiliates more successful by encouraging sales through their affiliates' links and cultivating their affiliate members through training, online meetups, and encouragement.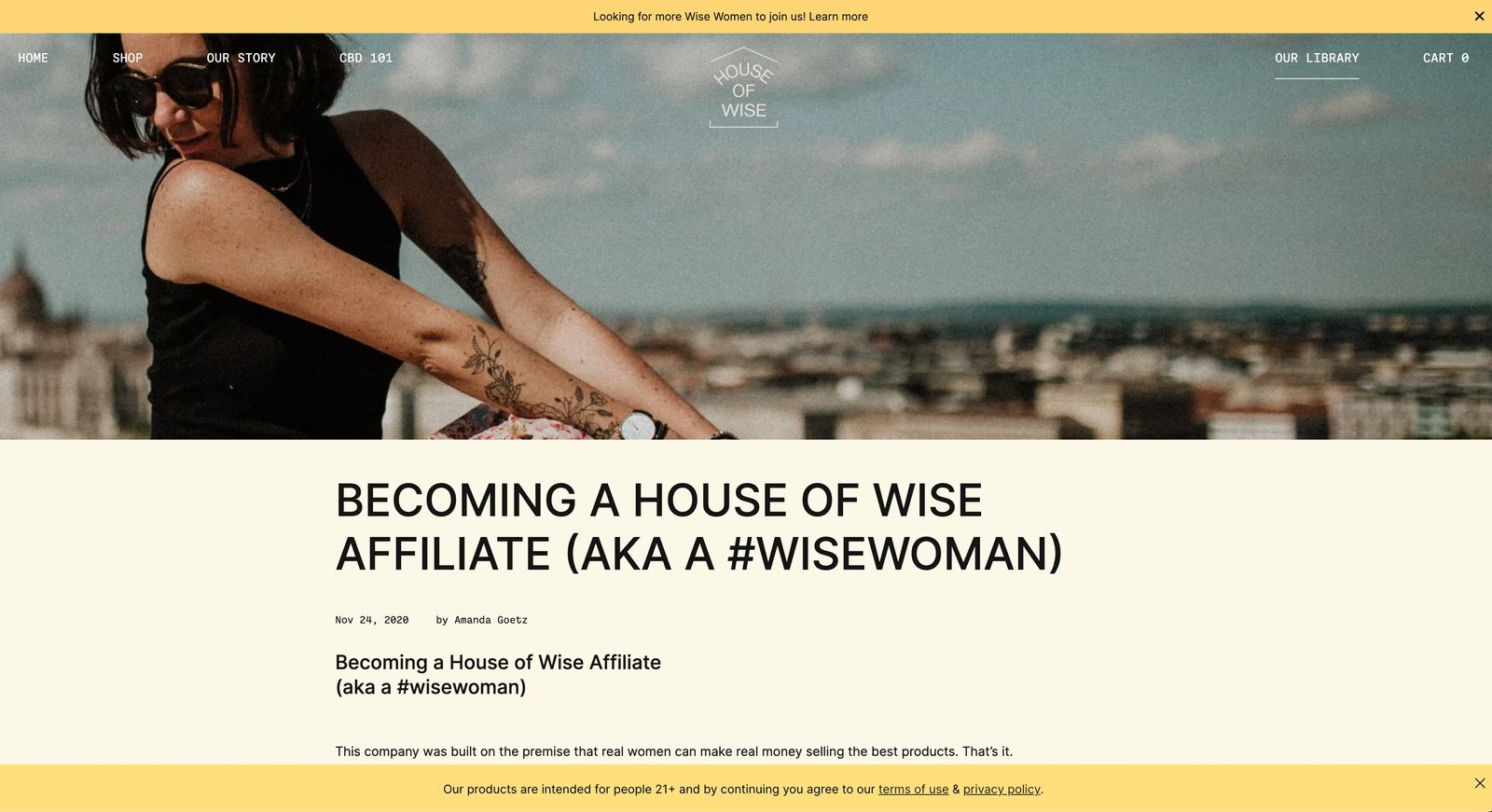 ConvertKit
ConvertKit is a popular e-newsletter, landing page, and automation platform. Bloggers, creators, and small businesses use the software for marketing and internal communications with their customers and audiences. Bloggers often recommend the platform to other bloggers and are rewarded with a 30% commission. With ConvertKit, partners get recurring affiliate income on sales. ConvertKit pays out 30% of the new customers' subscriptions to the affiliate every month.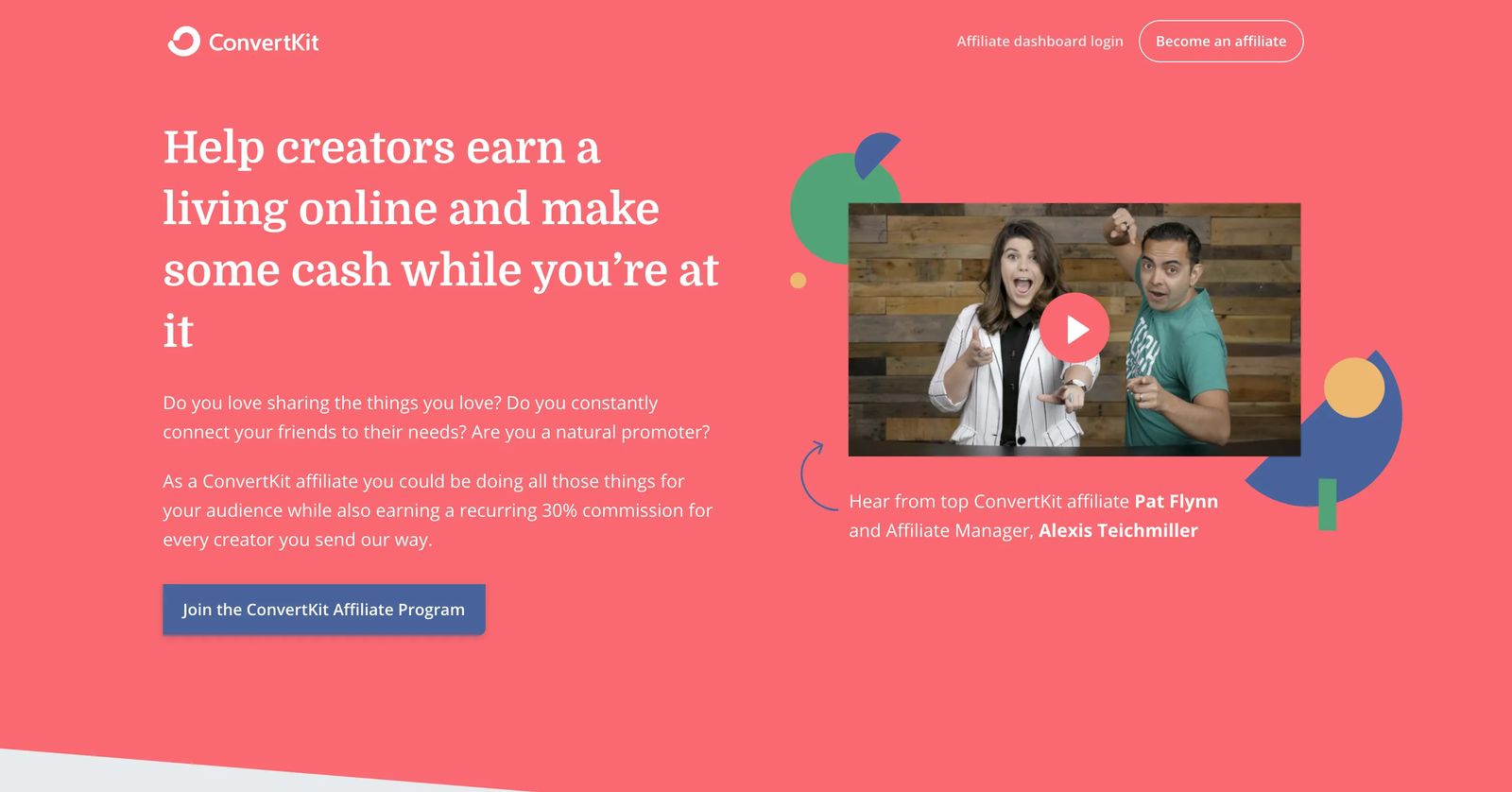 Step 2: Add the Products to Your Content Channels
Once you've decided on the products you'll promote, and which affiliate networks you'll belong to, it's time to start adding products to your channels.
Suppose you have a website (like in our Minimalist Baker example). In that case, you might create a new "shop" section with all of the products you're recommending. Your website visitors can browse all of your recommended products, similar to browsing an e-commerce store.
Many affiliate marketers develop blog content that includes product links to help their readers learn more and to take advantage of long-term search traffic.
Similarly, YouTube videos can be effective in the long-term for your affiliate product recommendations. YouTube videos, like website content, have the potential to show up in search. Therefore, someone searching the web for a specific product you've featured may come across your video and choose to buy from your affiliate link.
You can also start including your affiliate links in your e-newsletter and show them off on Instagram, TikTok, or Pinterest. Be sure to review the terms of service for all of your channels to understand how to include affiliate products in your content appropriately.
Step 3: Promote Your Affiliate Products
Affiliate marketing is not a "set it and forget it" approach to monetization. To be successful, you need to regularly promote your products, optimize relevant content to help drive results, and test and refine various products to see what works.
Just as you work to grow traffic to your regular content, you want to drive traffic to your affiliate links to increase your revenue.
Promote your products by creating content about them and distributing that content throughout your website, e-newsletter, and social channels. You can include your affiliate links in the video description or as a clickable link on your videos on YouTube.
Consider promoting traffic to your affiliate content on your website as well. If a specific product recommendation performs well, add that content to your homepage or menu. If your site has banner advertisements, you can run internal ads to your affiliate content to generate sales.
Affiliate Links Tech Tip
Consider using a third-party link manager for your affiliate links, like GeniusLink. You can create your affiliate links within GeniusLink. Links can be localized, which is especially helpful with Amazon links. That way, International website visitors will land in the correct Amazon store for their country, and you'll get your affiliate commissions from the sale. GeniusLink has several other features that make managing and updating your links easier.
In conclusion, yes, you can generate significant income from affiliate marketing programs. Many content creators use this strategy as one piece of a more comprehensive monetization plan.
To be successful, you'll need to:
grow and engage your audience
optimize your affiliate content strategy
find the right affiliate relationships and programs
test and refine to maximize your affiliate revenue
Be patient and keep your audience's best interests at the center of all you do.