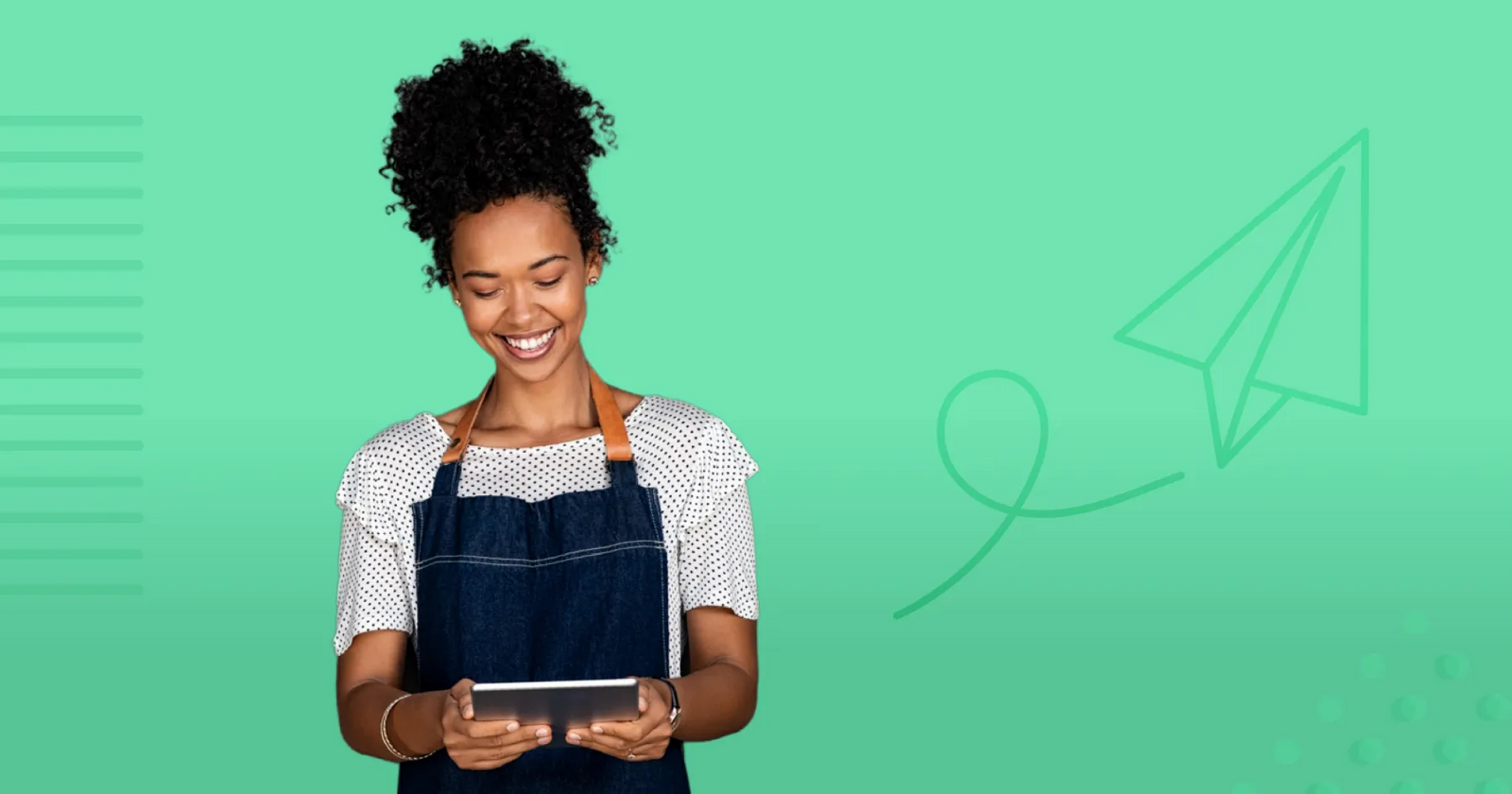 Email marketing 101: a winning strategy for small businesses
Email is a powerful tool for small businesses looking to connect with their target audience and boost sales. According to industry reports, for every $1 spent on email, marketers generate a return of around $45 –making it one of the most cost-effective forms of online promotion.
In fact, marketing emails often have better conversion rates and drive more sales than many other channels. However, many small businesses struggle to develop and execute a winning email marketing strategy, with no clear plan beyond a simple "subscribe to our email list" call to action on their website.
But with the right approach and a little planning, your business can leverage the full potential of email to maximize engagement, generate leads, and drive sales. This email marketing 101 guide is here to help!
Email marketing 101: content strategy
A solid content plan is crucial for success in email marketing.
Haphazardly sending emails only when promoting something or without a clear strategy can lead to failure. This approach causes disjointed messaging that lacks a consistent theme or story between emails.
To foster engagement and trust with your email subscribers, consistently providing valuable content is essential. This can be achieved by developing a clear plan and following a regular schedule. By doing so, your subscribers will come to expect and appreciate your content, leading to increased engagement and conversions.
Before adding a sign-up form to your website or trying to grow your list of subscribers, you should have a content plan in place. Determine exactly what you'll send people once they opt in.
Here's a framework to help you create your email content plan:
1) Consider your ideal customer
When creating your content plan, start by defining your ideal customer. Who are they? What do they care about? What challenges do they face? Tailor your content to your potential customer's interests and needs. Doing so will help ensure that your subscribers are interested in what you say and are more likely to engage with your emails.
2) Brainstorm topics
Once you know your ideal customer, brainstorm topics that interest them. Consider what information or insights you can offer to provide value to your subscribers, like tips, tutorials, case studies, industry news, or exclusive offers.
For example, an interior designer may focus on delivering seasonal houseware finds, showcasing before and after design transformations, and alerting subscribers to the latest design trends.
3) Outline the first twelve emails
It's best to plan ahead and create a sequence of emails that work together to showcase your expertise and foster engagement with your subscribers. Planning your first twelve emails can be a great starting point, as it provides enough content to ensure consistency for your initial subscribers.
When deciding on the topics for your first twelve emails, keep your ideal customer in mind. Consider what topics would resonate with them. Start with an introduction email that welcomes them to your list and sets expectations for what they can expect to receive from you.
The subsequent emails can then build upon the previous ones and leave subscribers looking forward to the next. Effective email campaigns include a mix of educational content, such as tips and how-to guides related to your business, and promotional content, such as special offers and product announcements.
Here's an example sequence for the first twelve emails:
Welcome email: Introduce yourself and your business, and set expectations for what subscribers can expect to receive from you.
Educational content: Share tips or advice related to your business that can help your subscribers.
Storytelling email: Share a personal story related to your business or brand.
Educational content: Continue sharing tips or advice.
Promotional email: Offer discounts or special promotions for your products or services.
Educational content: Share a how-to guide related to your business.
Storytelling email: Share another personal story related to your business or brand.
Educational content: Share industry insights or news related to your business.
Promotional email: Highlight a specific product or service and its benefits.
Educational content: Share a case study or success story related to your business.
Storytelling email: Share a personal story that showcases your brand values.
Promotional email: Offer a limited-time discount or special promotion for your products or services.
Keep your ideal customer in mind when creating your content plan and to provide value to your subscribers before promoting your products or services. You can engage your subscribers and build their trust over time with a well-planned email sequence.
4) Use the 80/20 rule
Strike a balance between providing value and promoting your products or services. The 80/20 rule suggests that you focus 80 percent of your email messaging on delivering value to your readers and only 20 percent on promoting your products or services. Most of your emails should be informative, educational, and entertaining rather than purely sales-focused.
Why is this important? If you constantly bombard your subscribers with sales pitches and promotional offers, you risk coming across as spammy and insincere. People may become annoyed, leading to decreased engagement and a higher unsubscribe rate.
On the other hand, by focusing on delivering valuable content, you'll build trust and credibility with your subscribers. They'll see you as an authority in your field and will be more likely to open and engage with your emails. This, in turn, will increase the chances of them purchasing your products or services when you do promote them in your emails.
5) Decide on frequency
Deciding on the frequency of your emails can be a critical factor in the success of your email marketing campaign. You want to find a balance that keeps your subscribers engaged and interested without overwhelming or annoying them with too many messages. A general guideline is to send at least one email monthly to keep your subscribers connected to your brand.
However, the ideal email frequency can vary depending on your business, audience, and email marketing goals. For example, suppose you run a daily deal website. In that case, your subscribers might expect daily emails with the latest deals. But if you're a small business owner sending informative newsletters to your customers, emailing once a week may be more effective. Ultimately, testing different frequencies and paying attention to how your subscribers respond is essential. Use metrics like open rates, click-through rates, and unsubscribe rates to fine-tune your email frequency and find the sweet spot that works best for your business and your audience.
6) Use automation
Automation is a powerful email marketing tool that can streamline your efforts and save time. Most popular email service providers, such as Mailchimp, ConvertKit, and Campaign Monitor, offer automation features that allow you to set up and send emails automatically in a specific sequence (or drip campaign).
By creating a sequence in advance and using email marketing automation, you can ensure that your subscribers receive your messages at the right time without requiring constant manual effort.
Once you have your emails set up, you can use the automation features in your email marketing platform to schedule each email. You can also set up the sequence to pause if a subscriber takes a specific action or until a particular date, ensuring that the right messages are delivered at the right time.
7) Choose a simple design
When it comes to email design, simplicity is critical. Too many images and too much text can make your emails challenging to read and impact email deliverability. Many email services will mark messages with large photos or many links as spam, so it's essential to keep things simple.
Focus on creating an attractive but basic email design that will capture readers' attention without overwhelming them. Use one main image and avoid adding too many links so that the main focus remains on the content of your message. Your email marketing platform will have email templates you can use. Choose a template that incorporates these guidelines. Ensure the color palette you choose is cohesive and visually appealing; this will help create a branded look and feel for your emails.
By following these tips, you can create effective emails that capture readers' attention without hindering their experience or affecting deliverability.
8) Continue adding content to the sequence
After launching your email sequence, continue adding valuable content to your series. While some subscribers may convert after just a few emails, others may need more time to develop trust in your brand and become ready to take action. Continuously providing valuable content can help keep subscribers engaged, build their confidence in your brand, and increase the likelihood of conversions over time.
Adding content to your email sequence lets you maintain a strong relationship with your subscribers and keep them interested in your brand for the long term. Adding new content to your email sequence also keeps it fresh and relevant. As your business grows and evolves, so should your email content. Regularly updating your email sequence with new information and promotions can keep subscribers engaged and prevent them from losing interest. Additionally, by monitoring the performance of your emails, you can make data-driven decisions about which content resonates best with your audience and adjust your email strategy accordingly.
Once you've created your content plan, it's time to get subscribers!
Create an Opt-In Incentive
Creating an opt-in incentive can be a great way to encourage people to sign up for your email list. An opt-in incentive is something of value that you offer to people in exchange for their email address. It could be a discount code, a free e-book, a checklist, or any other type of lead magnet that would interest your target audience. The key is to make it something your ideal customer would find valuable and compelling enough to exchange their email address.
When creating your opt-in incentive, it's important to ensure it is relevant to your business and aligned with your brand. You want to attract subscribers who are genuinely interested in what you offer and are likely to engage with your emails in the future. In addition, you should make sure that the lead magnet is easy to access and download.
See examples of lead magnets and learn how to create your own.
Grow Your Email List
Once you have developed an opt-in incentive, it's time to start promoting it to your target audience. First, ensure your opt-in form is prominently displayed on your website. Place it in a visible location, such as a pop-up or a banner on your homepage. You can also create a dedicated landing page for your opt-in incentive and drive traffic through social media ads or email campaigns. Include calls-to-action throughout your website and blog posts, encouraging readers to sign up for your email list and receive your valuable content.
Another way to grow your email list is through partnerships and collaborations with other businesses and influencers in your industry. Reach out to complementary businesses or influencers with a similar target audience and propose a collaboration or guest blog post exchange. This way, you can tap into their existing audience and potentially gain new subscribers for your email list. You can also offer referral incentives to your current subscribers, encouraging them to share your opt-in incentive with their friends and family. Finally, promote your opt-in incentive through offline channels like business cards or in-store signage.
Explore ways to grow your email list.
Email is an essential digital marketing channel that can benefit small businesses in many ways. With the right strategy and approach, you can execute successful email marketing campaigns within your sales funnel to drive conversions, build customer relationships, and increase brand awareness. By offering valuable opt-in incentives, growing your list through partnerships and collaborations, and continually providing fresh content to subscribers, your business can maximize the benefits of email as part of a successful digital marketing strategy.
Learn more about setting up your email marketing strategy! Here are 11 steps for beginners.
Free workbook: Win customers with your website!
Create a strategy to get more leads and sales from your website.