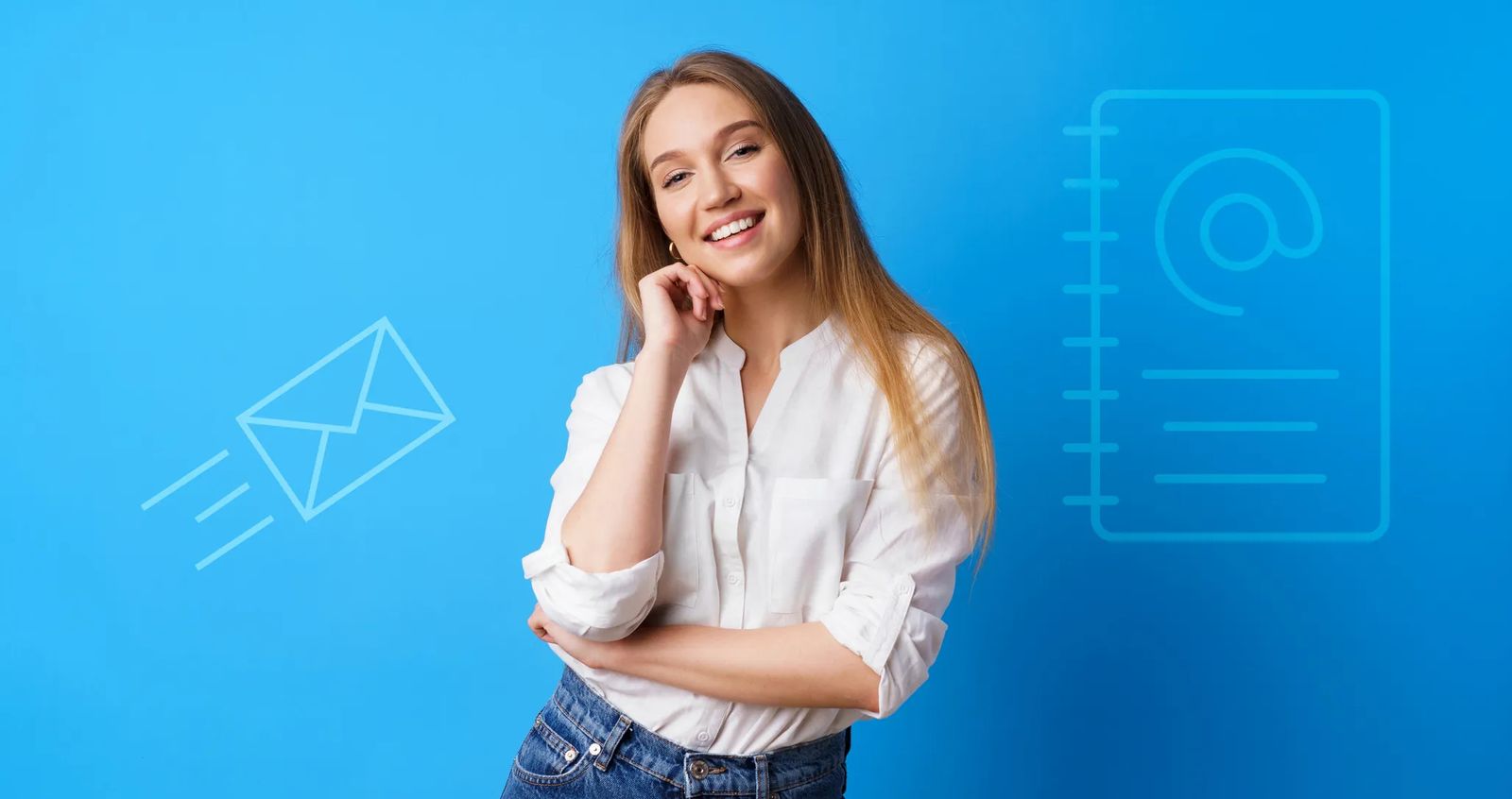 How to grow your email list
Do you have an email marketing strategy in place? If not, you're missing out on potential sales. For every $1 spent on email marketing, businesses generate a return of around $36
As with most marketing channels, several details will impact the effectiveness of your campaigns–content, subject lines, send times, etc.
But, before you can worry about any of that, you need a way to get email subscribers and grow your list.
What is email marketing?
Email marketing is the practice of using email as a channel to build relationships with current and potential customers while promoting information, products, and services.
As a consumer, you've been on the receiving end of email marketing campaigns. Your inbox may be (at this very moment) overflowing with information and promotions from companies you've interacted with online. Sorting through those emails can feel overwhelming.
But, companies large and small use email marketing because it works!
What is an email list?
An email list (or subscriber list) is a collection of email addresses for contacts who have opted-in to receive communications from an organization.
People on your list will have varying degrees of interest in your content and promotions. Their interest level can change over time. Some subscribers will be on your list for several months before signing up for your products or services. Others may unsubscribe before ever making a purchase. So, sending emails regularly and continually adding new subscribers to your list is essential.
How to grow your email list
Okay, you're ready to start an email marketing strategy. So, how do you grow your email list?
First, establish an opt-in incentive
The first thing to do is create an incentive for people to opt into your list. The incentive should align with the needs of your ideal customer and your business objectives.
Your potential subscribers will ask themselves, "what's in this for me?" To persuade them to convert, you'll need to answer that question.
Create a lead magnet
Then, based on your answer, you can develop a lead magnet for your target audience. A lead magnet is something you provide to your audience for free in exchange for contact information. It can be an info product like a special report, helpful guide, workbook, exclusive video, podcast episode, free course, and more. It may also be a free product trial, a discount offer, or a free item or service.
The value of your email content may prompt sign-ups on its own; this is especially true for content creators, online publishers, and bloggers. The newsletter content is so valuable for readers that they are motivated to sign up to receive it.
For example, writer, author, and marketer, Ann Handley gives readers writing tips and marketing ideas in her bi-weekly newsletter, Total Anarchy. The content is the incentive to subscribe.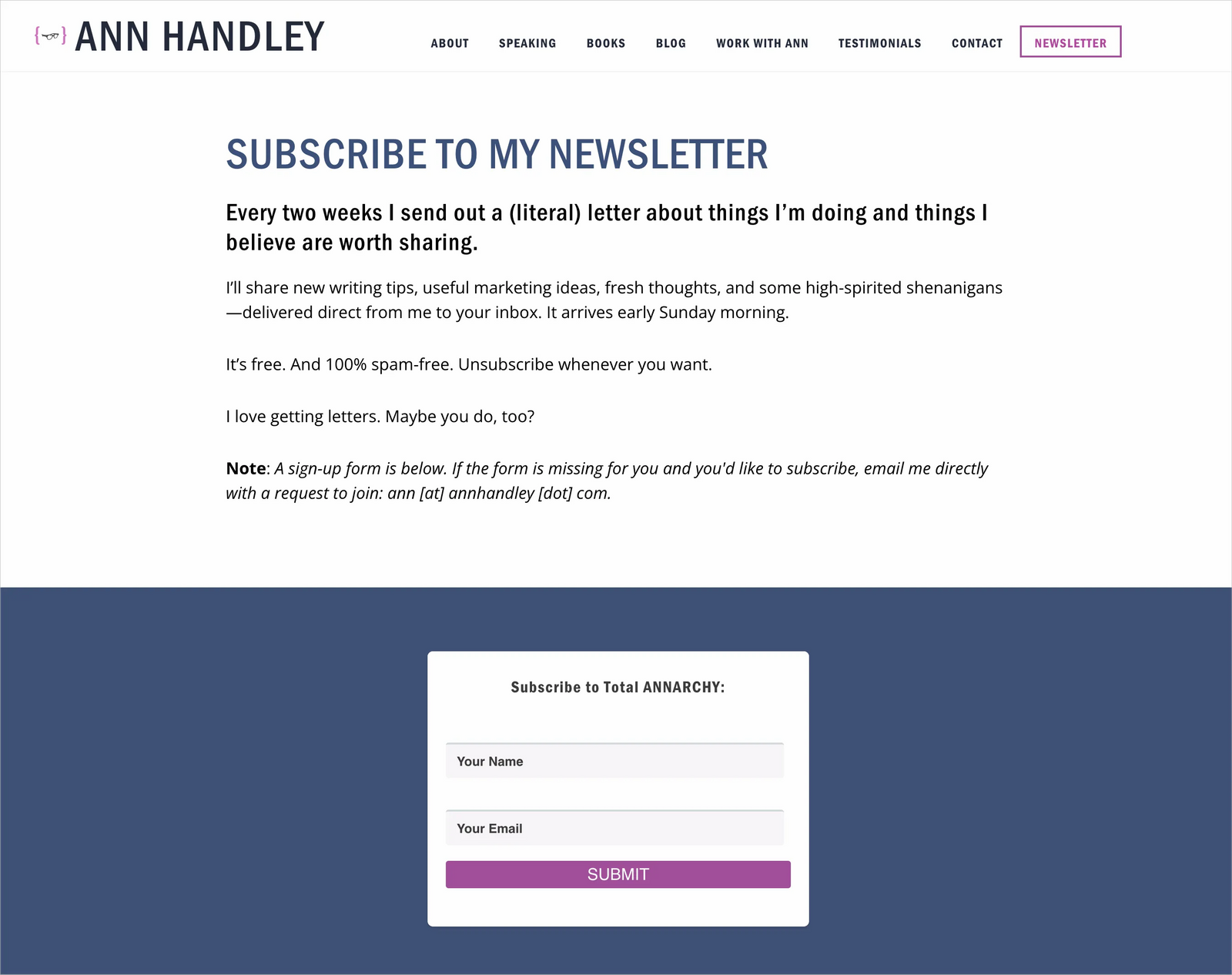 Creating an incentive and developing a lead magnet around it are the most critical steps to growing email signups. You want to motivate your target audience to subscribe. The best way to do that is by giving them a desireable reward.
Promote your lead magnet or newsletter
Once you've established an incentive, it's time to start attracting email subscribers and growing your list.
We've included several methods below for you to consider. But, you don't have to do everything on the list below, nor should you. Your email list growth strategy should align with your overall marketing strategy.
You should use the methods that will reach and appeal to your ideal customer. For example, a high-end luxury brand would not run a contest or giveaway to grow its email list. Exclusivity is part of their brand promise. Giveaways and contests are the opposite of exclusive!
So, choose the options that fit best with your brand and the audience you want to attract to your business.
Homepage
The homepage is an obvious place to promote email signups.
For many brands, securing email addresses is crucial to their overall marketing strategy. They may require an email just to browse the website like Zulily.com.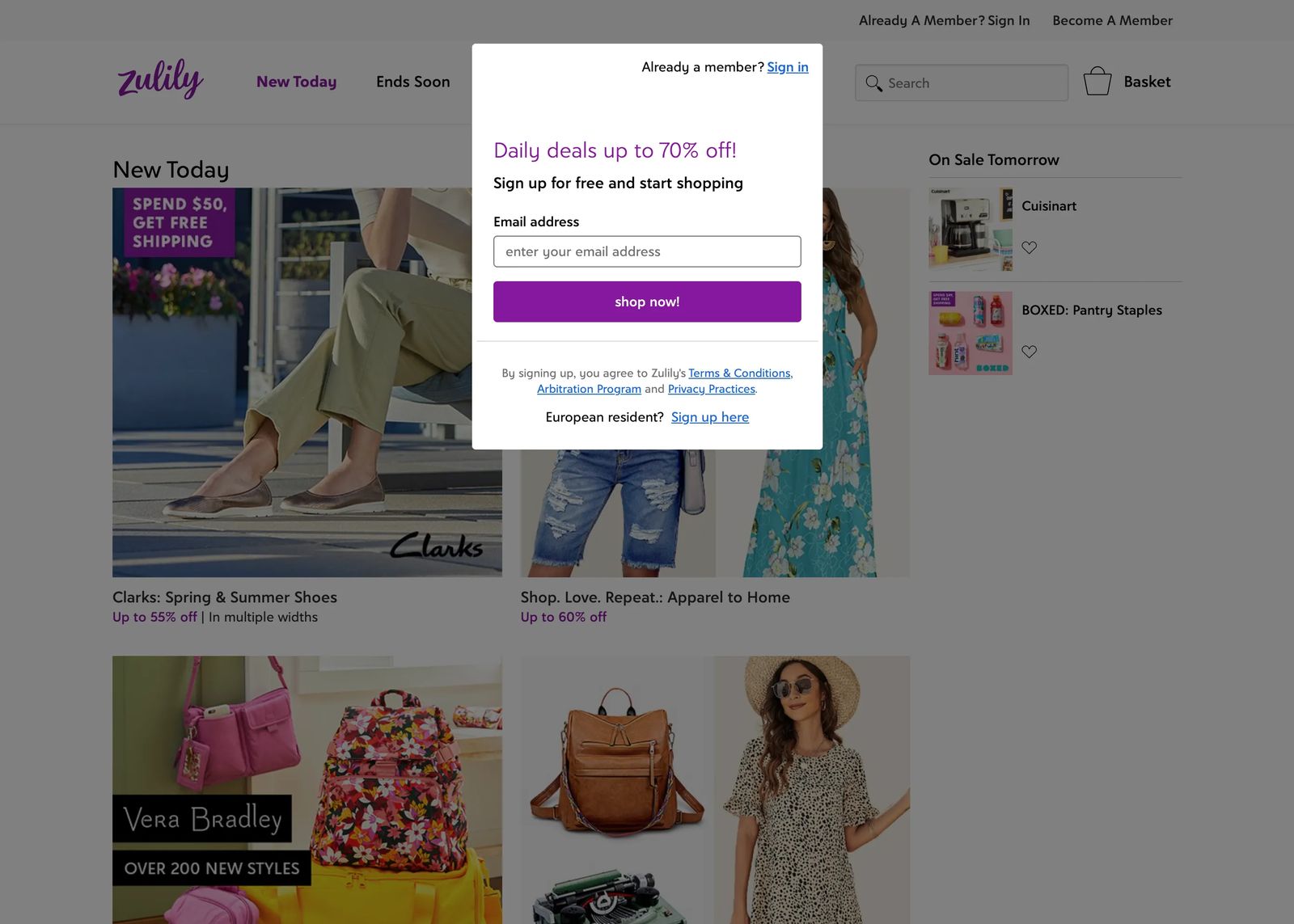 Others, like the e-commerce brand, The Mason Jar Boutique, prominently display a pop-up on the homepage but allows visitors to exit the pop-up if they wish.
For other companies, these tactics may be too aggressive for their target audience. Motivational speaker Mel Robbins promotes her free 3-part training and workbook, visible after visitors scroll down the homepage.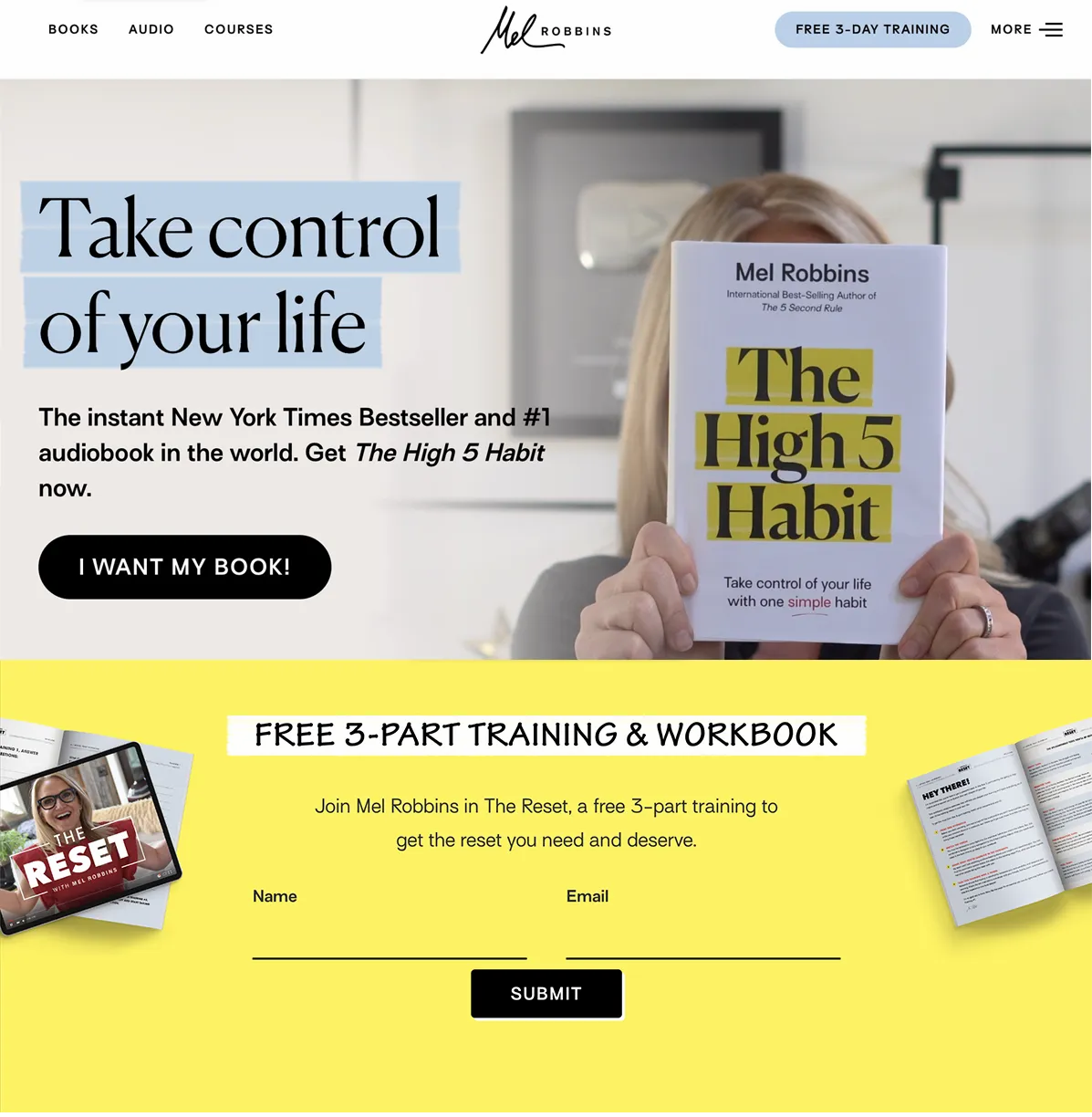 You'll need to determine the right approach for your brand to ensure a good experience for your website visitors.
Checkout
When customers checkout or register for an account, include the option to opt-in for your newsletter. Let your customers know why they should subscribe; describe the benefits of receiving your communications. While people who have made it to the checkout stage are already customers, it's best practice to ask them to opt-in to receive promotional email communication. This practice will help you grow your list and generate repeat purchases.
Blog posts
Quality blog content can help grow traffic to your website and engage your visitors. Blog posts are perfect for promoting your lead magnet or email signup form. If your reader finds value in the article content, they are more likely to want to hear more from you.
Buffer promotes its newsletter at the end of each blog post. Readers understand that once they provide their email address, Buffer will send them more content on their "best advice and strategies for social media marketing and growing a small business."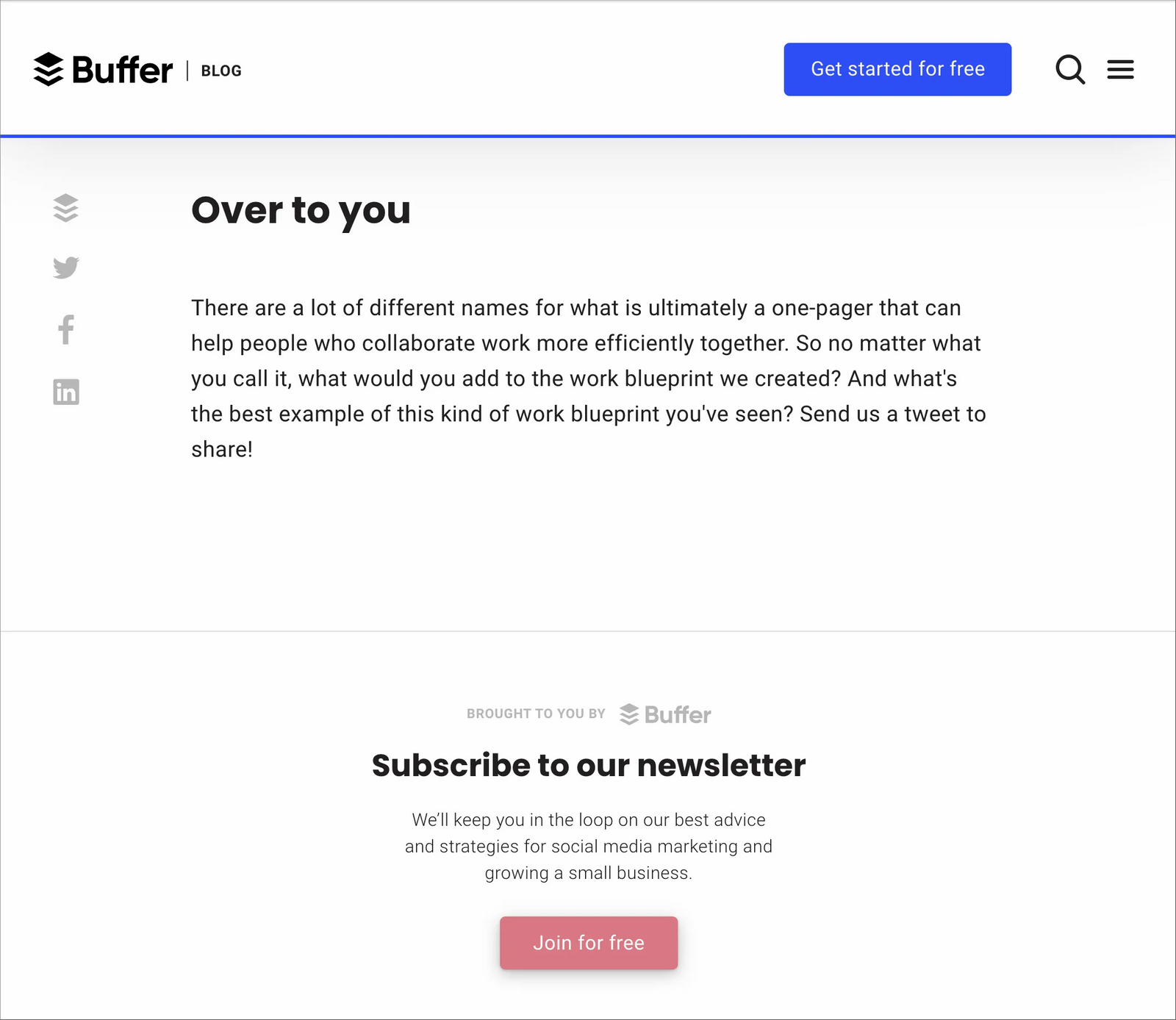 Search Engine Optimization (SEO)
Depending on the topic, SEO may be a viable option to generate traffic to your newsletter or lead magnet sign-up page. Ranking for highly-targeted keywords can be difficult in many industries. However, lower volume searches with longer queries can generate quality sign-ups to your opt-in forms. Use free tools like seoreviewtools.com or answerthepublic.com to research keyword topics.
Social media
Promotion of your newsletter should be part of your social media marketing strategy. Many of your followers may not be ready to buy your products or services but may be ready to take a smaller step, like subscribing to your email content or downloading your lead magnet.
Add occasional calls to action to subscribe, download, or get your free resource. Add links to the sign-up form landing page in your social media profiles.
Fast Company promotes a newsletter sign up link in its Twitter profile.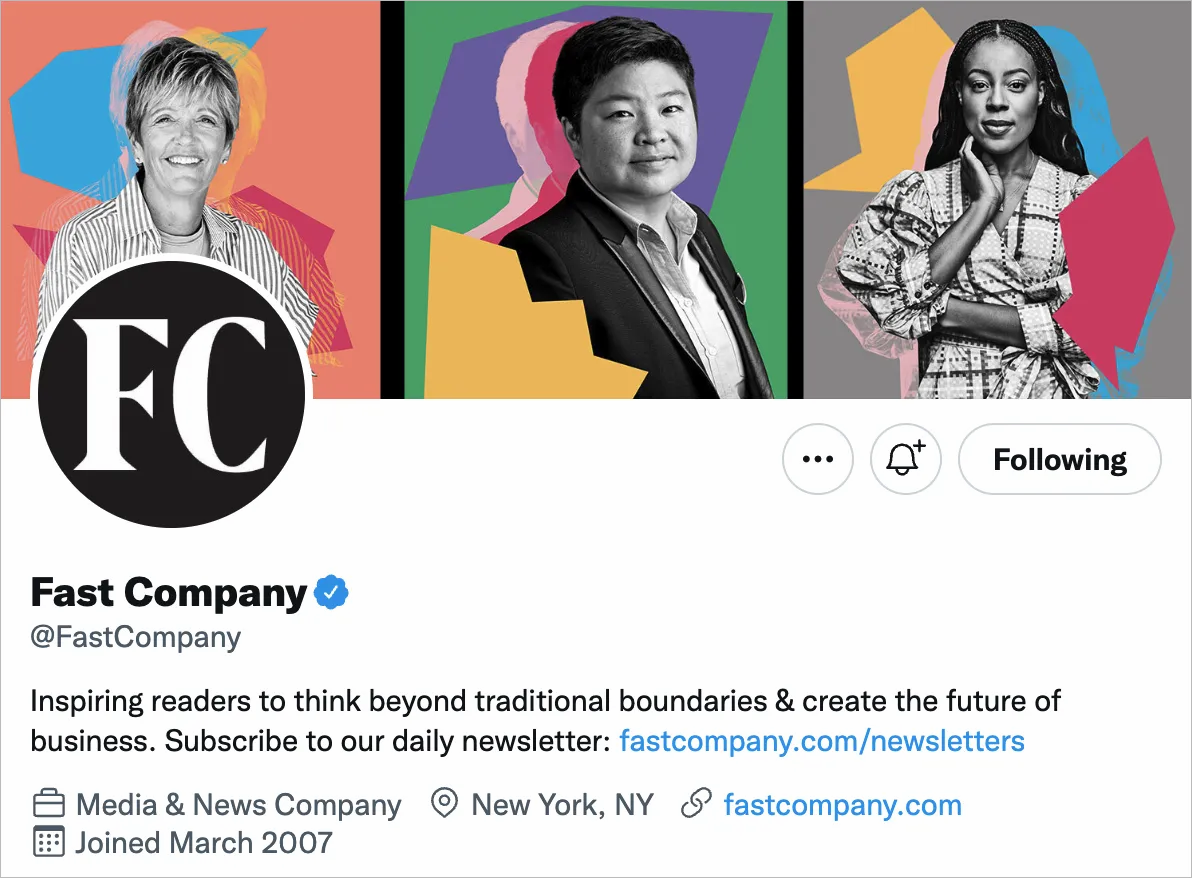 Podcast
If you have a podcast, don't forget to mention your lead magnet or newsletter while talking to your listeners!
YouTube
Include a call to action to sign up for your free resource or email newsletter within your YouTube videos. Include a link to your lead capture's landing page within your video's description.
Facebook Ads expert, Ben Heath offers a free webinar as an ongoing lead magnet. He mentions the webinar in all of his YouTube videos and includes the link in the video description.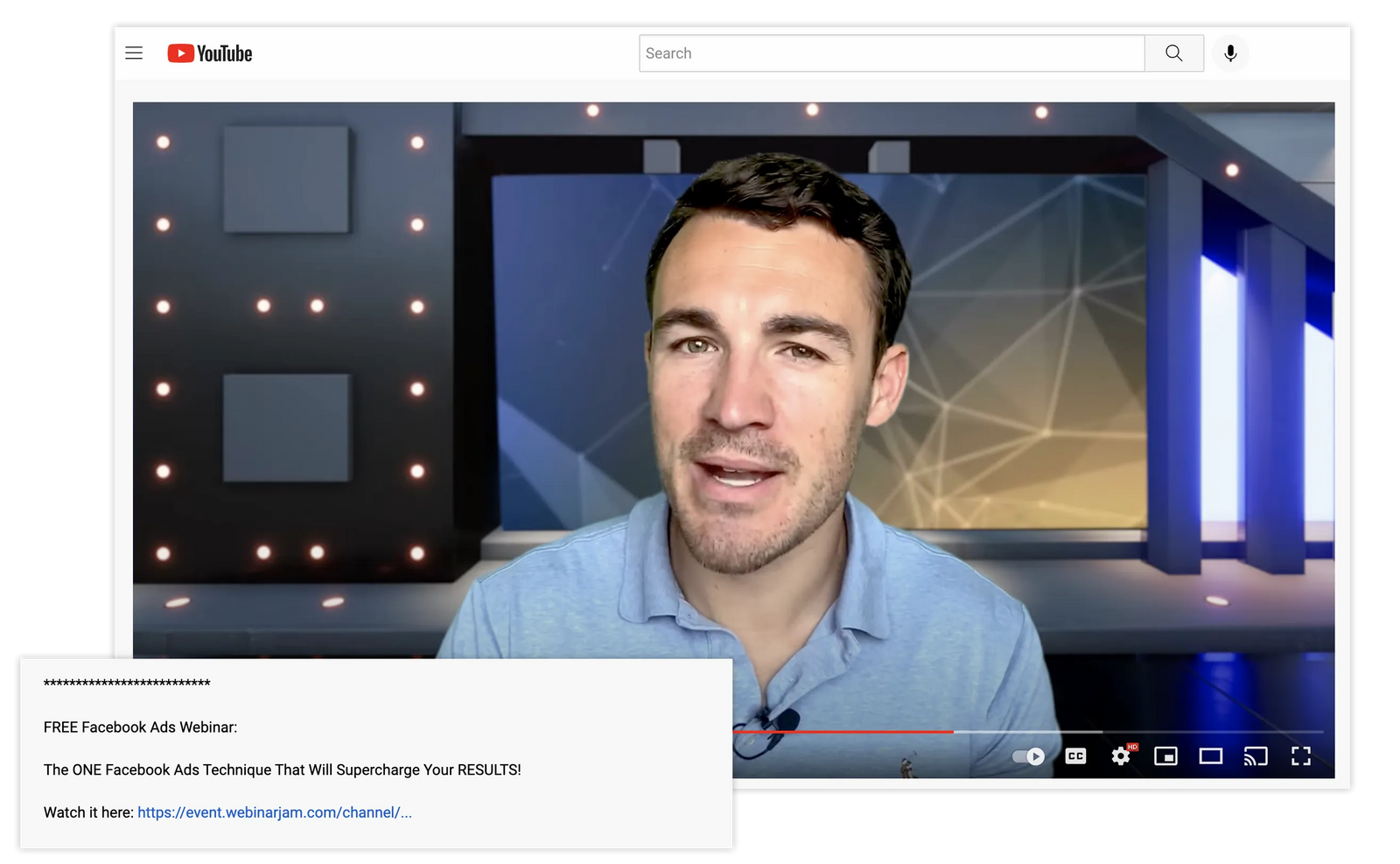 Advertising
Because email marketing is so effective, it often makes sense to use paid promotions to grow your list. You can place ads on social media platforms like Facebook, Instagram, Pinterest, LinkedIn, TikTok, and Twitter.
Advertising in other newsletters that reach your target market is possible through services like Paved, Inbox Ads, or directly with the newsletter publisher. Podcasts are another advertising channel where you can connect with your ideal customer and promote your lead magnet or newsletter.
E-newsletter directories
Online publishers, bloggers, and content creators can list their newsletters in online directories like InboxReads, Newsletter Junkie, and others.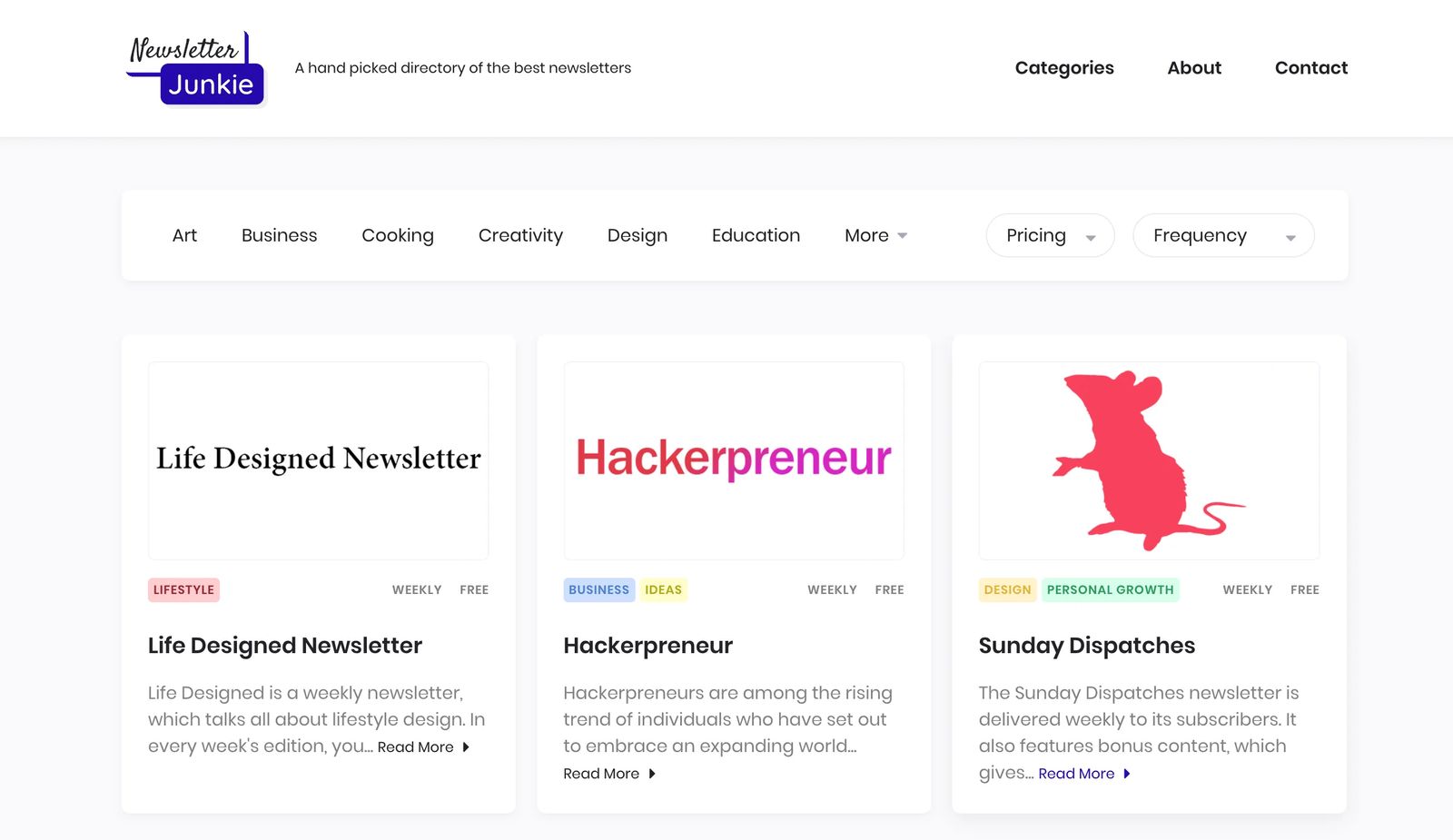 Cross-promote
Partner with other organizations in your niche to cross-promote. Trade links within your newsletters and promote each other's content across your marketing channels.
Influencers
Partner with influencers who reach your audience online. Create an influencer campaign to promote your newsletter or lead magnet.
Encourage sharing
One low-cost way to grow your email list is to ask your existing subscribers to share your content with others! Include a message in each email campaign to share the issue. You could also reward those who share the newsletter with a special perk, entry into a sweepstake, etc.
SaaS Marketer includes a simple message from the founder asking the reader to share the newsletter with others.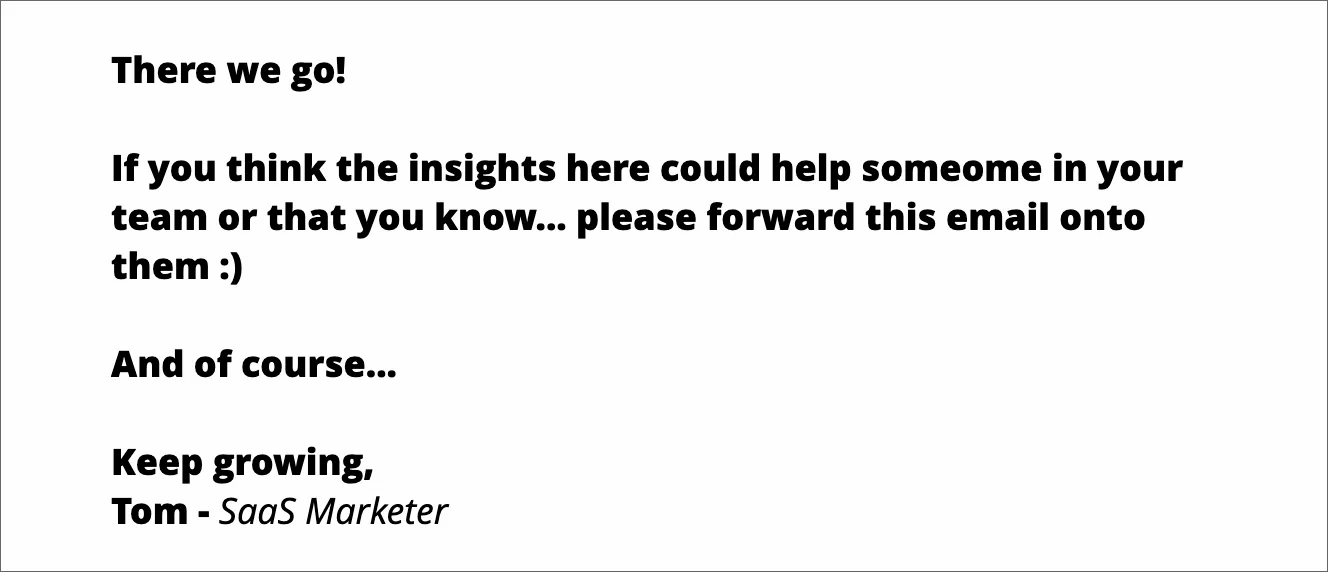 Contests and giveaways
Running a contest or giveaway can help you grow your email list quickly. Choose a reward that will appeal to your target audience (perhaps a free product or service from your business) and set up an entry form on your website. Make sure to include a checkbox to "opt-in" to future communications, so you abide by CAN-SPAM rules.
Focus on quality content
Growing an email list isn't just about getting new subscribers, however. Retaining engaged subscribers is crucial to a successful email marketing strategy.
How do you determine what high-quality content is? Go back to your ideal customer persona. What do they care about? How can your business deliver content that speaks to their needs, interests, and desires?
Provide valuable, quality content to ensure that your emails get opened, are read, and that subscribers stick around. Educate or entertain your audience more than selling to them by delivering eighty percent "useful" content and twenty percent promotional.
Then, review your open, click, and conversion rates to determine which email campaigns resonated with your current subscribers. All businesses lose a few subscribers over time. But, if a specific marketing email caused more unsubscribes than your baseline, you can learn from that information to improve future campaigns.
Unengaged subscribers will negatively impact your results. As your list ages, you may notice that some of your subscribers aren't opening or engaging with your content, lowering your open and click rates. So, from time to time, send a re-engagement campaign to these contacts and ask if they'd like to continue receiving your emails.
A small, engaged contact list is better than an extensive unengaged list. Focus on quality.
Email is one of the most effective ways to establish an audience and generate consistent sales.
To grow your email list:
know your ideal customer
create a compelling incentive to opt-in
develop a lead magnet around that incentive
promote the lead magnet or newsletter
focus on quality content
Promote your newsletter and publish email campaigns regularly. Results won't happen overnight, but with patience and consistency, you'll see results.
Free workbook: Win customers with your website!
Create a strategy to get more leads and sales from your website.