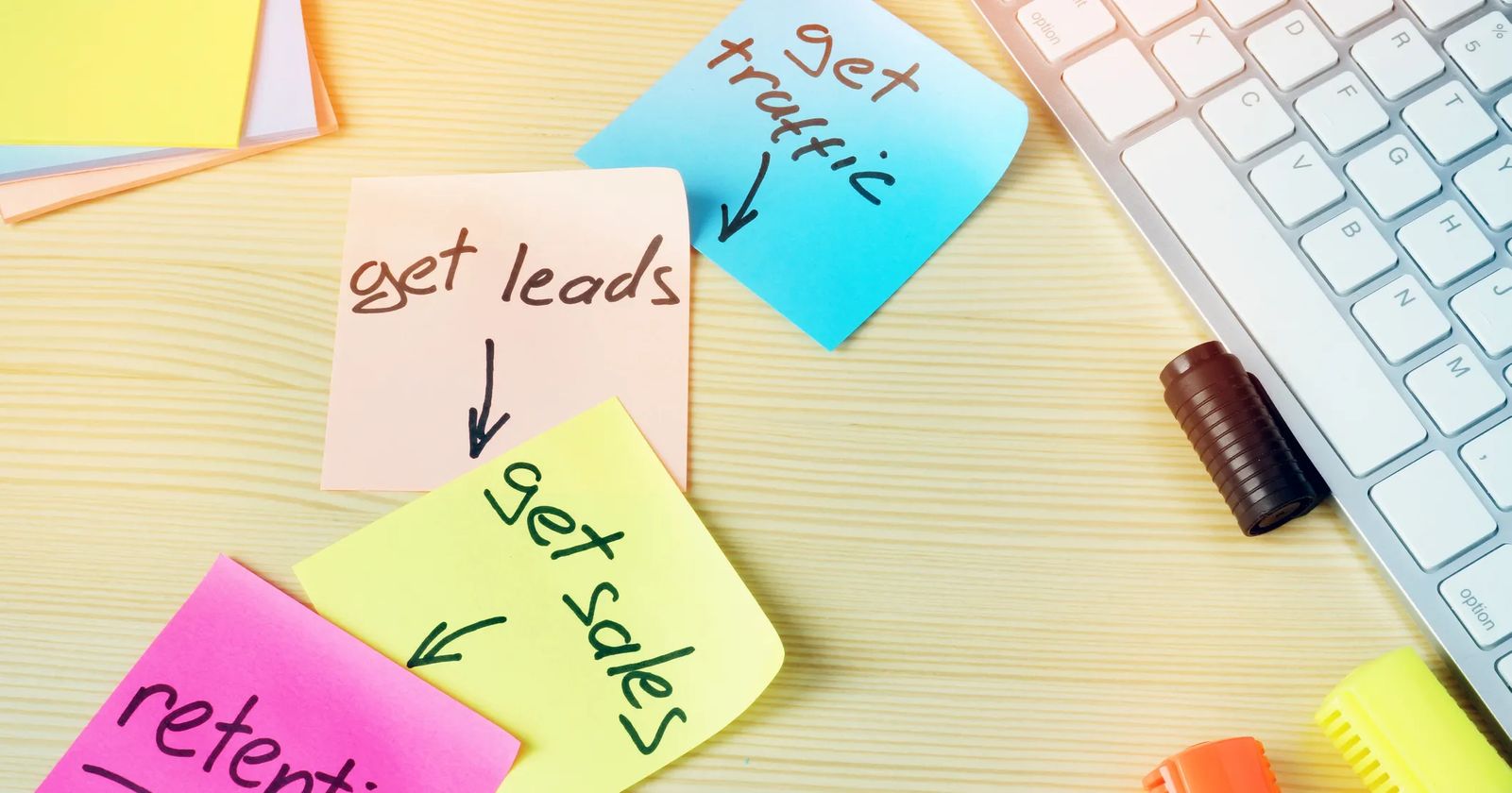 Why you need a lead magnet and how to create one


Are you searching for strategies to improve results from your website? Wouldn't it be amazing to generate more leads and sales?
Many different factors contribute to website success. An effective online marketing strategy attracts the right website visitors and keeps your brand in front of them until they are ready to convert. It's easier and more cost-effective to stay in front of prospects when you have their contact information, like an email address or phone number.
A good lead magnet will help you collect contact details for qualified leads. Then, a solid marketing strategy enables you to turn those leads into customers!
What is a lead magnet?
A lead magnet (or lead capture resource) is something you provide to your audience for free in exchange for their contact information. A lead magnet can be an info product like a special report, helpful guide, workbook, exclusive video, podcast episode, free course, and more. It may also be a free product trial, a discount offer, or a free item or service.
The goal of a lead magnet is to get prospective customers into your marketing funnel.
Why your website needs a lead magnet
Business owners often hyper-focus on one specific online marketing tactic like search engine optimization (SEO) or social media marketing. However, they often misunderstand the importance of frequency and repetition in converting leads and sales online.
Few people will convert in just one visit to your website. You must get your brand in front of them repeatedly until they are ready to convert. An old marketing rule says people need seven touchpoints with a brand before taking action. Today, people are inundated with marketing messages, so that number is much higher.
That's why a marketing funnel is essential for your business. A good lead magnet is a key component within an online funnel.
Once you have someone's contact information, getting your brand in front of them becomes more cost-effective and efficient.
How to create your lead magnet
Create your lead magnet by following the steps below.
1) Know your ideal customer
The first step to creating an effective lead magnet is understanding your ideal customer.
Think about the person who will resonate with your products and services. Who are they? What are their characteristics? What do they struggle with, or what do they desire? Create an ideal customer persona to help with this process.
People won't give out their contact information for just anything. So, your lead magnet should be valuable to the ideal customer you've identified for your business.
2) Map your ideal customer's needs to your offer
Now that you've identified your ideal customer, map out the problems they face or their desires related to your business. How can your lead magnet help them begin to solve a problem or fulfill a need? Brainstorm an extensive list of ideas. Your lead magnet should be directly related to the product or service you offer. An effective lead magnet is so valuable, that you may hesitate to give it away for free.
Successful lead magnets are:
Valuable to your target audience
Relevant to the products and services your business provides
Aligned with your business objectives
Lead magnet ideas and examples
Below are a few common types of content you can use to capture leads, plus several lead magnet examples.
Free trial
Subscription-based products like software and memberships can offer free trials as a valuable lead magnet. Prospective customers can sign up to determine if the product or program is a good fit for their needs. Once they sign up for the free trial, it's important to deliver instant value and encourage usage. Leads who stay active with the software or consume their membership benefits are more likely to become paying customers.
Honeybook offers a seven-day free trial for their small business management platform. Prospective customers can test the software to decide if it's right for their business.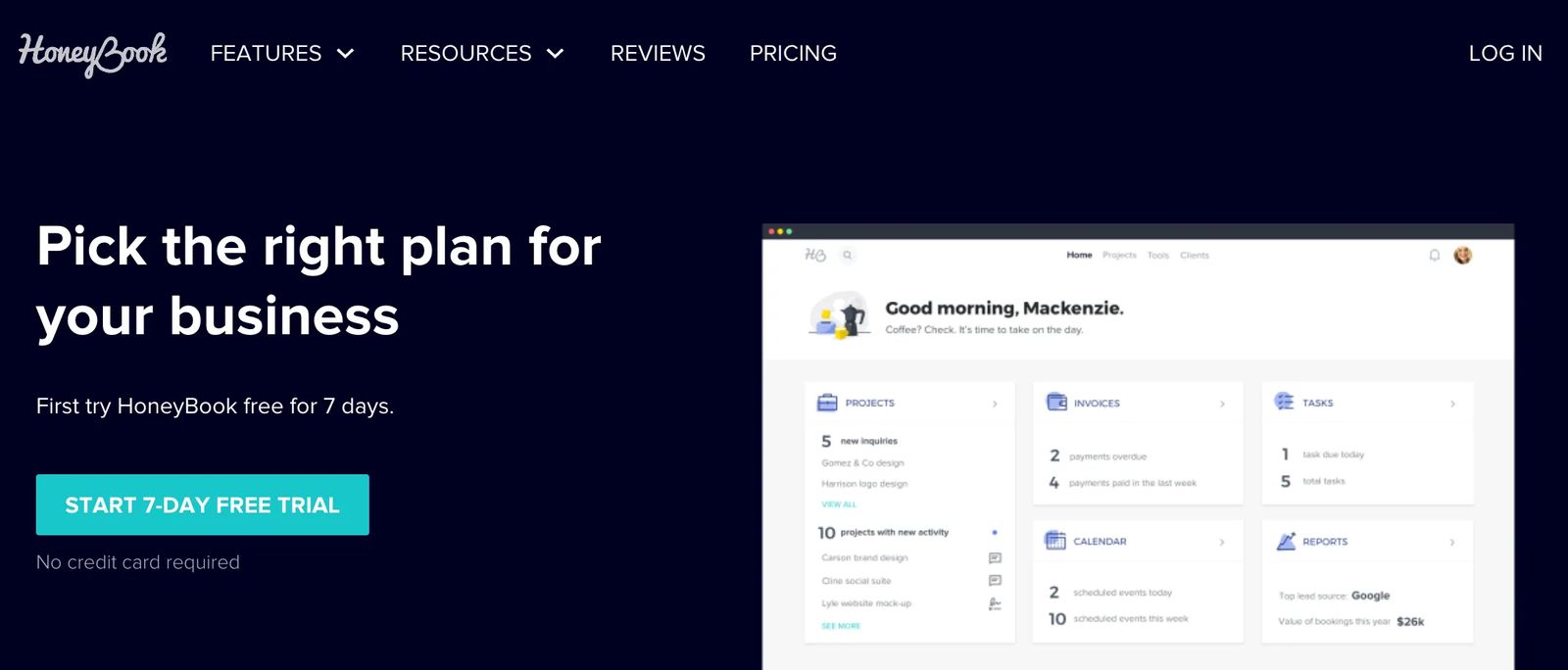 Free consultation
Service-based professionals like coaches, consultants, accountants, contractors, stylists, and others can utilize free initial consultations to get more leads from their websites. A consultation allows you to build trust with your potential client, address their concerns, and detail how your business can help each individual.
Health coach, Allison Murphy, reduces risk for her potential clients by offering a free initial consultation.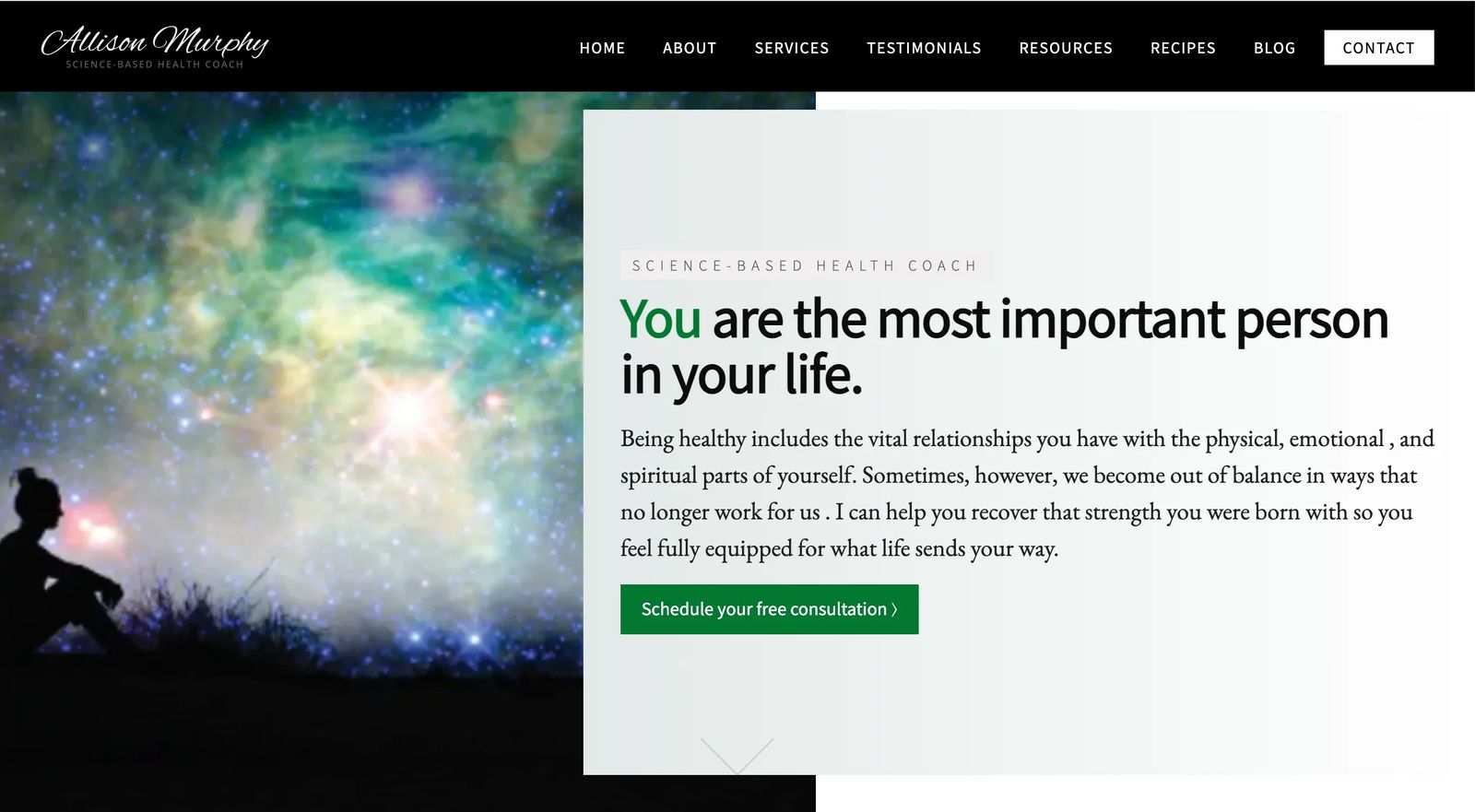 Discount coupon
Many online retailers offer discount codes or coupons in exchange for an email address. Once you've grown your email list, you can send subscribers other promotions throughout the year.
Outdoor retailer Next Adventure offers a 10% discount to people who sign up to receive promotional emails.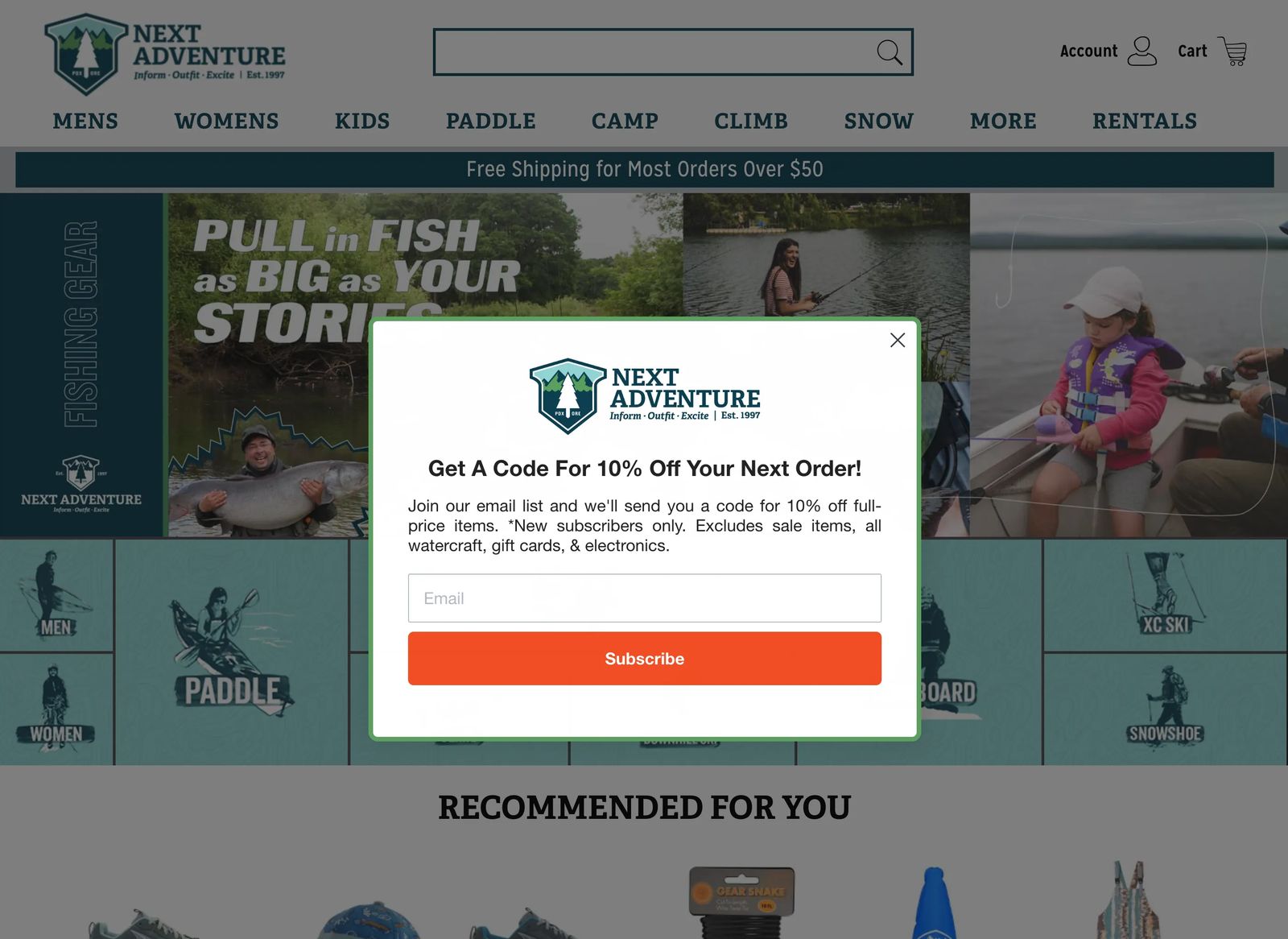 Rewards program
In a rewards program, customers can earn points when they make a purchase or take specific actions with your brand. Points are redeemed for complimentary products or services.
Starbucks' customers earn stars when they register an account with the Starbucks app. Points get redeemed for extra espresso shots, free drinks, and retail items.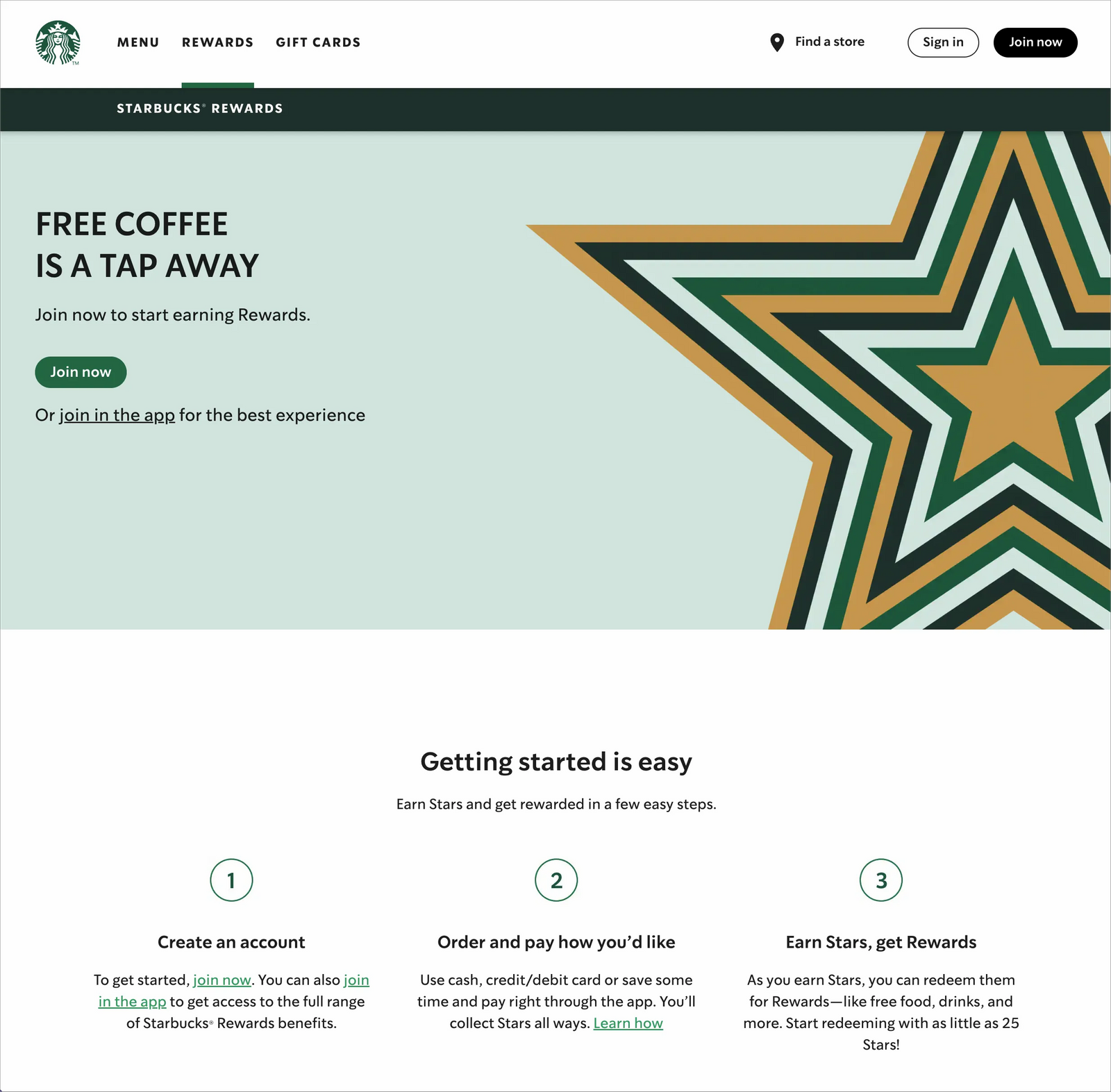 Community
Growing a community of people who share an interest in your niche can be an excellent way to establish a list of leads. Those who find value in your free group will be more likely to purchase your other products, services, memberships, etc.
Facebook ads expert Ben Heath manages a free Facebook Ads group where people can connect with peers trying to run successful Facebook ad campaigns. Ben posts helpful resources in the group and fosters a relationship with community members. Many members will move through the funnel into paid products and services like Ben's Facebook Ads Insider program, consulting, or managed services.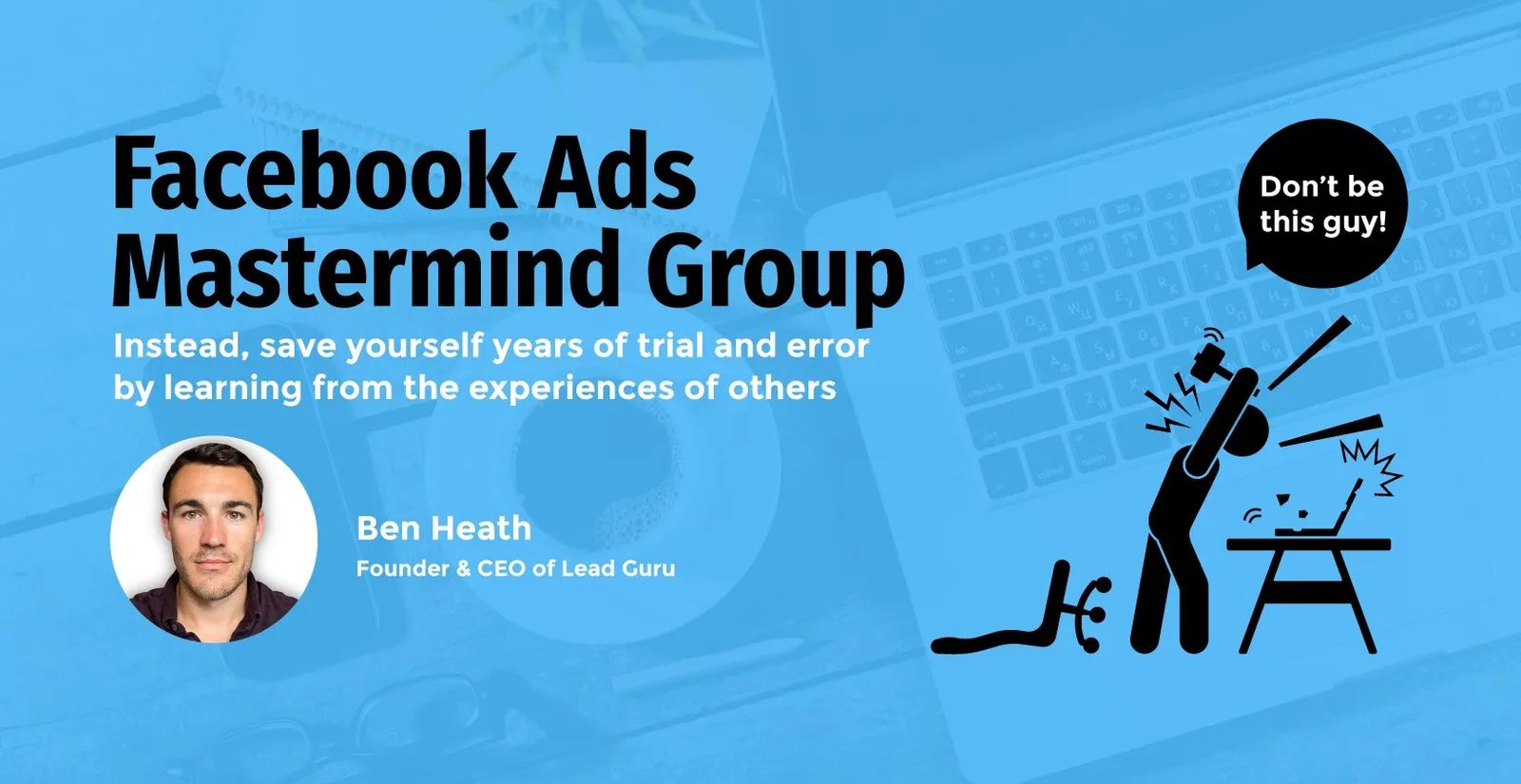 Introductory program
Offering a short-term, limited version of your product or service can attract warm leads into your funnel. For example, an online fitness coach may provide an introductory 4-week boot camp to attract qualified prospects to their brand.
Caveman Training provides a free 4-day kettlebell program. Individuals can enter their email addresses for access to the full blog content.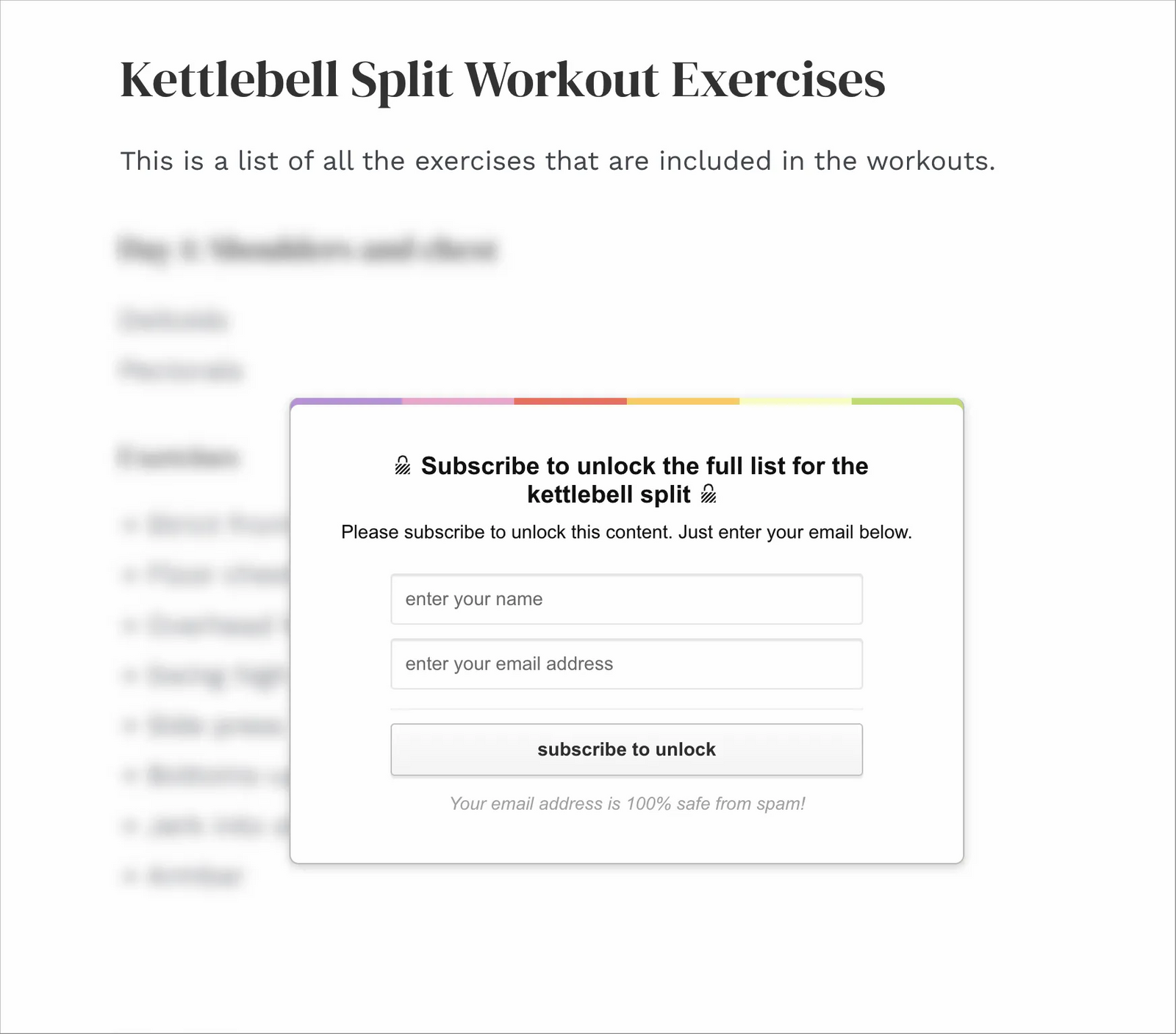 Course
Free courses are another way to attract your target audience to your brand and get contacts into your marketing funnel. Use an online course platform to deliver the curriculum or send the material as an email course!
How to Hand Letter offers a free seven-day mini-course so beginners can start with hand lettering. If they enjoy the free course, they are more likely to pay for a more advanced course or membership program to improve their skills.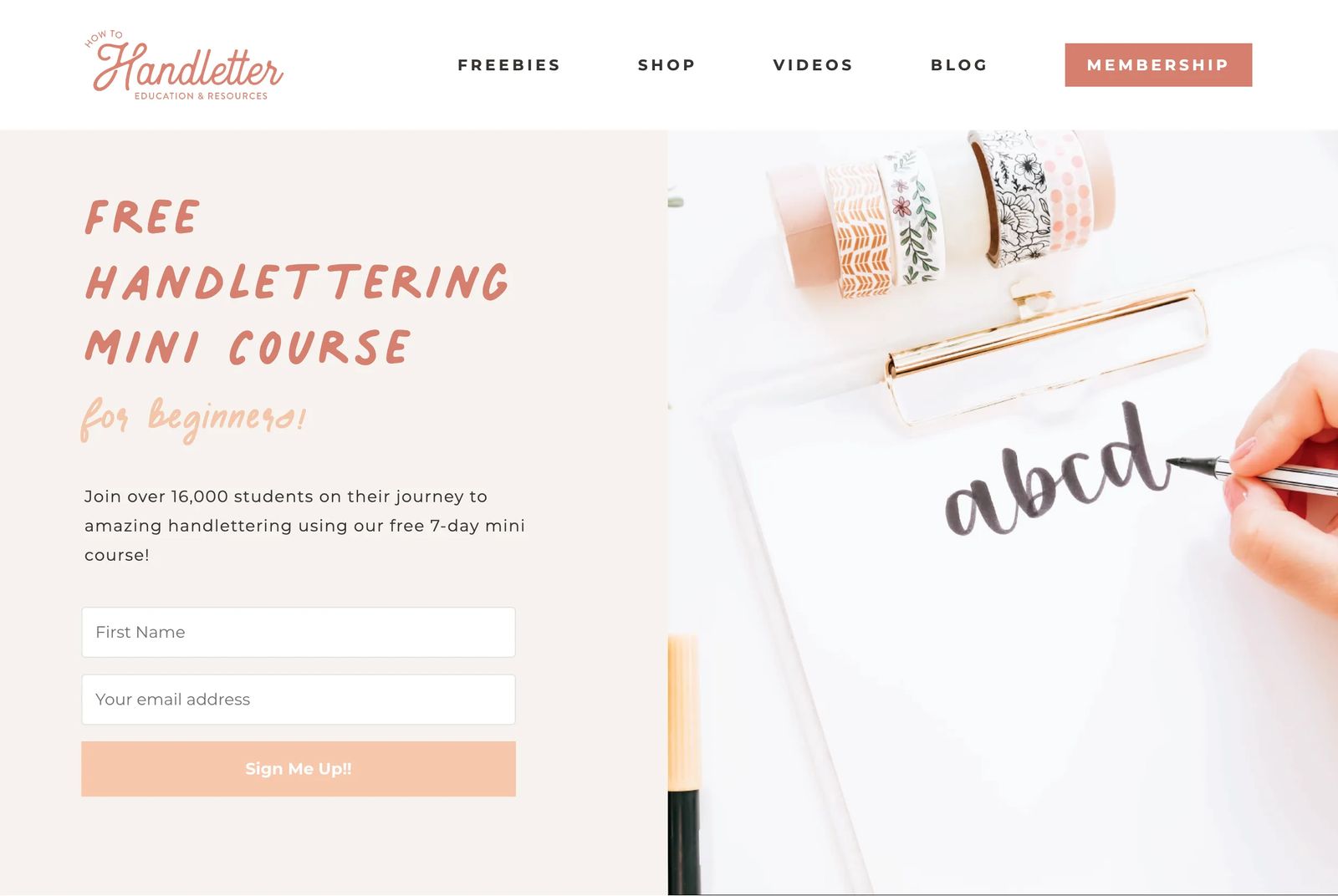 E-book
Long-form content like e-books offer value to the reader and deepen their engagement with you and your brand. When someone invests time to read your e-book, they trust that you're an authority on the topic.
On Drift's website, you can find a vast library of e-books, including this one on "sales openers." E-books are a proven way to gather contact information for qualified leads.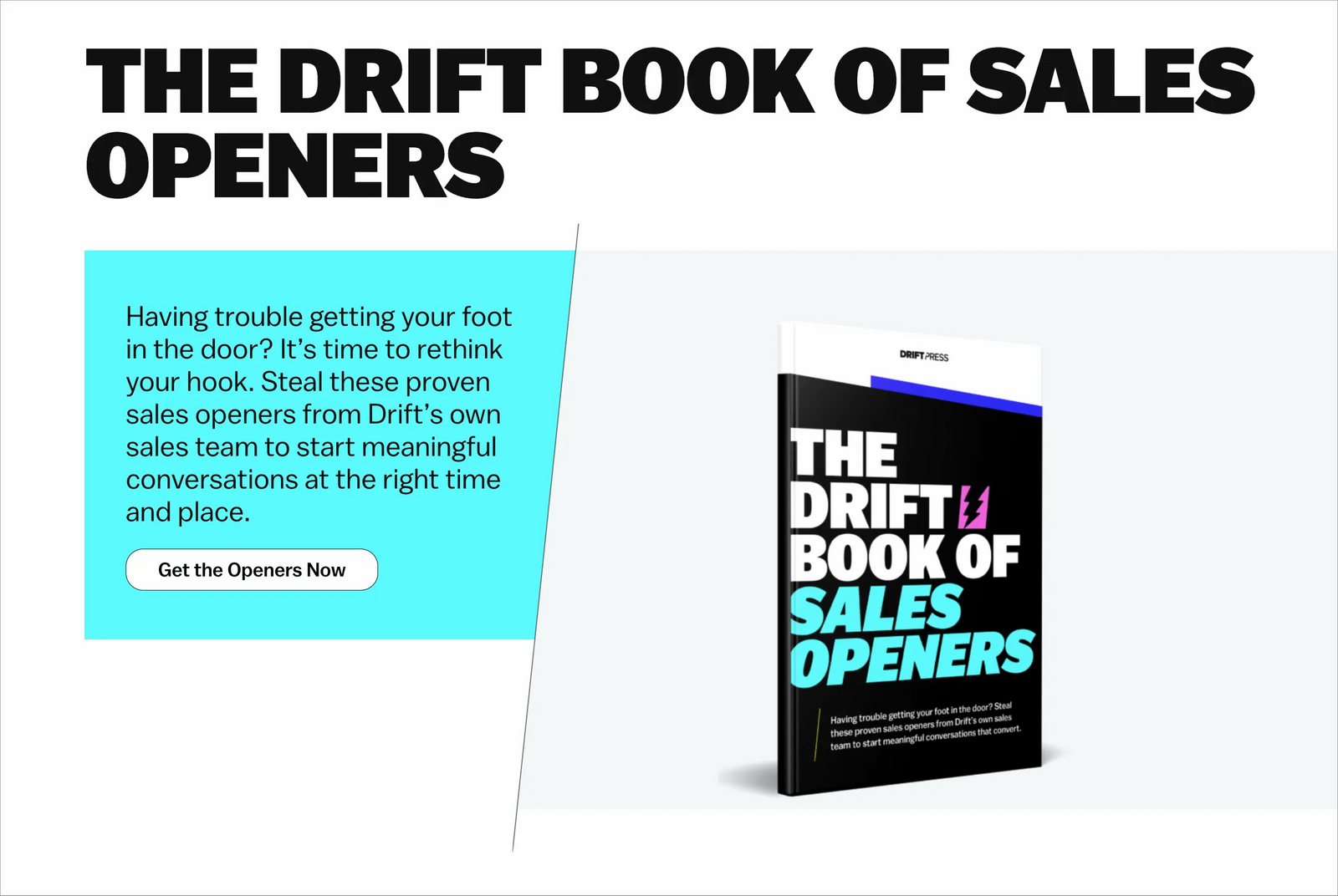 Guide
A guide may comprise internal and external resources on a specific topic. Guides are often shorter than an e-book but longer than a single blog post. They may be rich with infographics, stats, and images to help illustrate various concepts.
The College Essay Guy helps students with a "free guide to writing a personal statement." Students can improve their college essays with the free guide and later sign up for one of his paid courses or consulting packages to create "awesome" college applications.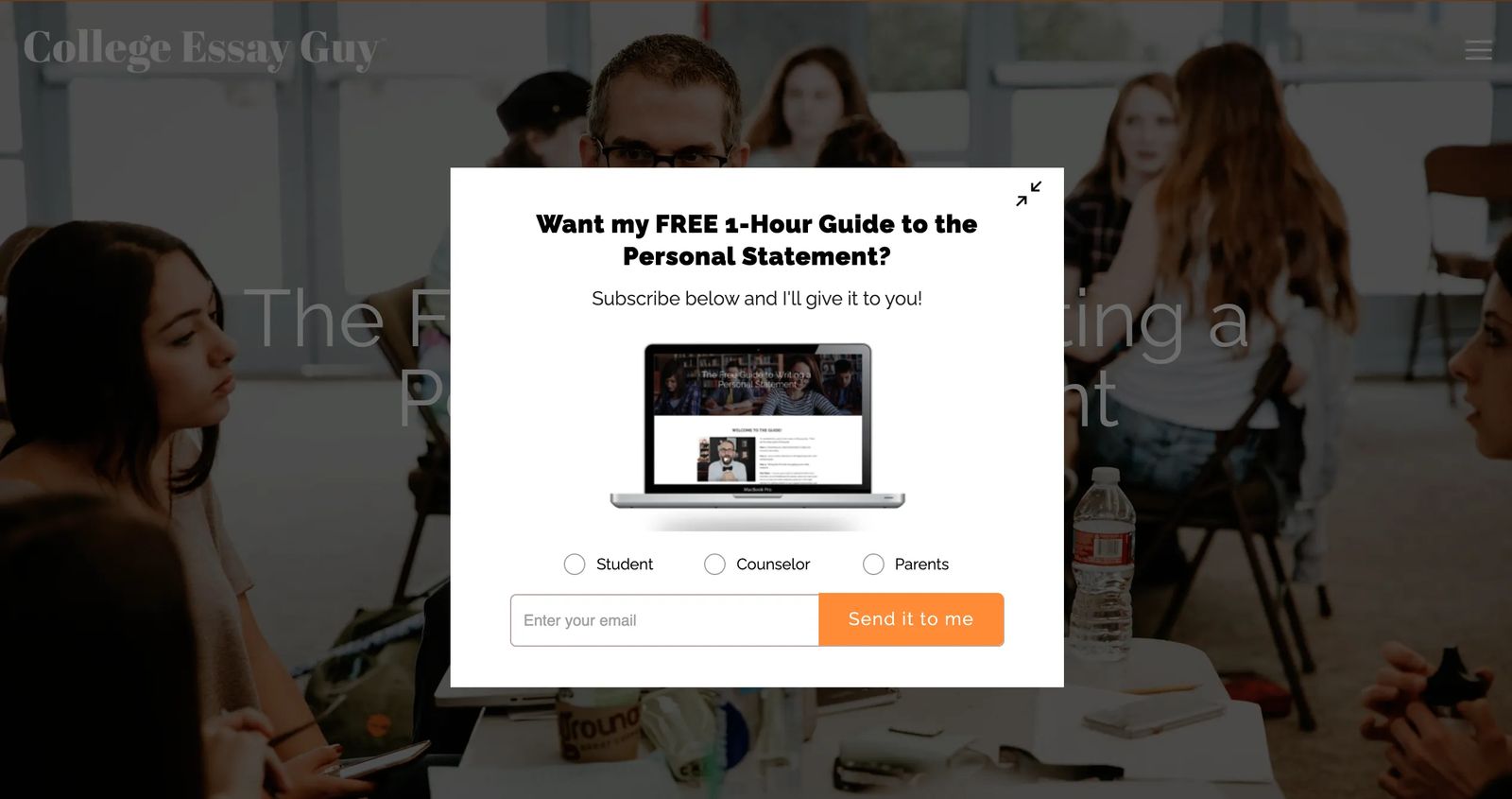 Workbook
With a workbook, you can help people create a plan, complete a task, or learn essential concepts as they answer prompts. Workbooks can also be used in your funnel to prepare prospects to work with your brand. For example, a marketing consultant may offer a "free branding workbook" that they can reference in their initial consultation with prospective clients.
At Cardsetter, we offer a free website planning workbook to help people create effective websites!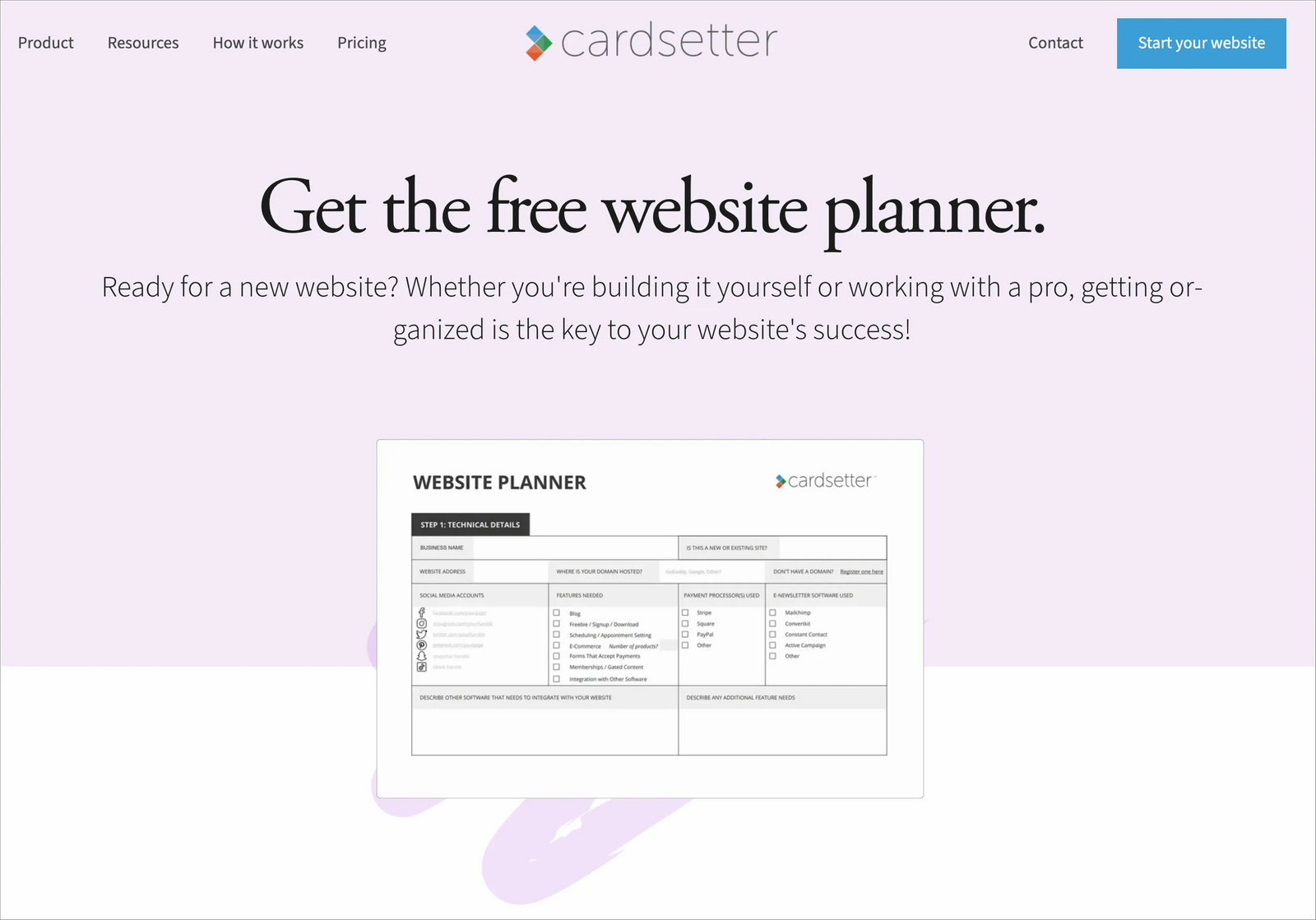 Webinar
Information presented via video can hold your audience's attention, deepen their engagement with your brand, and establish your authority on a specific topic. Offer a free webinar as a lead magnet. You can host a live webinar or allow registrants to watch a pre-recorded video on-demand.
Art Summits hosts free webinars in watercolor, calligraphy, and more. Once someone registers for a free class, they'll receive email notifications about more free content and paid courses.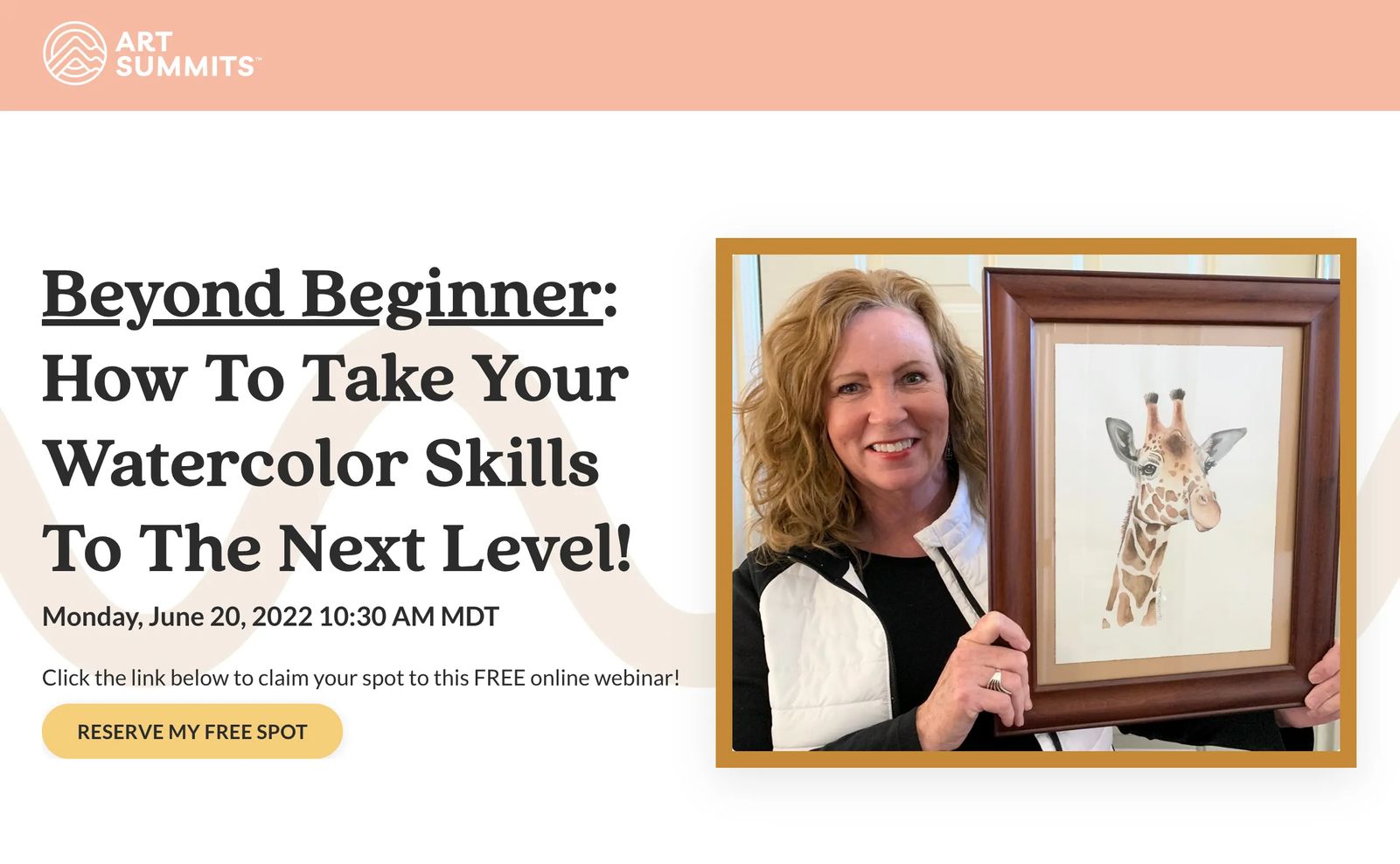 Checklists
Checklists can help your audience take specific actions towards a goal. Checklists are simple to create and apply to any industry. People love checklists because they make larger concepts and processes easier to follow and implement.
Bplans.com features a free checklist for startup businesses. People who download the free resource are qualified leads for the company's business planning software.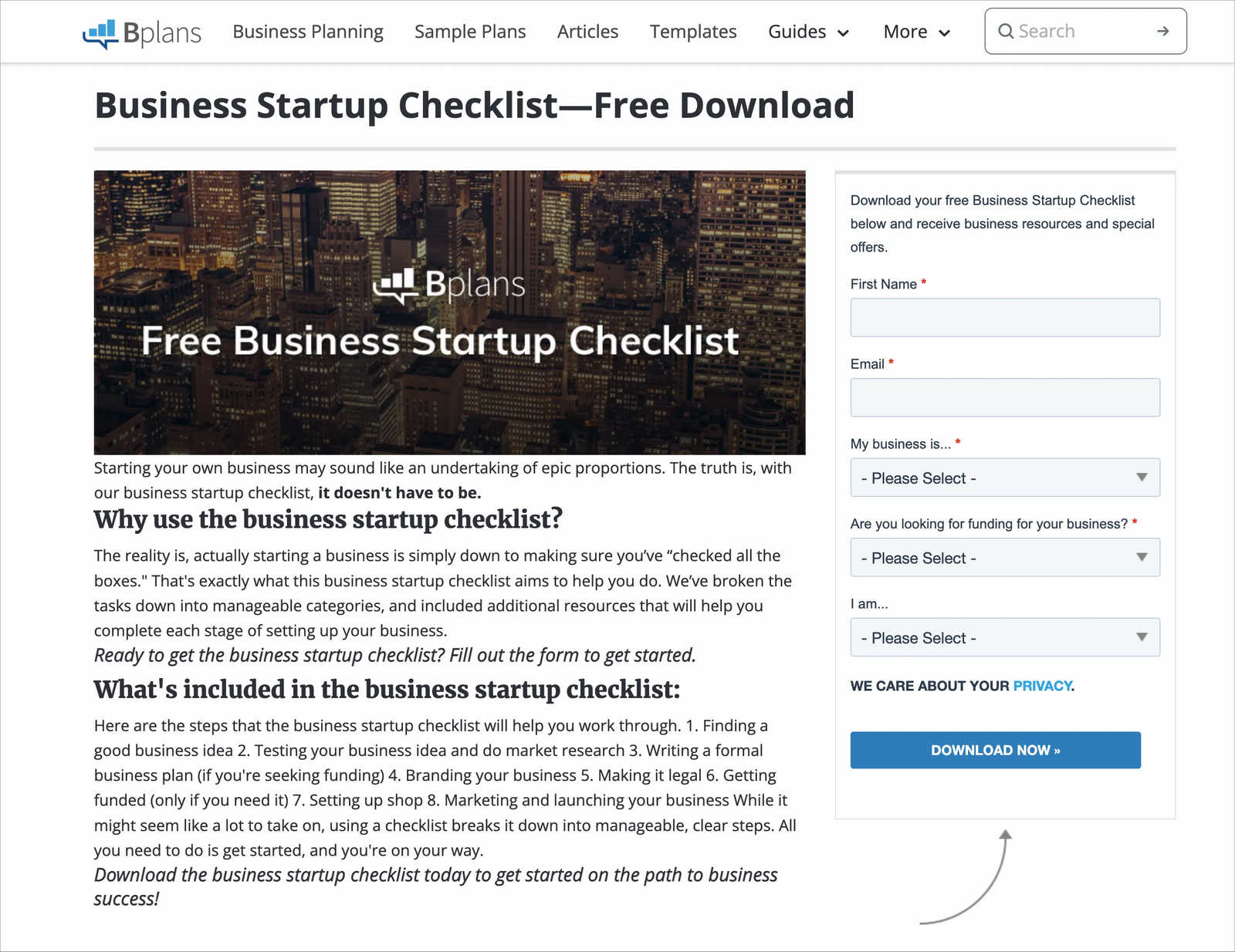 Reports / White papers
In-depth reports or white papers can be successful lead magnets in B2B industries, especially when your product or service is a high-ticket purchase. Research, statistics, and in-depth analysis can provide your potential customers with highly-valuable information and position your business as an authority on the topic.
Influencer Marketing Hub produces an annual State of Influencer Marketing report. The report appeals to several audiences, including influencers, marketers who want to hire influencers, and businesses that create products and services for the influencer industry.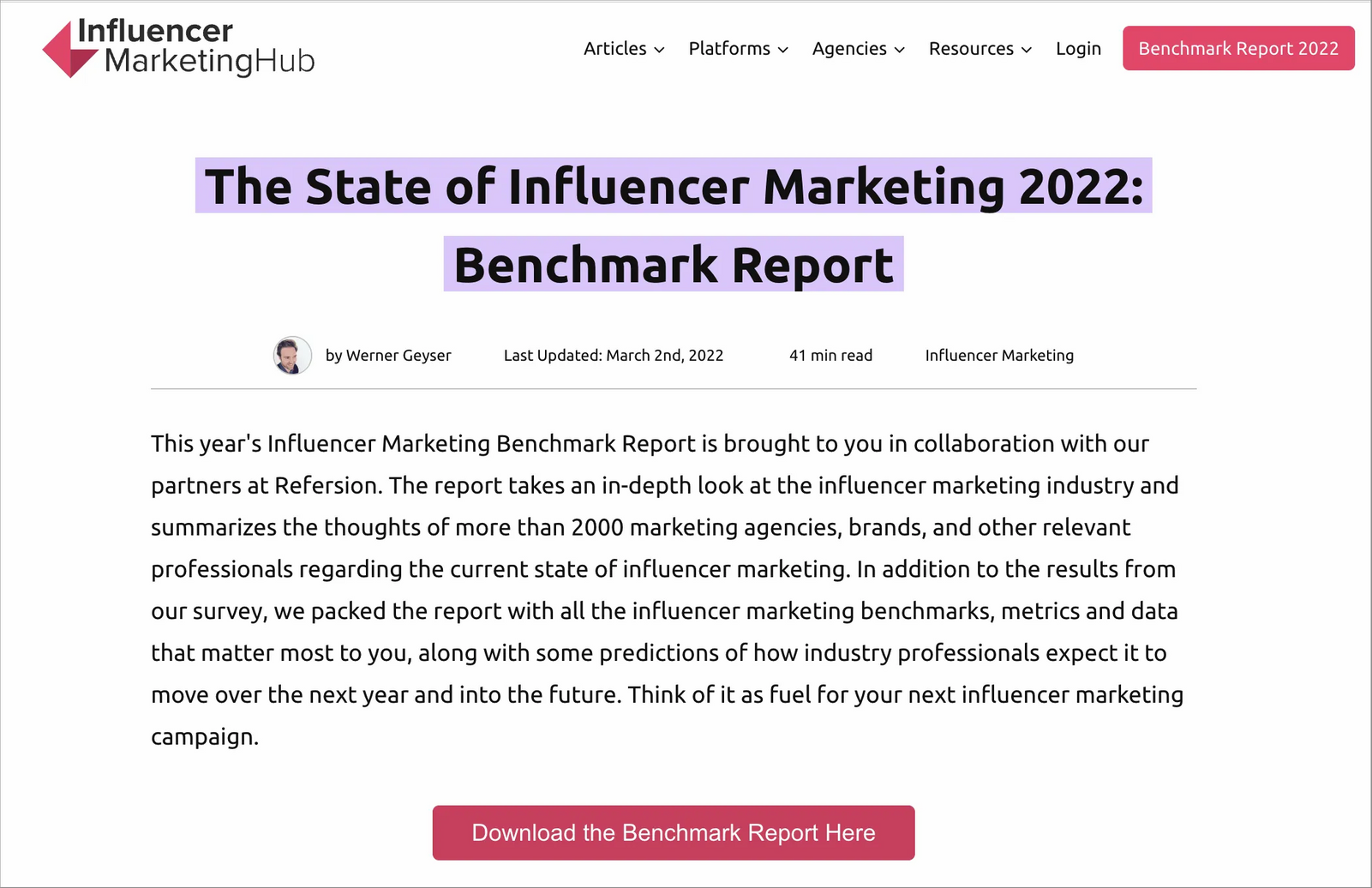 Quizzes and calculators
Quizzes and online calculators can be powerful ways to gather email addresses from your website visitors. Use a quiz to help participants learn about themselves or their business or find the right product or solution to their needs. Calculators can help people run different scenarios or better understand their needs.
Winc helps individuals find wines they'll love with a wine quiz that helps them identify palate preferences. Once the quiz is complete, Winc is ready to send subscribers wines based on their responses.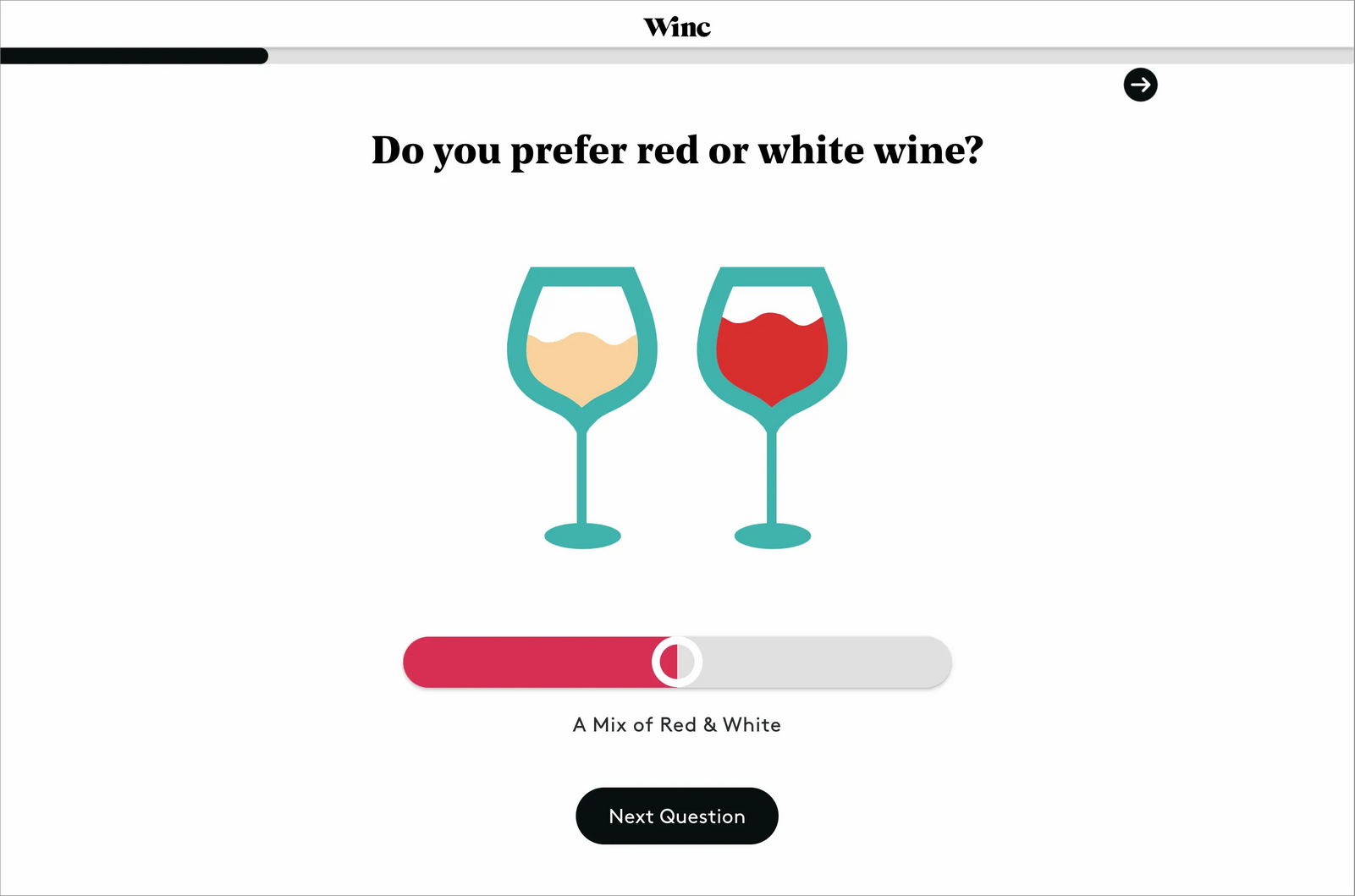 Templates
Templates can help your target customers complete essential tasks or create their own assets.
Monday.com attracts business owners to its brand by offering a complimentary business budgeting worksheet.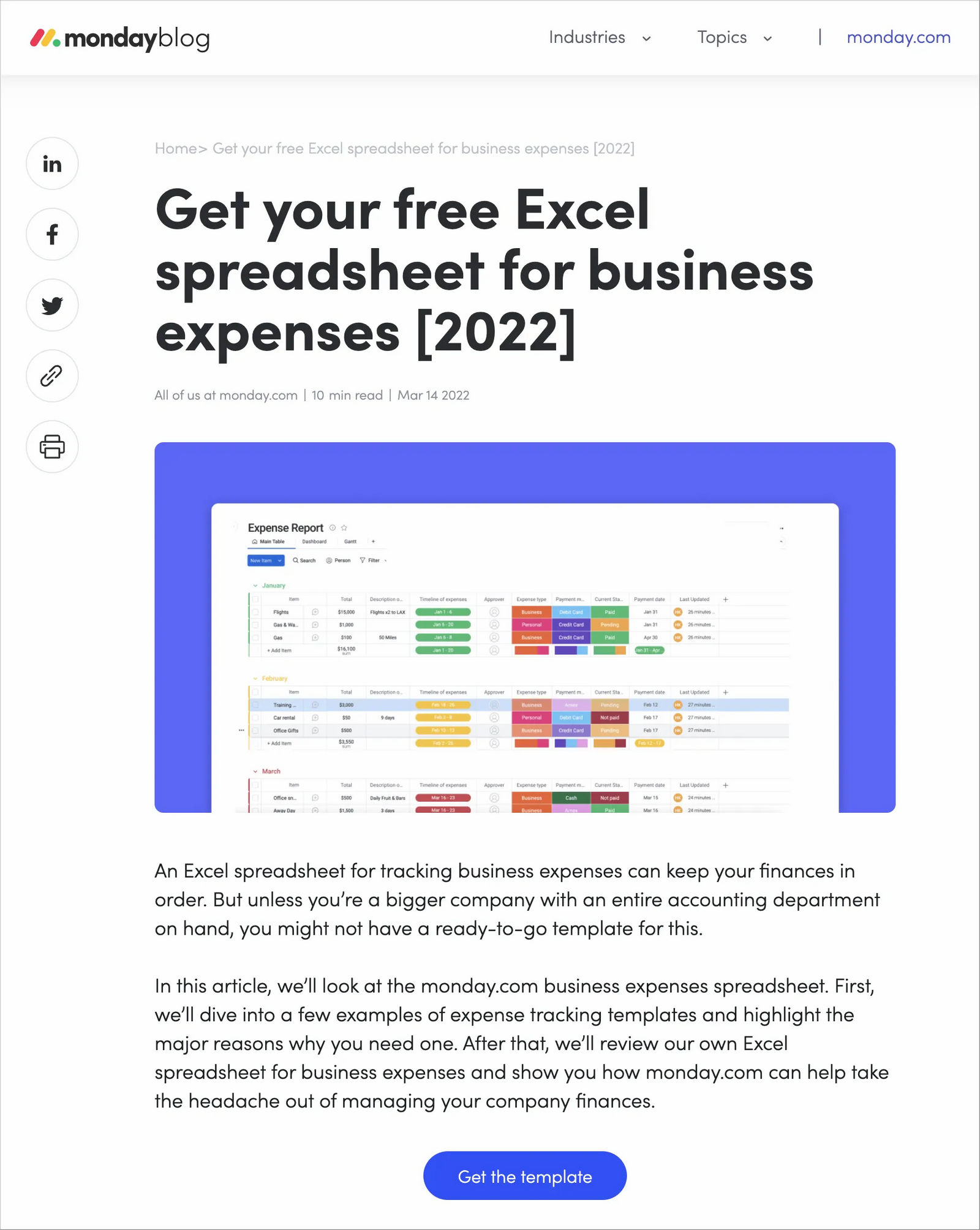 3) Create the lead magnet
Once you've settled on an idea for your lead magnet, it's time to create it. Use your favorite document editor (Microsoft Word, Google Docs, Notion, etc.) to outline and write the content.
Next, produce the content using a tool that's appropriate for the format.
Platforms like Canva and Visme make it easy for anyone to create visually appealing checklists, guides, reports, infographics, presentations, videos, and more. Excel or Google Sheets are great for templates, workbooks, calculators, etc. Record videos and webinar content with tools like Loom or Zoom. Software like Quicktime, Sound Recorder, or the voice memo app on your phone can be used to record audio.
4) Deliver the lead magnet
Once you've created the lead magnet content, set up a way for people to opt-in to receive it.
First, create an opt-in form. If you're using email software like Mailchimp, Convertkit, or ActiveCampaign, you can create a form from there and embed it on your website. People who enter their email for the lead magnet will automatically go into your contact list for future communications. Alternatively, your website platform may also have a built-in form builder, or you can use a third-party form platform like Typeform, Cognito Forms, or Jotform.
You have a couple of options for delivering the free resource. You can send it as an attachment or as a link via email. Alternatively, once someone enters their email and hits "submit," you can set the "thank you" page URL to a page with the resource. For example, an on-demand webinar might appear on a page after someone submits their information to view it.
How to promote your lead magnet
Now that the lead magnet is complete and you've set up delivery, it's time to promote it!
Create a landing page for the lead magnet on your website. The page should be visually appealing and include persuasive copy to show viewers how the resource will benefit them. Include a call to action and explain how to get the resource. Embed the opt-in form on the landing page and feature the lead magnet throughout your website. You can include a promotion for it on your homepage, at the end of blog posts, or even in a pop-up (tread carefully with pop-ups to ensure they aren't obstructive or annoying to your visitors).
Here are additional strategies to promote your lead magnet outside of your website:
Create posts, stories, and videos about the lead magnet on your social media channels–Instagram, Tiktok, Twitter, LinkedIn, Facebook, Pinterest, etc.
Promote the lead magnet in the cover photos of your social media accounts, like your Facebook, Twitter, and LinkedIn covers.
Include the link in the about section of your social accounts or on your "link in bio" page.
Talk about the resource in your online videos or hosted webinars.
Add a link to the resource in your email signature.
Promote the resource in your email newsletter.
Mention the content in your podcast or guest interviews.
Run online ads to generate more opt-in conversions.
Mention the lead magnet in any traditional print, television, or radio ads you do.
Working with influencers, content creators, or partners? Cross-promote your lead magnet in your promotions with them.
Encourage your existing email subscribers to share the resource with others.
Measure results
Once you've tested a few promotional channels and generated a good amount of traffic to the landing page, review your Google Analytics and analyze your results. How does your conversion rate look? Are subscribers following through to download, listen to, or watch the resource? Have you received feedback about the content?
Make adjustments based on what you discover. If the landing page isn't converting, you may need to change your copy or improve the page's design.
If you cannot generate leads from the resource, it may indicate that you're promoting something unappealing to your target customer. In that case, you may need to test a different resource or make adjustments to the one you've created.
Follow up with subscribers
Implementing a successful lead magnet strategy doesn't end once you have someone's contact information. Having a plan to engage the audience you've captured is crucial.
Email marketing is one of the best methods for communicating with this audience. Although, if you've collected mobile-phone numbers, text messaging may be an appropriate channel for your audience.
Consider running a drip email campaign to your subscribers. You'll have better success keeping the audience engaged with your brand if you send helpful, informational content to start. People are more likely to unsubscribe if you try to sell to them right away.
You'll build trust and credibility with your subscribers when you continue to add value without expecting a sale in return. A good rule of thumb is to keep your email content at eighty percent helpful/informational and twenty percent promotional.
As you grow trust and engagement with your audience, many will become more interested in learning how your paid products and services can help them.
A lead magnet is an essential component of a winning online strategy. Create something your ideal customer values, promote the resource to grow your subscriber list, and stay engaged with them over time. Soon, you'll see sales increase from the contact list you've cultivated.
Free workbook: Win customers with your website!
Create a strategy to get more leads and sales from your website.