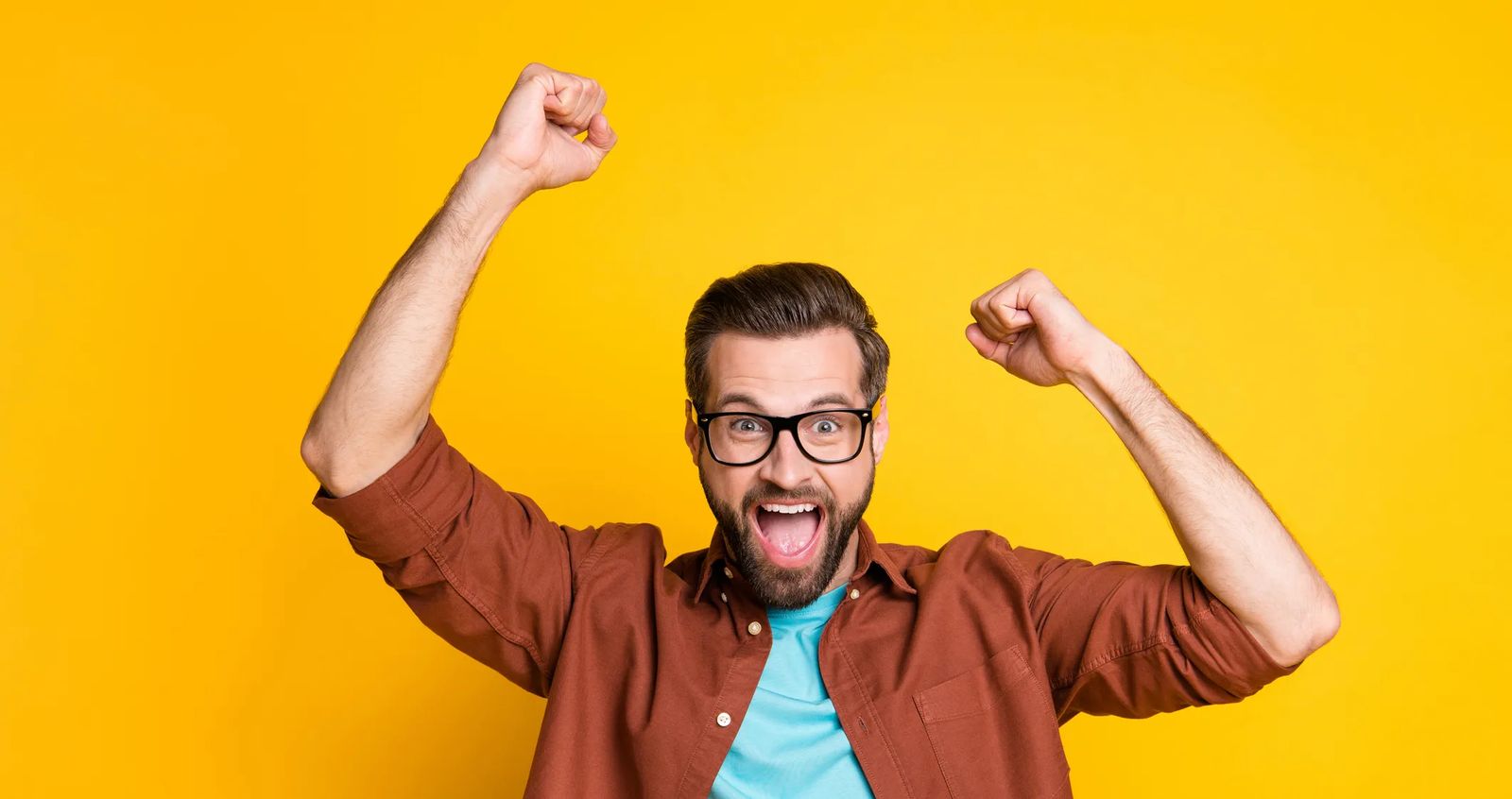 10 steps to get your first customers
You've started your business. Your website is online. Time for customers to start rolling in, right? If only it were that easy!
Most new business owners must recruit their initial clients or customers with direct sales. That's because online marketing can take a while to begin working, especially if you don't have a large marketing budget.
Whether you're writing blog posts to grow website traffic, connecting with followers on social media, or testing online advertising, it can take months to generate leads and sales.
In the meantime, you can recruit early customers through direct channels. Read on to learn how you can get your first customers!
Key marketing concepts
It's easy to become discouraged when you launch your business but don't have customers or revenue. But sales and marketing take time.
Before we get into how to find your first customers, we'll address a few key concepts about marketing and sales. Understanding these concepts will help you set realistic expectations for your business and avoid disappointment.
Successful customer acquisition depends on reaching enough people in your target market and giving them a reason to spend time and attention with your brand.
Reach
How many people have been exposed to your brand? Often, business owners launch their website and maybe get a few hundred visitors to it in a month. Then, they wonder why no one signed up for their product or service. For most businesses, reaching a few hundred visitors won't be enough to generate sales.
"Reach" is the number of people who see your brand or marketing message. Understand that your brand will need to get in front of a large number of people to see results.
Frequency
Unfortunately, reaching many people only once is unlikely to result in sales. People need to see your brand several times before they will take action.
"Frequency" is the number of times someone is exposed to your brand or marketing message. An old marketing rule says that people need seven touchpoints with your brand before they take action. That number is undoubtedly higher today, with so many messages vying for our attention. Plan to get in front of your prospective customers frequently.
Engagement
Is your target audience spending time with your brand? Are they paying attention to your posts on social media, reading your emails, and spending time on your website?
"Engagement" is the "connectedness" your business has with your audience. The more time someone spends with your brand, the more engaged they become. Engagement can grow with shorter, more frequent interactions (social media posts) or fewer, longer interactions (like a webinar). Potential customers begin to trust your brand more and become closer to signing up or making a purchase.
Customer journey
Your prospects will take many steps on their path to becoming your customer. First, they have to become aware that your business exists. Then, they may have several interactions with it over time (view an ad or social media post, visit your website, subscribe to the newsletter, etc.). As they interact with your brand, they'll consider whether or not it solves a problem or fulfills a need for them. Finally, some of these people will decide to purchase and become your customer.
Learn more about why your business needs a marketing funnel.
The length of the journey (the number of steps required and how long it takes someone to go through them) is different for every business. Generally, higher-priced or more complicated products and services will have a longer customer journey. For example, it may take someone several months to drop a few thousand dollars on a premium health coaching service. Lower-priced products and services will have shorter journeys. It's easier for someone to make an impulse purchase on a $25 t-shirt.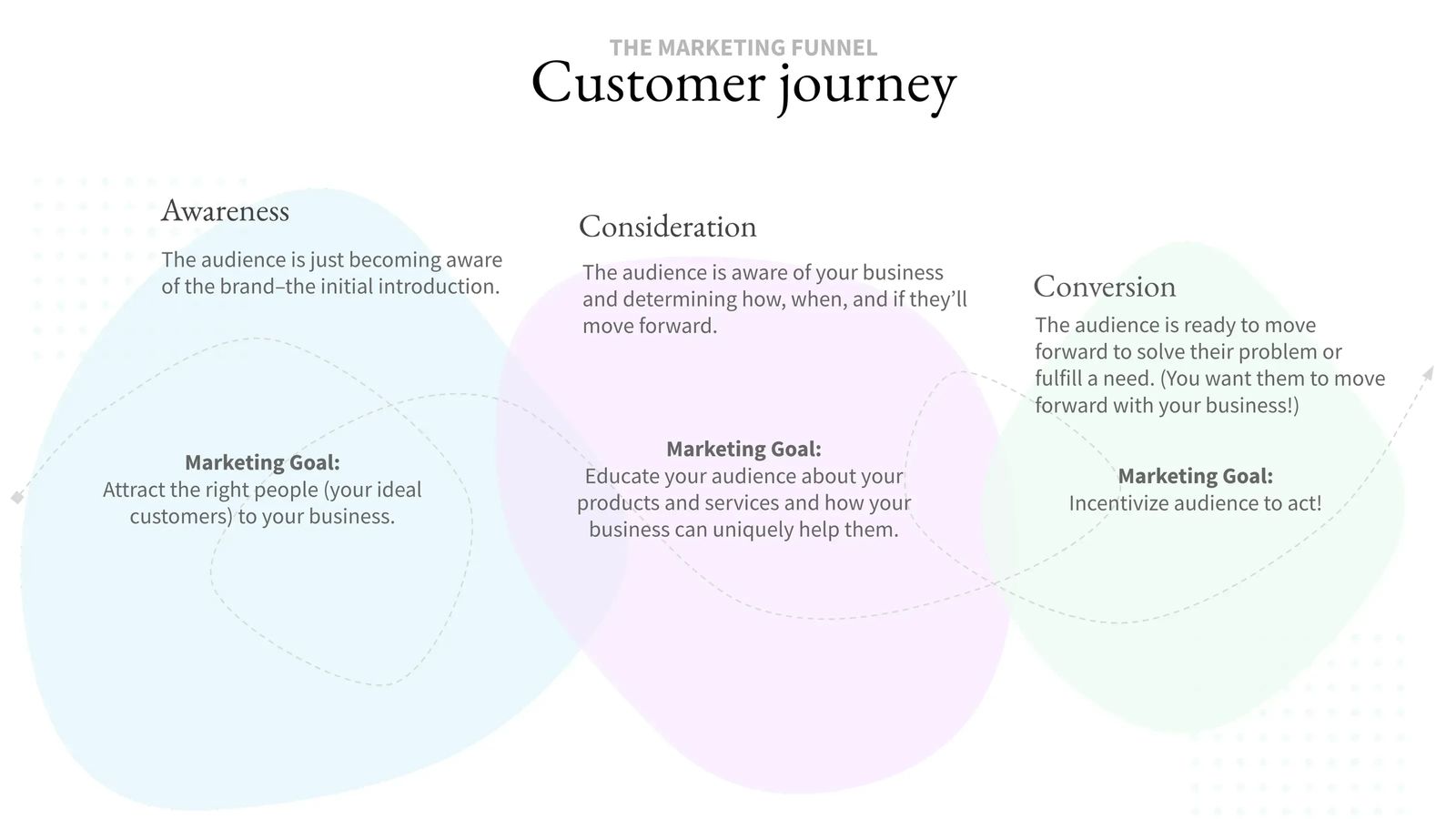 Does this all sound a bit complicated? It doesn't have to be!
Tell yourself, "To get customers..."
"I need to reach many people."
"My brand needs to get in front of them several times."
"It will take time for people to go through all the steps."
These basic principles are valid, no matter which marketing channels you use–direct sales, Facebook ads, email marketing, etc. So, when you start marketing your business, ensure you're developing a strategy to increase reach, frequency, and engagement with your audience. It's also important to set reasonable expectations to give it time to work.
These key concepts are necessary for all your marketing efforts, including those we recommend below.
How to get your first customers
Below are practical steps you can take to get your first customers. These strategies focus on one-on-one communications, but you still need to focus on reaching many people, following up with them several times, and giving your efforts time to work.
1) Define your ideal customer
Who does your business help? Who will resonate with the products and services that you provide? An essential first step in your marketing plan is to develop an ideal customer persona (or ideal client persona). It will help you identify prospective clients or customers and better communicate with them.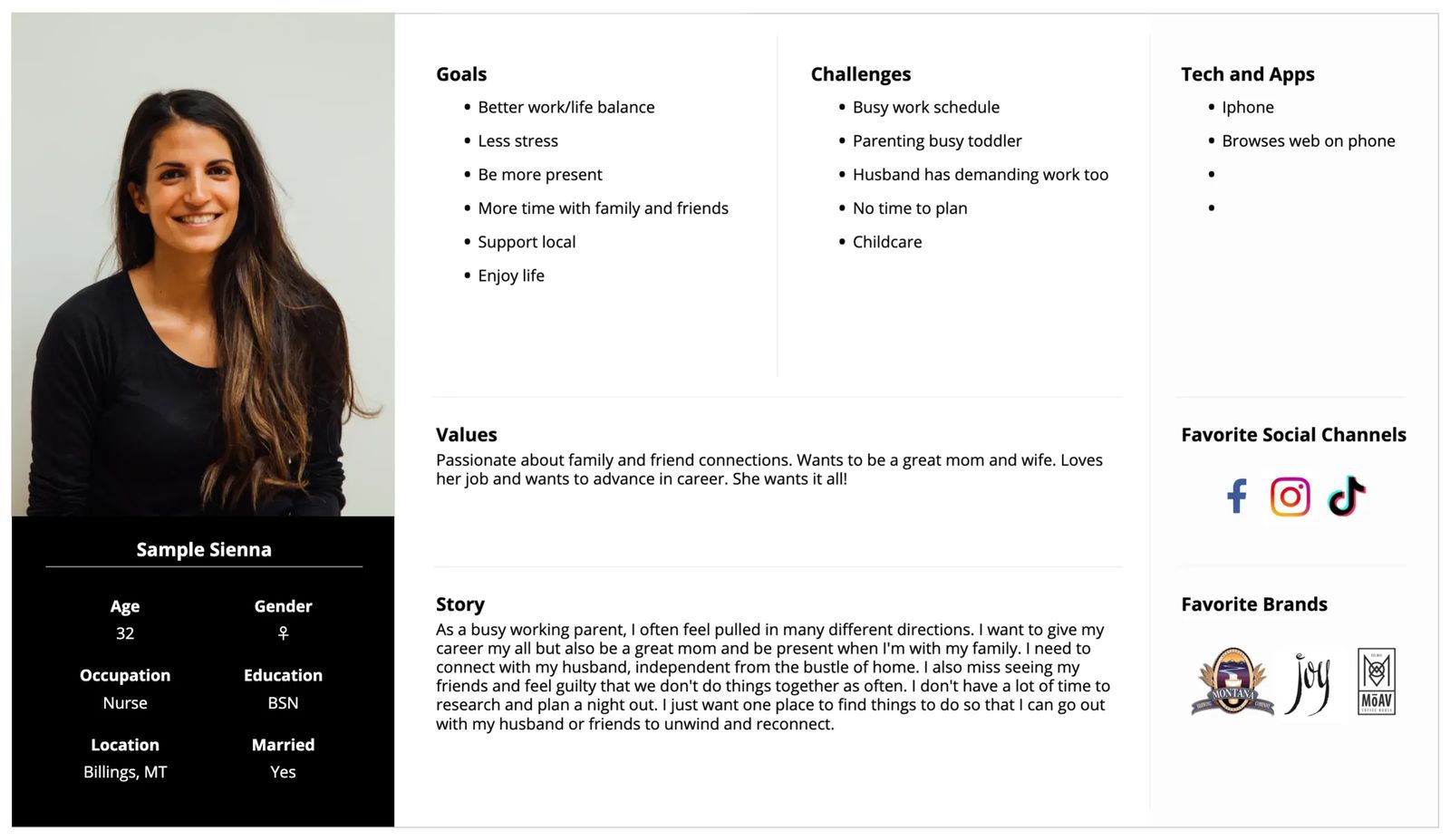 2) Create a process
Before you begin marketing your business, you need a well-defined process. How will someone become your customer? Once they become a customer, what happens next?
Here's an example for a financial consultant:
Client books free initial consultation via the website.
Consultant and client meet to assess needs.
Consultant provides a proposal and contract based on the needs assessment.
Client reviews, approves, and pays 50% of the first month's fee.
Work is fulfilled by the consultant as outlined in the contract.
Define these steps before you start reaching out to potential clients or customers. Setting up a process will help you operate professionally and efficiently while providing a positive customer experience.
3) Set your website up for success
Your website should attract your target customer's attention, teach them how your product or service can help, and motivate them to act (become your customer). No matter how you market your business, it's an essential piece of the puzzle.
Make sure that your website:
Explains what your business does (products and services it provides).
Details how your product or service can help your ideal customer.
Answers questions and addresses concerns.
Makes it easy for your customer to purchase or get started.
Learn more about setting your website up for success.
Assume that anyone considering your products and services will visit your website. Make a professional impression and ensure they can find the information they need to help them move forward.
Here's more information on using your website as a sales tool.
You should also set up or review your social media accounts and online listings (like your Google Business Profile) to verify that the information is accurate and appealing. Focus on creating a professional online presence.
4) Create a sales presentation
Create a sales presentation (also referred to as a sales deck or pitch deck) to present during consultations or meetings. When meeting with potential customers, the sales presentation can help guide the conversation, address many of their questions, and explain your offerings. You can also follow up with it as an email attachment for interested leads.
You can create the presentation in Google Slides, PowerPoint, Canva, or your favorite document editor. It should be visually appealing and look similar to your other marketing materials, like your website. Generate a PDF version, so it's easy to print or send as an attachment via email.
Here's an example from Brandon Global IT.
What should you include in a pitch deck?
Here are a few suggestions:
Description of the business
Outline of products and services with key benefits
Explanation of how the process works
Pricing (omit if you customize plans/pricing)
Social proof with testimonials from other clients (if available)
Company or personal background and contact information
Call to action. Ask your lead to take the next step to get started.
Guide conversations using your sales presentation. When speaking with a prospective client, ask questions and allow plenty of time for them to ask their own.
5) Reach out to your contacts
For many new businesses, friends, family, and acquaintances are the first source of early customers. Reach out to everyone in your network and tell them about your business. People who know you will want to help you succeed. Your product or service will be a good fit for some people you know. Others will be happy to refer your business to their network.
6) Network
Locally, find in-person meetups and networking groups. Fellow business owners can be an excellent source of referrals. Getting involved in your local Chamber of Commerce can be helpful, which often has programs to connect business owners and resources to help your business grow.
Join online groups and communities where your target audience spends time. Participate in discussions and conversations within social media platforms. Show up regularly and contribute to the dialogue. Facebook groups, Reddit, Discord, LinkedIn, and community Slack groups are a few places where people gather around shared interests. As you become familiar with the group, opportunities will follow.
Similarly, join conversations online. Twitter, LinkedIn, Quora, and Reddit are a few places where you can engage with people in your niche. Comment on posts that are relevant to your ideal customer.
Show up in person and online to build connections that will help your business grow.
7) Build a prospect list
One of the best ways to connect with the right prospect is to identify them and add them to a contact list. If you operate in B2B (business to business), prospect on LinkedIn, trade directories, or googling to find relevant companies. Gather contact info from their website.
If your product or service is more consumer-oriented, start saving social media profiles (from the groups and online communities you're already participating in) to follow up with later.
Add contacts to a spreadsheet to start. Include the contact name, email address, phone number, and mailing address (if applicable), and links to their social profiles like Linkedin and Twitter.
8) Begin outreach
Once you've established an email list of prospects (through friend/family/acquaintance referrals, networking, and online prospecting), it's time to start reaching out.
For B2B businesses, cold email is one of the most effective ways to connect with prospects to schedule a call or Zoom meeting where your goal will be to make the sale. The key to cold emailing is to reach out to people you know your business can help and follow up regularly. The truth is your first email will probably get ignored. You'll need to send follow-up messages (reach + frequency + engagement) to get people's attention. We recommend sending a minimum of five emails–an introductory email and four follow-ups. Space out the follow-up emails so you aren't in someone's inbox daily. Personalize your emails and keep them concise. You want to sound like a human, not an automated spam email. Focus on the benefit your business can provide to the recipient.
You may also consider cold calling or even stopping into businesses in your local market. Utilize the communication channel that will give you the best chance of connecting with your prospects.
B2C (consumer product or service) businesses will have better luck reaching out to prospective customers via direct message on Facebook, Instagram, or other social networks. But you want to be careful with this strategy. Don't send strangers spammy messages! Connecting with people in online groups and forming a relationship first is best. Connect over direct messages once it seems appropriate to do so.
9) Partner with other businesses
Does your business offer a service or product that complements another company? Businesses can partner to fulfill the needs of their clients or customers. For example, a Social Media Expert who doesn't do print design might partner with a Graphic Designer who doesn't do social media. A bakery could partner with a deli to offer cookie add-ons with sandwiches.
Make a list of businesses related to yours. Then, call or send cold emails to get in touch. Follow up several times like you would with a potential client or customer.
10) Optimize
As you go through the sales process, you'll learn what works and doesn't. You can refine your email messages, tweak your offer, adjust your sending schedule, improve onboarding, and hone in on the ideal customer profile. Over time, you'll find a formula that works and is easy to repeat.
Evolve your strategy over time
Direct sales outreach may not be your long-term marketing strategy, but it will help you learn about your customer. You can use the feedback gathered to improve your other marketing strategies.
Persistence is the key to getting your first customers. It's a numbers game. You will hear many "nos" before you get a "yes." Focus on reaching many people (reach), following up with them several times (frequency), and engaging with interested leads to build a relationship (engagement).
Throughout this process, the customer's journey is taking shape. After introducing your brand to the prospect, they may visit your website, subscribe to your newsletter, and follow your brand on social media–before responding to one of your emails or booking a consultation on your website.
Understand that the process will take time. However, for many businesses, a direct sales approach generates results faster than online marketing strategies.
Have patience and keep going. You've got this!
Free workbook: Win customers with your website!
Create a strategy to get more leads and sales from your website.