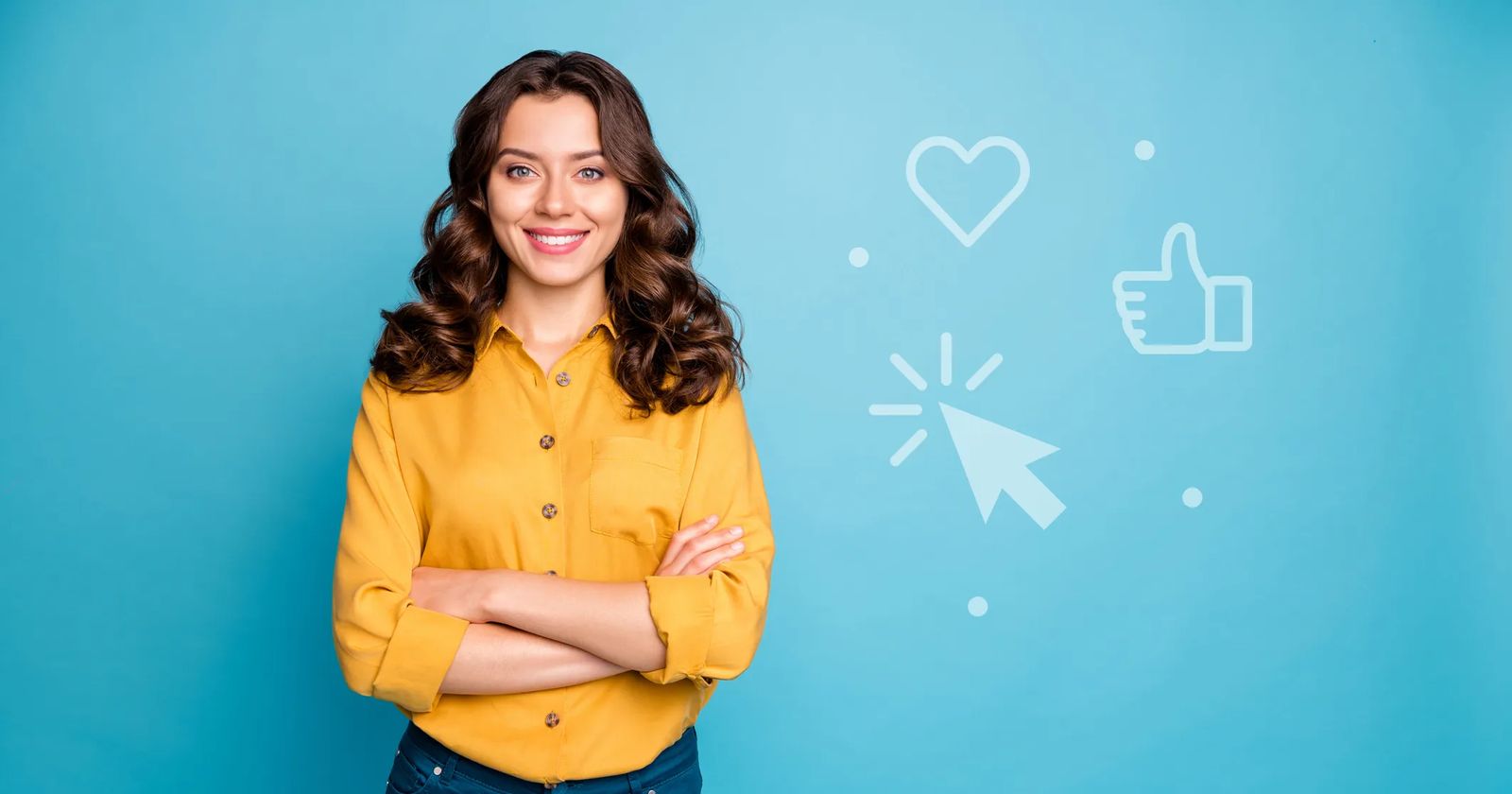 6 ways to use your website and social media together for maximum effect


Which is most important – social media or your website? Where should you prioritize resources to market your business?
If you're not already, you should be using social media platforms and your website together to get the most out of both. The two go hand in hand.
Social media is an excellent marketing channel to grow an audience within your niche. Increase search traffic, facilitate deeper engagement, and boost leads and sales via your website.
Let's break down how each of these online assets plays an integral role in your online presence.
This article covers:
Your website's role in a successful online presence
Social media's role in growing your reach and influence
How to use your website and social media marketing together
Your website's role
Your website is your home base on the web. It's where you have complete control of your online brand, so your business looks professional to prospects and partners. It's where you can outline all of the key features and benefits of your products and services; your audience can spend more time diving into what you do. You can facilitate online sales and lead generation with sign-up forms and payments on your website. Producing content and resources will help grow search traffic to your brand. With tools like Google Analytics, your website makes tracking and optimizing your online marketing and advertising possible.
A professional website also gives your organization some insurance against unpredictable algorithms. You're at the mercy of Facebook, Tiktok, Twitter, Pinterest, or LinkedIn's priorities when it comes to social media. They can change their algorithm, and you're no longer reaching your audience without notice. Therefore, it's important to build traffic to your website and grow an email list so you can always connect with your audience.
Social media's role
Social media plays a vital role in building trust with potential customers and establishing credibility within your industry or niche. By leveraging social channels like Facebook, TikTok, Twitter, Pinterest, or LinkedIn, you can reach a wide audience where they already spend a significant amount of time. Social media provides an opportunity to position your brand as a valuable resource by sharing informative content, engaging with your audience, and fostering meaningful interactions. It allows you to deepen engagement and cultivate relationships that can ultimately convert individuals into leads or customers.
Additionally, social media offers the advantage of virality, as users can easily share your content with their networks, potentially expanding your brand's reach exponentially. By utilizing social media strategically, you can amplify your online presence and complement your website's efforts in driving traffic, generating leads, and connecting with your target audience.
Your website + social media: strategies for success
The most successful marketing strategies attract the right target audience and stay engaged with them over time. As individuals spend more time with a brand, they are more likely to trust and purchase from that brand.
By using your website and social media together, you can foster a connection with your audience and grow leads and sales. Below are a few strategies you can implement today!
1) Connect your website to social media
There are several ways to bring your social media presence over to your website.
Add social media links and calls to action to your website
Of course, you need to link your social media accounts to your website. Many websites include social media icons linked to the corresponding profiles in the header or footer of the website.
In addition, have calls to action on your website encouraging your visitors to follow your organization on Facebook, Instagram, Twitter, LinkedIn, Tiktok, or anywhere else you're publishing content online. Your homepage, contact page, and blog posts are a few places to implement this tactic.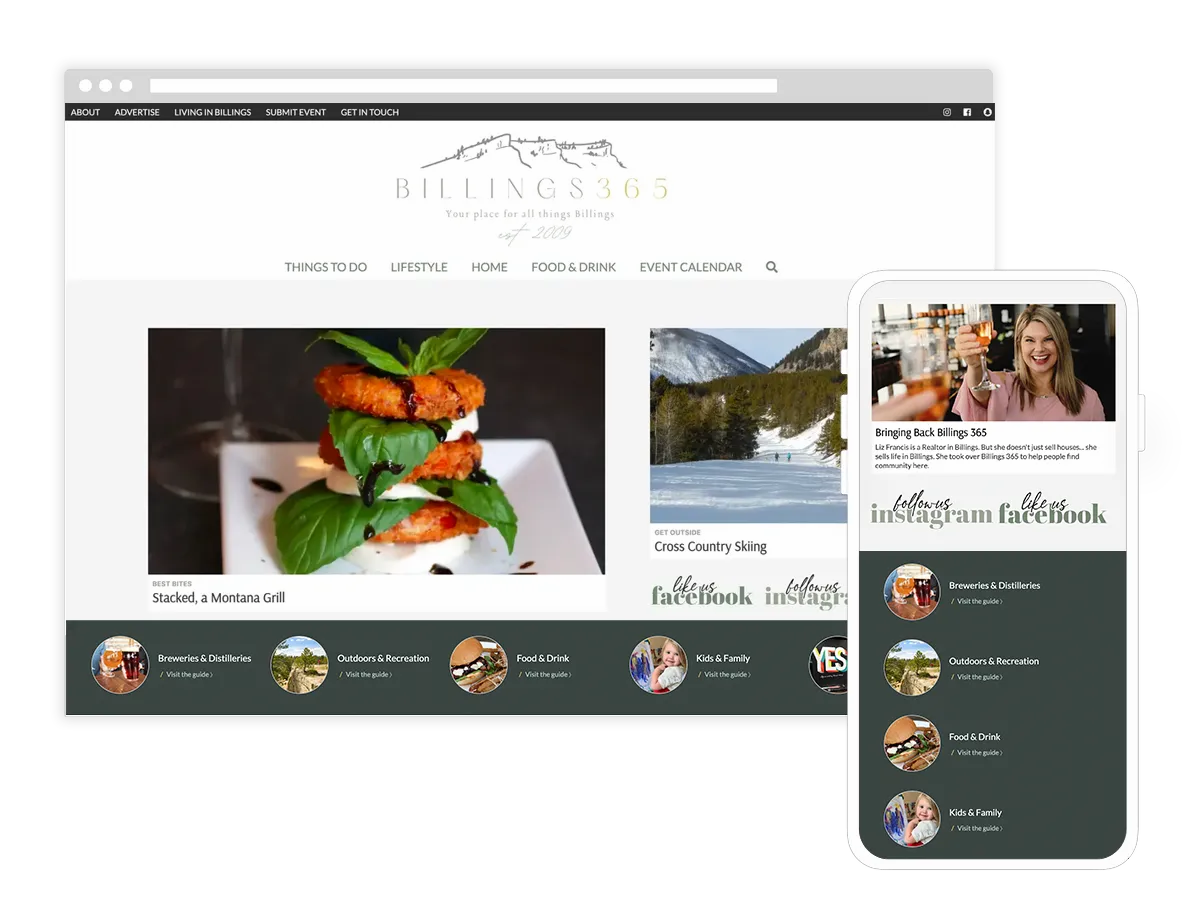 Billings365.com features social media icons and links in the header and again in a prominent location on the homepage.
Display feeds with social media integrations
Social platforms such as Twitter, Facebook, and Pinterest, make it possible to showcase real-time updates directly on your website, enhancing engagement and interactivity. These platforms provide easy-to-use tools for embedding feeds, enabling you to seamlessly integrate social media content into your web pages. Additionally, while Instagram does not provide a native embedding feature, there are several reliable third-party apps available that allow you to embed Instagram posts, stories, or entire feeds. Embedding YouTube and TikTok videos into your content further enriches your website's multimedia experience, capturing the attention of your visitors and creating dynamic, visually appealing content.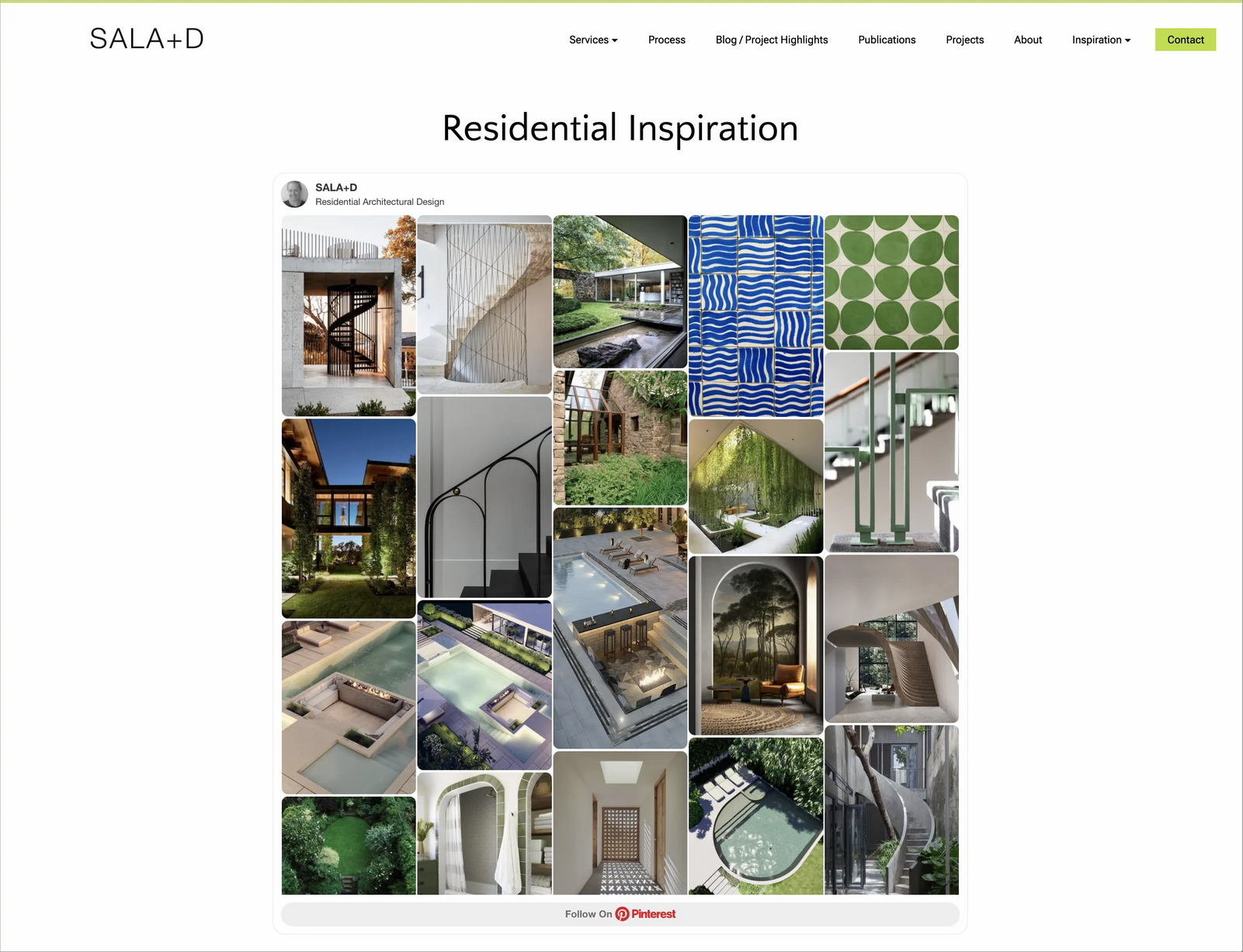 Studio SALA+D Architects embeds inspiration boards from their Pinterest account on the website.
2) Create your "link in bio" on your website.
Instead of using a "link in bio" platform, create your "link in bio" page right on your website. It's easy to set up a mobile-optimized page for this purpose. Enjoy full control over the page's design, content, and functionality while offering a seamless user experience. You'll increase website traffic and collect more information about your visitors. Then, you can optimize your marketing campaigns using this information.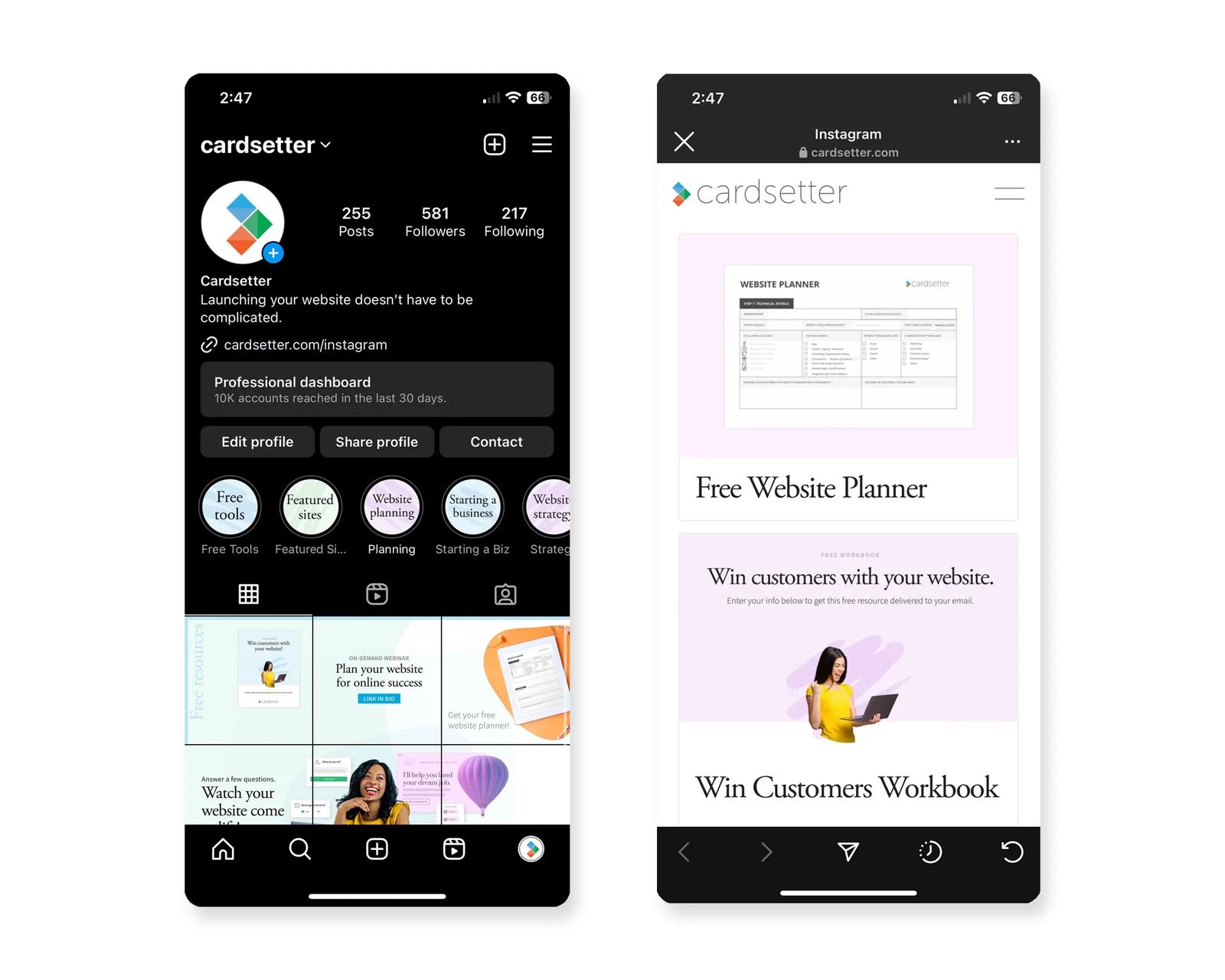 Cardsetter links important resources on a page set up on our website just for social media sharing.
3) Use social media for engagement and your website to sell.
Social media is all about engagement and fostering a genuine connection with your followers. Sales-oriented messaging doesn't work well in this environment. Use your social media profiles to attract and interact with your audience. Then, guide them to your website for more information about your products and services, where you can include marketing strategies and copy. Your website is where to feature in-depth information about your products and services, highlight testimonials and case studies, and generate sign-ups and e-commerce sales.
4) Create campaign landing pages on your website and promote them on social media.
Create a landing page on your website to promote a lead capture resource or special offer on one of your products or services. You can mention these offers on your social media channels and direct your audience to the landing page to get more information and sign up.
5) Create long-form content on your website. Repurpose snippets for social media posts.
Blog posts, resources, videos, infographics, and case studies can help establish your organization as an authority in your niche. Content marketing also helps improve your website's search engine optimization (SEO). Create in-depth resources for your audience on your website, then promote them on social media. Repurpose the long-form content into shorter social media formats. An infographic can become an Instagram story. Break up an article into a series of related posts. Feature insightful quotes from your case studies. Creating content for your website first makes it easy to keep up with ongoing social media content.
Check out this article for tips on creating content on your website.
6) Add chat to your website.
Communicate with your website visitors in real-time via social media messaging channels. Install Facebook Messenger or use the GetButton.io service to enable several channels, including Facebook, Instagram, Whatsapp, Snapchat, and more. Allow your website visitors to use their social media accounts for chat makes contacting your organization instant and intuitive.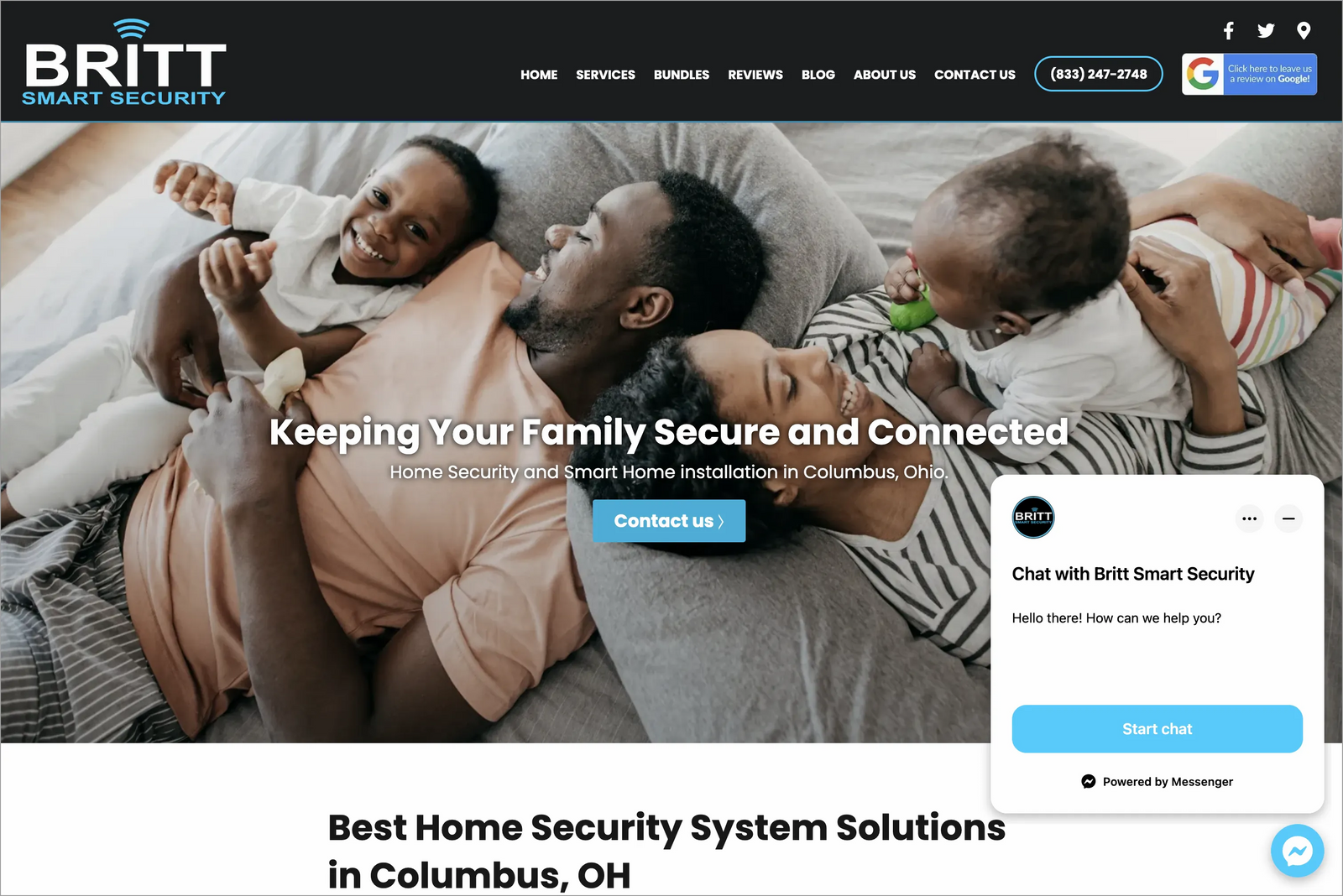 Britt Smart Security allows website visitors to ask questions via Facebook Messenger Chat.
Maximize your online presence by utilizing your website and social media together
While each has its strengths and weaknesses, your website and social media marketing tactics work better together. The two support one another to attract, engage, and convert your target audience. Rather than focusing your efforts on one or the other, use them in concert to maximize your online marketing results.
Free workbook: Win customers with your website!
Create a strategy to get more leads and sales from your website.